I'd like to pretend there's an elegant reason why we've selected these three old cars with new or upgraded components – modernised classics, restomods, call them what you will – but the simple truth is that the concept is intriguing and we'd heard good things about these ones.
They're a new kind of performance car, if you like; all that modern supercars are not. They bring performance down to approachable levels but keep the craftsmanship and desirability sky high. At least, that's how I imagined it.
So here we are, at Llandow Circuit, south Wales, with three of the best of them. The idea is to have a track drive today and a road blast tomorrow, with some boring everyday driving in between.
All three cars do things differently. The smallest here is branded GTA-R by its specialist builder, Alfaholics. It's a GTA-aping Alfa Romeo that can be based on any 105/115-series coupé – this one started as a 1967 1300 GT Junior. Alfaholics can simply restore one of those for you but, if you tick the full gamut of GTA-R options, you'll spend the best part of £300,000 and have the kind of car you see here, with a 12-point roll-cage, seam-welded monocoque, titanium suspension bits, Alfaholics gearbox internals and a twin-cam, twin-spark four-cylinder engine originally from a 75, bored and stroked to 2.3 litres, fitted with lightweight internals and making 240bhp. The car weighs just 830kg.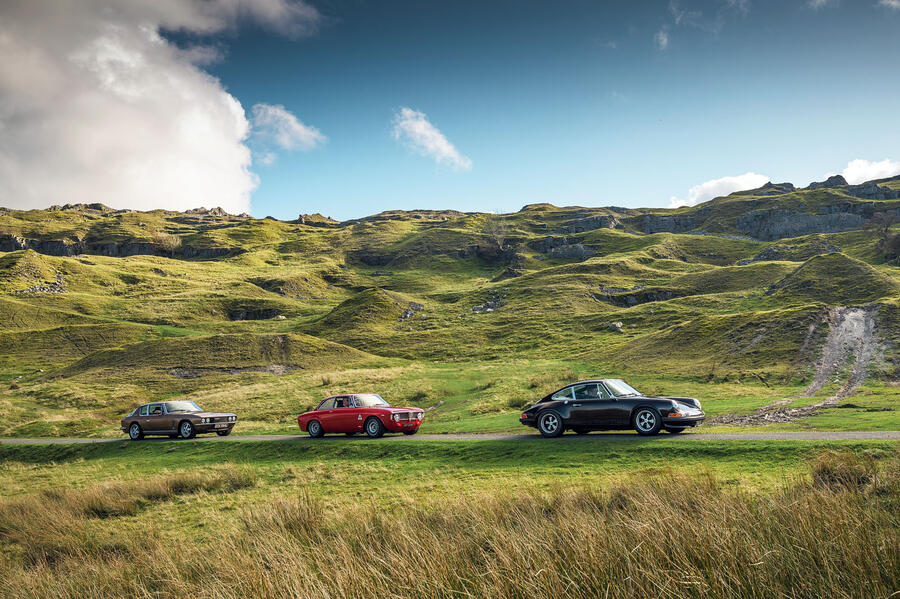 Alongside it is a Porsche from specialists Tuthill, who do brilliant things with old 911s, including rallying them, racing them and ice-driving in them, which I'm told is the most fun you can have in a car. This is a bespoke customer build, a 1973 2.4-litre E-series 911, with a wide body. It's more road car than track car but lovely nonetheless. The engine is still a period 911 2.4-litre, and the car is prepped to usable, fast road spec.
Next to that is a Jensen Interceptor, modified by Jensen International Automotive with a novel twist: a supercharged 6.2-litre Chevrolet LSA V8 making 556bhp. So quite a lot of novel twist. JIA takes an Interceptor, tidies the shell, fits Jaguar-influenced independent rear suspension and installs the mighty motor. Subtle it is not.
A track car it isn't, either, but that's fine – its time will come on the road. For pictures and video, though, we run it around Llandow and, by gum, does it ever have an engine. The reardrive Interceptor R Supercharged is ferociously fast in a straight line, driving through a six-speed auto here. You can spec a manual, but the auto suits the Interceptor's demeanour. This is a softly sprung, comfortable car, with a shell that lives without the stiffening of the Alfa so it feels more 'classic'. Still, it steers with slow slickness, and while the brake pedal is soft to the extent you might think it's here in an advisory capacity only, in fact retardation is good.