The agreed merger between Fiat Chrysler Automobiles and the PSA Group will create the world's fourth-largest car company based on sales.
The two European firms last week announced their intention to create a new entity owned 50/50 between the two but led by PSA's CEO, Carlos Tavares. PSA will also appoint six board members against five for FCA, in effect giving the French company control over the decision-making.
The combination of the two will create a 15-brand automotive behemoth that together sold 4.2 million vehicles in the first half of this year, behind the Volkswagen Group, Toyota and the Renault-Nissan-Mitsubishi Alliance but ahead of General Motors and Hyundai-Kia, figures from Jato Dynamics show.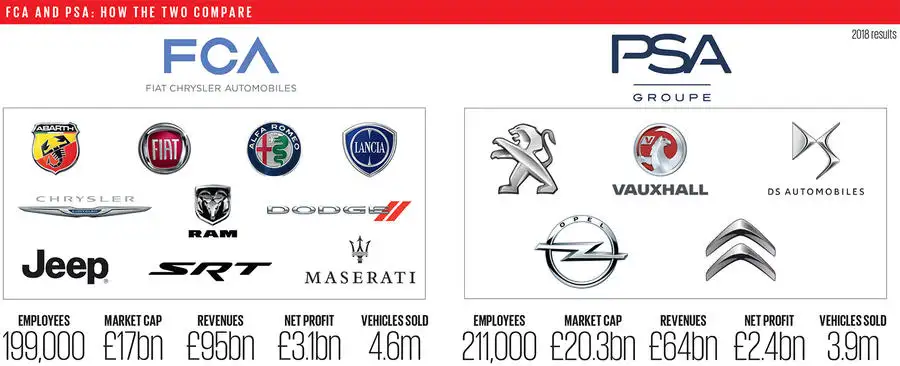 The company would be big enough "to capture successfully the opportunities and manage effectively the challenges of the new era in mobility", according to a joint statement referencing the high cost of investing in new technologies such as EVs and autonomous cars.
Despite being highly profitable, FCA has been chasing a merger ever since its previous CEO, the late Sergio Marchionne, warned in his 2015 treatise 'Confessions of a Capital Junkie' that car makers had to consolidate in order to have any hope of controlling spiralling development costs. FCA have since been rebuffed time and again, most recently after talks with Renault collapsed earlier this year.
Now, just over a year after his death, Marchionne's dream has been realised. By sharing technology and platforms and pooling other resources, the companies will eventually make combined annual savings of €3.7 billion (£3.2bn), the two said in a statement.
This figure could be achieved without shutting factories, the statement said – something PSA has proved it can do after successfully turning around GM's loss-making Vauxhall-Opel division.