Now, we've all experienced those moments when all you can do is laugh helplessly. But earlier this year I had an unusually good one.
We were staying at my partner's parents' house for the weekend, and a friend of her father's dropped by. Let's call him Malcy, because that's his name. Finding ourselves alone for a moment, Malcy and I got talking and eventually the subject turned to what it is I'm lucky enough to do for a living. 
Malcy, it turns out, quite likes cars. So we talked about fast cars, and then old cars, and finally – his preferred subset and, truth be told, mine also – fast, old cars, at which point my new friend became wistful. 
"D'you know what the one car I really wanted was?"
"Go on…" 
"Three-litre CSL. I cannot put into words how badly I wanted one of those," he said in his faint Lancastrian accent, scrunching up his face to convey 49 years of lust.  
"There's one in the garage."
Silence.
Reader, there really was a 1973 3.0-litre CSL in the garage, and we split our sides at the complete ridiculousness of it all.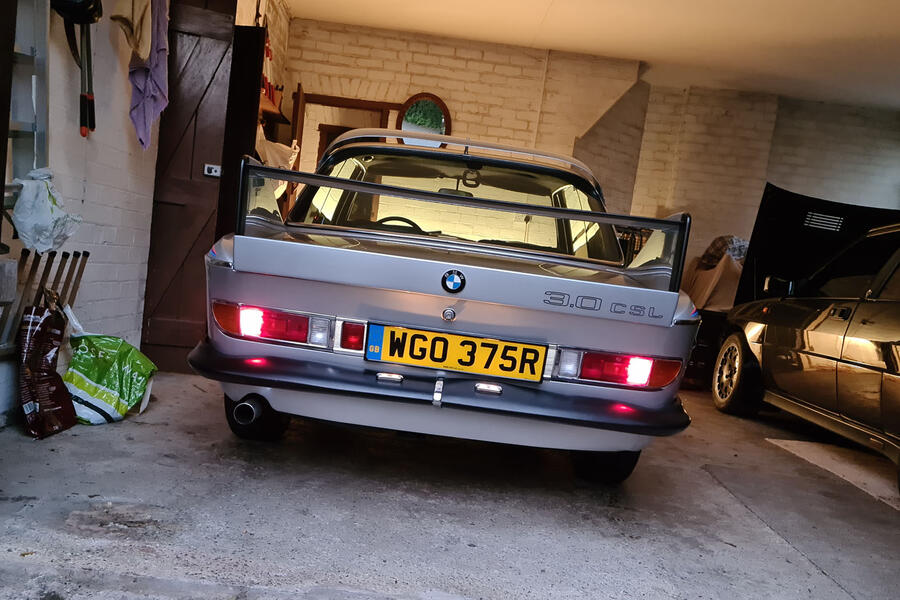 As for how it came to be there… Not all manufacturers take their heritage seriously, but BMW isn't one of them. At its base in Farnborough, the UK operation maintains a fleet of classics, including an E30-generation M3, E34-gen M5, an immaculate E39 M5, and an M3 CSL.
Each is glorious, but there are the two jewels in the crown. One is an off-white 507 from the 1950s that's insured for more than £2,000,000 and is just pure Grace Kelly, and t'other is the silver 3.0 CSL Batmobile I managed to borrow for a day or two. It's the one you see here. 
The back story of the 3.0 CSL is well known, but to very briefly recap, the car was developed from Alpina's 3.0-litre CS racing car in 1971, to take on Ford in the ETCC. 
Success didn't come immediately, but improvements in power and aero eventually tipped the balance against the Capri. And, of course, the BMW looked just as extraterrestrial then as it does now. Some of the most evocative motorsport images ever produced feature the CSL – often airborne, perhaps banking slightly, and wearing premier cru livery. Heaven. 
As for where this example comes in, the biggest racing-related upgrade for the CSL came midway through 1973, which was when the 'Batmobile' was born. At first, it was only an unsettling paddock rumour that BMW was testing wings on its cars, but then came the lightning-fast reality, and the capacity of the CSL's straight six was enlarged to 3153cc for good measure. It was all, one imagines, quite wild.