Having imported the Lancia Fulvia from Southern Italy late last September (read the first report on that below), the pressure to get it UK-registered was off – with winter creeping in, I had no intention of driving it again for several months.
The red tape itself wasn't too onerous. I had to let HMRC know I'd imported it within 14 days (even though no VAT was due) and then it was a matter of applying for UK registration with the DVLA. Aside from the £55 registration fee, the key requirements were something to prove the car's age and an MOT certificate. The former was swiftly provided on request by Fiat Chrysler Automobiles – still Lancia's representative in the UK – in a letter confirming that my Fulvia was built in 1974 at the Chivasso plant in Turin.
Sorting the MOT was more involved. Lancia specialist Neil Jeffrey at Car Craft in Broxburn was to cast his expert eye over the Fulvia and prepare it for testing, and I was relieved when his inspection confirmed what I'd reckoned about the car's bodywork and structural integrity: it was extraordinarily solid. Hallelujah.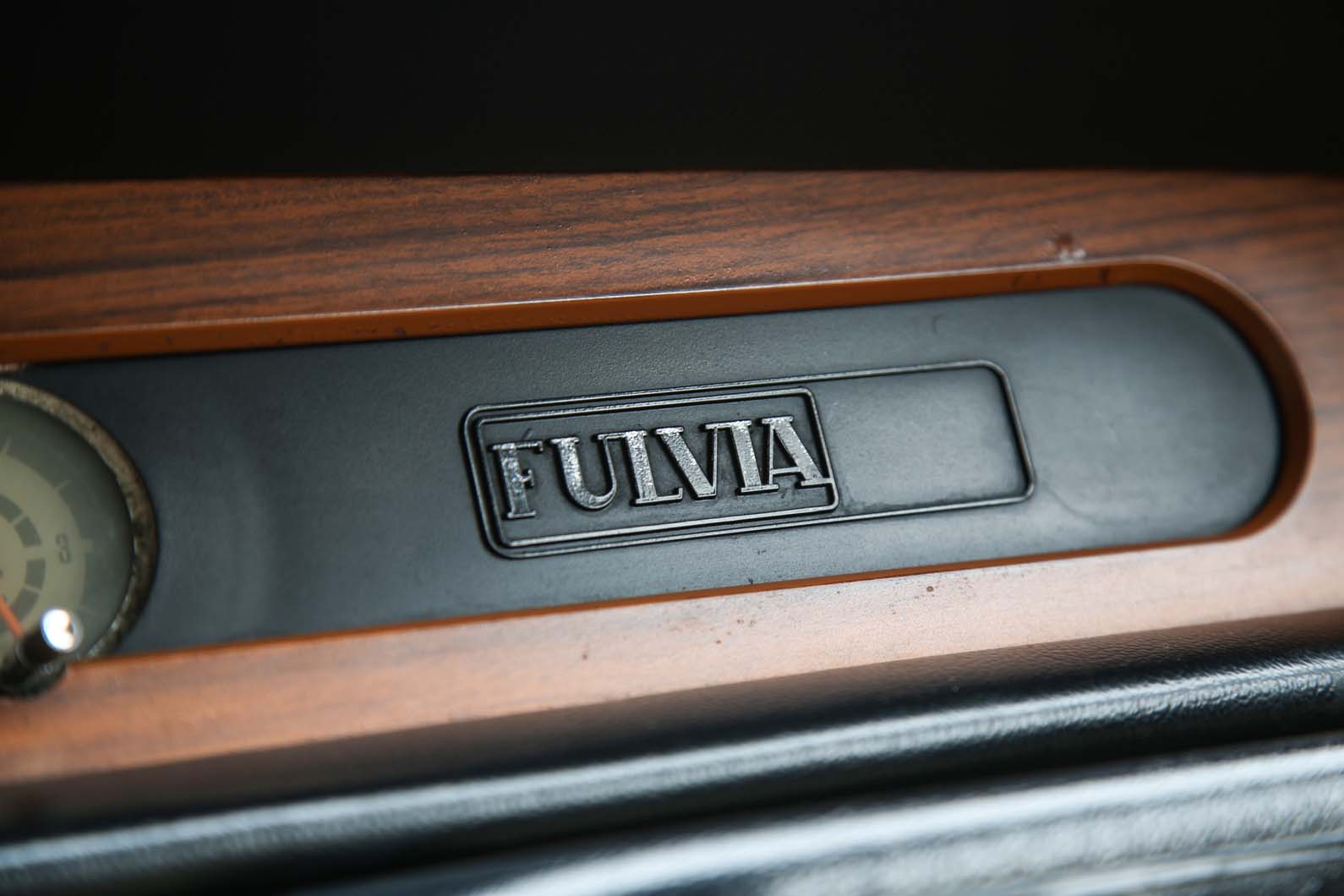 Mechanically, however, it would need some work to not only satisfy the DVLA but also to run and handle as sweetly as it should. So, along with fresh fluids and replacement plugs, in went new engine and gearbox mounts, rear leaf spring bushes, brake lines and CV joint gaiters, plus the splayed transverse front leaf spring was realigned. The distributor was refurbished and the timing set, the valve clearances put right and the two double-barrel Solex carburettors adjusted. Sounding significantly more tuneful, the Fulvia went off for its MOT and duly returned victorious with an advisory-free clean sheet.
In the absence of a UK registration number, the car had so far been insured and MOT'd on its VIN, but within a few days, what had been christened 44 years earlier in Potenza as PZ 91000 was renamed in Swansea as CDM 340M. Less glamorous-sounding, perhaps, but because it's more than 40 years old, the Fulvia not only avoids road tax but also qualifies to wear classic silver-and-black plates.
I ordered mine in custom sizes from Polar Automotive in Tonbridge; as soon as they slid through the letterbox, they were on the car for a long-awaited sprint around Edinburgh during a blessed break in the bleak February weather. The engine now felt much more urgent and the handling more assured, but a proper drive would have to wait for spring.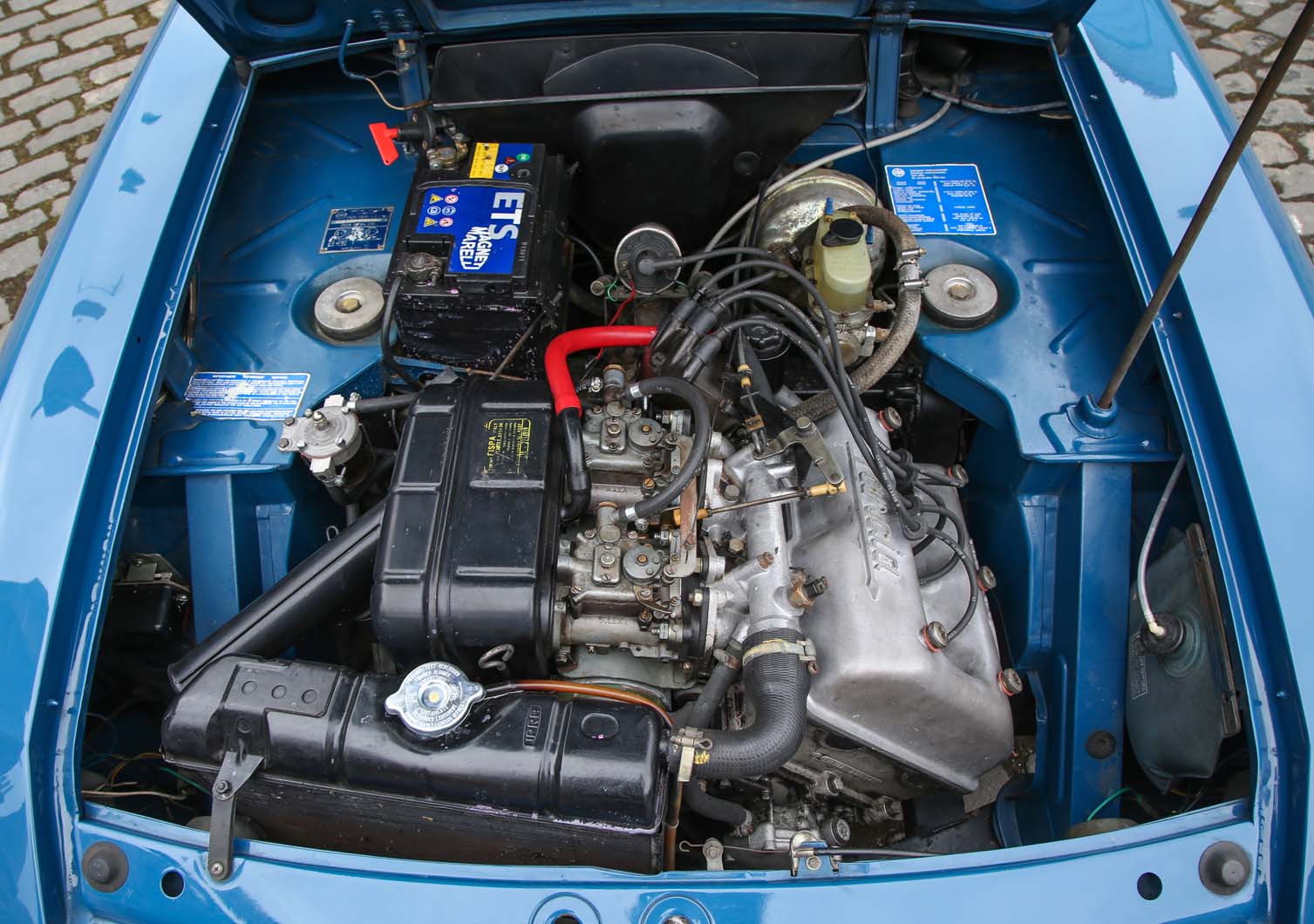 Car Craft had wire-brushed off a little surface corrosion below deck and refreshed those areas of underseal that needed it, but some small spots of umber on the paintwork (mainly inside the boot) also needed nipping in the bud.
After calling around various paint manufacturers in vain, I was pleasantly surprised that my local Halfords was able to take the period Max Meyer colour code for the car's Bleu Agnano bodywork and come back with a touch-up bottle of the correct shade a week later. (I haven't yet confirmed whether the colour is named after the volcanic Lake Agnano outside Naples or the blueish cave fresco of Santa Maria di Agnano in Puglia. Either sounds suitably authentic; I'll just alternate between the two if anyone asks.) Following a gentle sanding and some rust-removing gel, on went the red oxide primer and paint.
I had to visit Lotus HQ in March to return a test car, and it happens that one of the country's foremost classic Lancia specialists and a great source of parts – both OEM and reproduction – is based just up the road.
In fact, Omicron Engineering is located near Hethel by design rather than chance; its founder Martin Cliffe had been an engineer at Lotus before starting the business in 1981. Initially attending to all Italian marques, Cliffe eventually focused on Lancia. Later, Lotus would borrow a Stratos from Omicron to help inform the design of the Evora.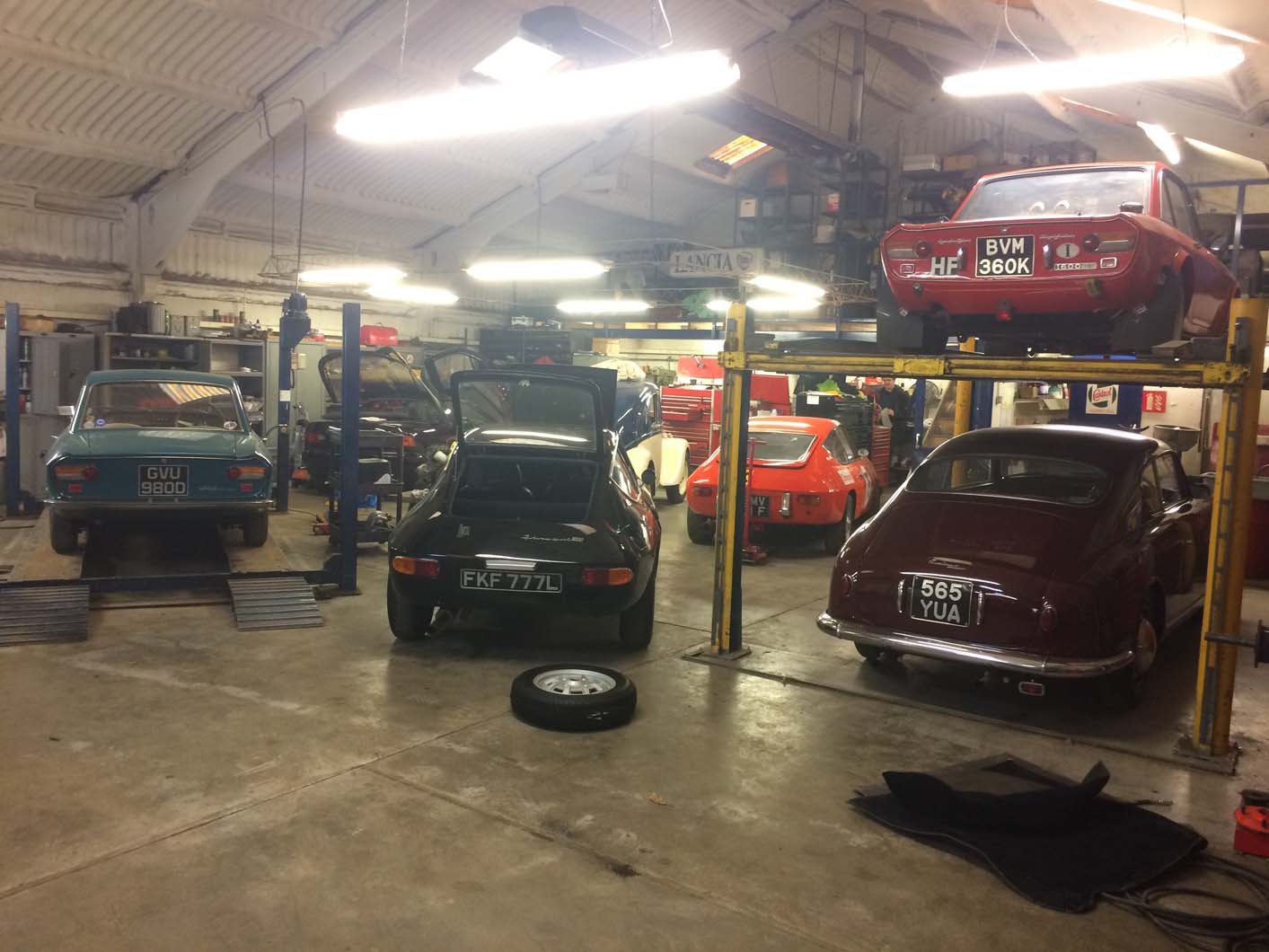 Martin's son Andrew showed me around the workshop, packed to the gunwales with some of the marque's finest: more Fulvia Coupés (including a 1600 HF), endearingly oddball Fulvia Sport Zagatos, an evocative, two-tone Aprilia, an incredibly graceful Aurelia GT (powered by Lancia's pioneering V6) and a pair of effortlessly suave two-door Flaminias by Touring. No Delta Integrales here – too modern by half – but a huge treat for this Lancisto all the same.
Back at home, a set of pristine vinyl doorcards arrived from Elvezio Esposito, a Calabrian coach-trimmer turning out reproduction parts for mostly Italian classics. The originals were warped, splitting and generally manky, but after a simple swapping procedure, the interior is vastly improved.
Replacing the slightly tatty headliner would heighten the transformation, but that's for another day.
There were several events in Berwickshire on the weekend of 6-8 April to mark 50 years since Formula 1 champion Jim Clark's passing, and a promising weather forecast convinced me to join the nostalgic spirit by driving the Fulvia down from Edinburgh on the Saturday afternoon for its first proper miles of 2018.
The cars on show in Duns (including Clark's 1963 title-winning Lotus 25), the exhibition of local memorabilia in Chirnside and the commemorative dinner at Carfraemill were all excellent, but the weather was not. At least it confirmed that the Fulvia is watertight and can see sufficiently well in the dark, and it drove faultlessly, matching (and occasionally exceeding) the pace of modern cars comfortably enough.
I'm no foaming revisionist when it comes to rust problems in Lancias – particularly after seeing the ravaged, brown carcass of what was once a Fulvia Coupé looming outside Omicron like an evil spectre – so I'll do all I can to keep mine unsullied. Post-Duns, this meant a wash and dry of the bodywork and a thorough rinse underneath.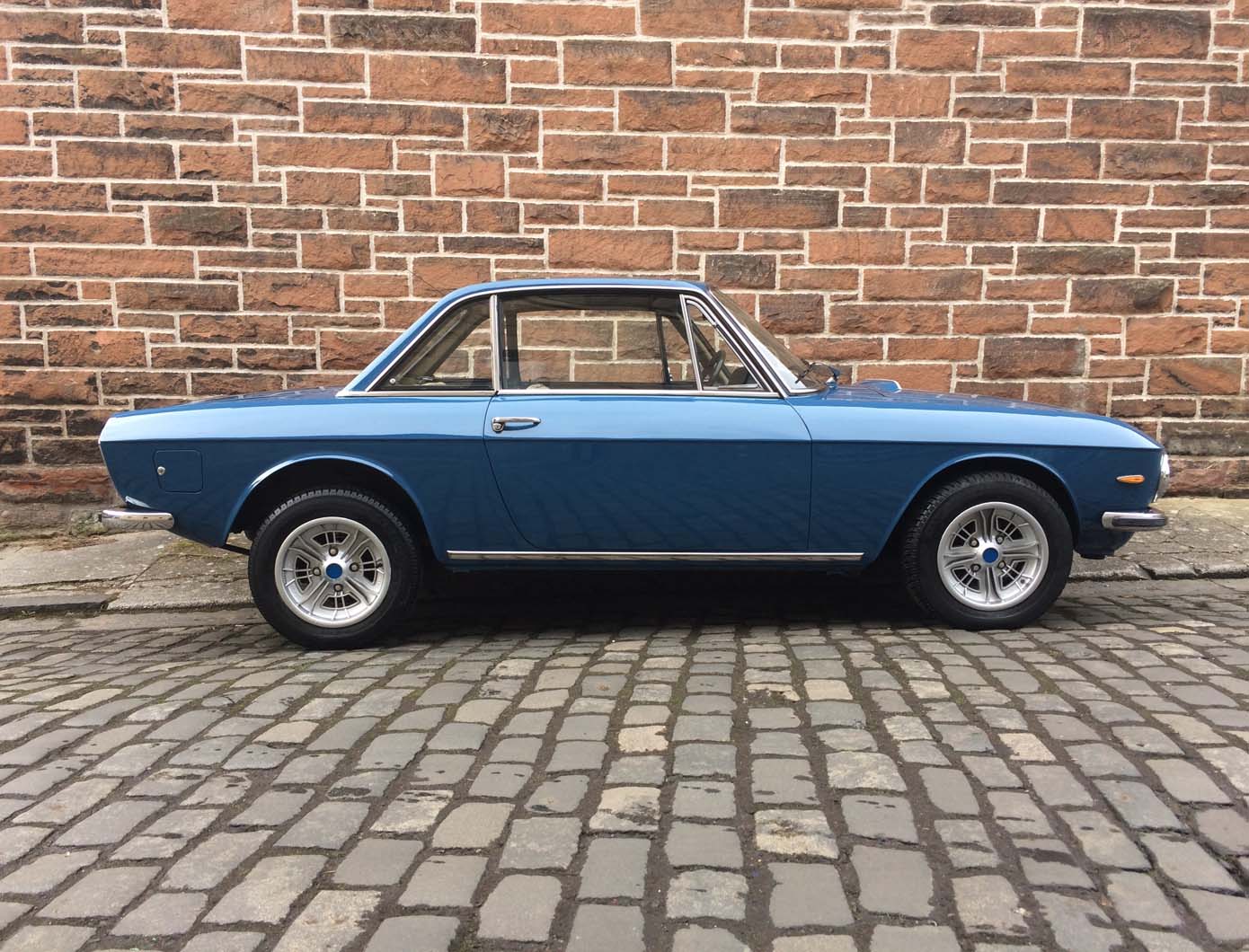 Normally, I'd wince at the prospect of volunteering water to the underside, but I've also invested in a Carcoon – one of those plastic bubbles that keeps air flowing over your car to prevent water from dwelling – which has a 'drying mode'. Put the car in warm, unzip the rear vent for maximum air flow and the thing is dry in no time, even where the sun don't shine.
I'll be attending a few shows with the car this summer, starting with the BVAC Classic at Thirlestane Castle near Lauder on 3 June – an event that's 1200 vehicles-strong but retains a lovely grass-roots feel. I hope to make some more improvements to the Fulvia by then and will be sharing them here.
Previous reports:
I'd been pining after a classic, underpowered Italian coupé for some time.
But prices for decent UK cars were steadily rising out of reach, so I looked towards the Continent for more choice and better value, both being more important to me than right-hand drive. Yet even across the sea, prices for good Lancia Beta Volumexes (yes, some do exist), Alfa Romeo 105/115-series coupés and even tidy Alfa Romeo Alfasud Sprints were becoming unreasonable. But then an extremely handsome, pale blue Lancia Fulvia Coupé appeared in the classifieds, listed for sale not far from Naples. It was pictured glowing in the bright South Italian sunlight, framed by green grass and mountains – an exotic scene guaranteed to hypnotise a northern European enduring another watery September.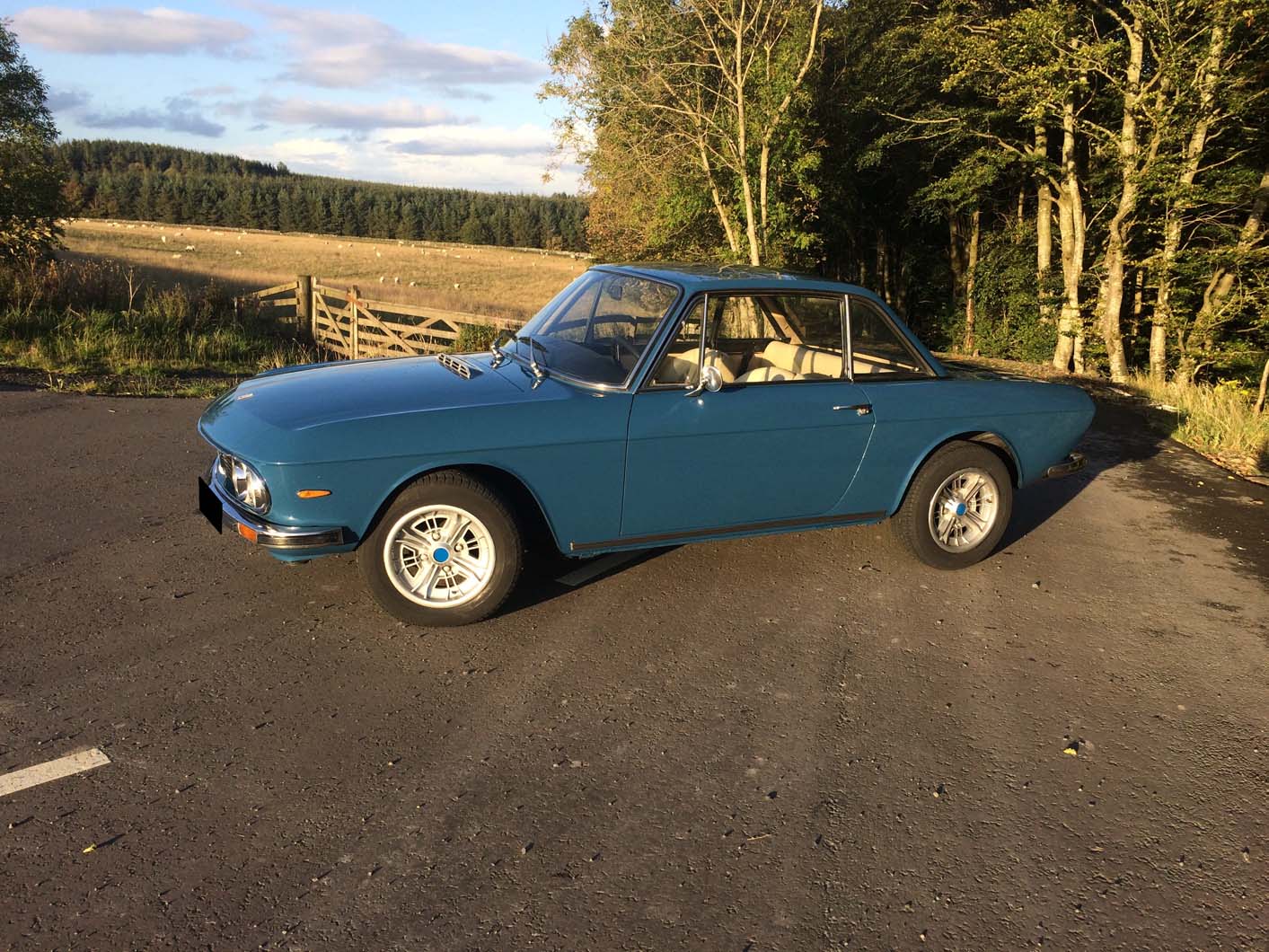 This model was a 1974 3 1.3S – so one of the later cars – and priced a little over budget, but still very reasonably for what looked like a smart example. I'd always fancied a Fulvia Coupé for its looks, engineering, interesting V4 engine and racing pedigree (it was rallying's final front-wheel-drive world-beater), but had assumed good ones were too rare and too expensive. Desperate to be proved wrong, I made contact with the seller, a young-ish man named Cesare, via an Italian-speaking friend. Cesare didn't speak English, and my single term of Italian at university didn't cover the ins and outs of buying a second-hand car, so we proceeded by text message in Italian with Google Translate doing the heavy lifting.
Cesare sent snaps of documents old and new, including certification by Automotoclub Storico Italiano, the arbiter of classic car provenance in Italy. With some questions answered and a video tour of the car, a price was agreed subject to the Fulvia being as described and me taking a test drive. A few days later, I was on a plane.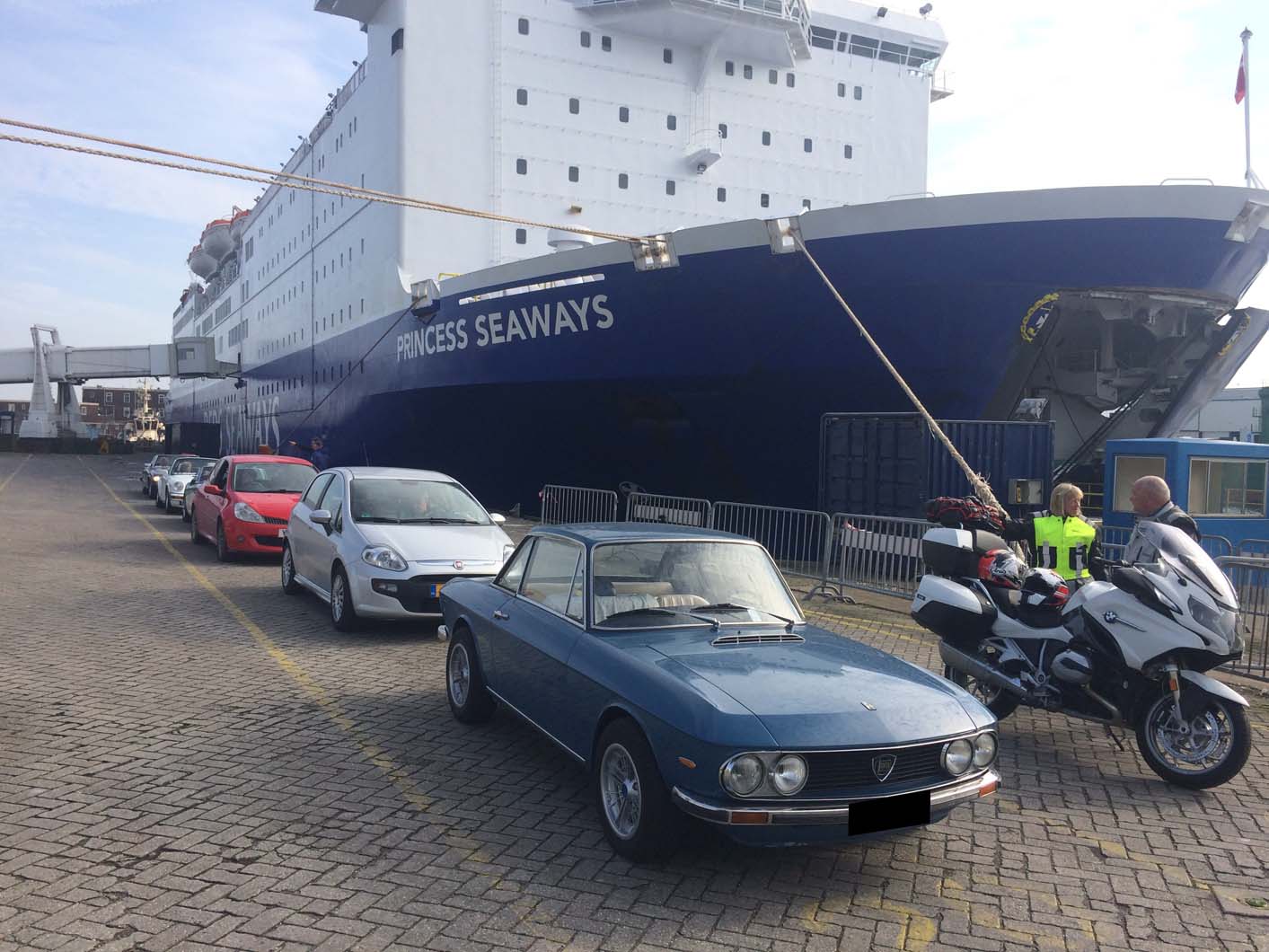 I once travelled on a rattling Cross Country train to buy a filthy Ford Puma from what might once have been a slaughterhouse, just outside Blackburn. This trip wasn't like that. A patchy flight schedule between home in Edinburgh and Naples left a couple of spare days before seeing the car, but the Amalfi Coast makes for an agreeable waiting room. Sights were seen, pizza and seafood eaten and la dolce vita generally lived. If the beauty and style of the locals hadn't made me feel like a gammy crow crashing a fancy pigeon parade, I might just have stayed.
The big day dawned – or at least tried to, as a Biblical thunderstorm descended first thing and stayed all day. This wasn't the near-invisible British rain that stealthily saturates you over several minutes, but the huge, grape-like Mediterranean rain that instantly soaks and then leaves you warm but mildly concussed.
We pressed inland regardless, driving about an hour east of Salerno. The rain kept coming, and so did the red flags. Cesare had already specified that he would accept cash only, and now rather than giving us an address, he wanted to meet on a motorway sliproad from where we'd drive in convoy to meet the Fulvia. With little choice, we agreed. Soon, an old green Volkswagen Bora waiting by the Autostrada pulled out and led us up hills and along lanes until we reached a secluded farmhouse.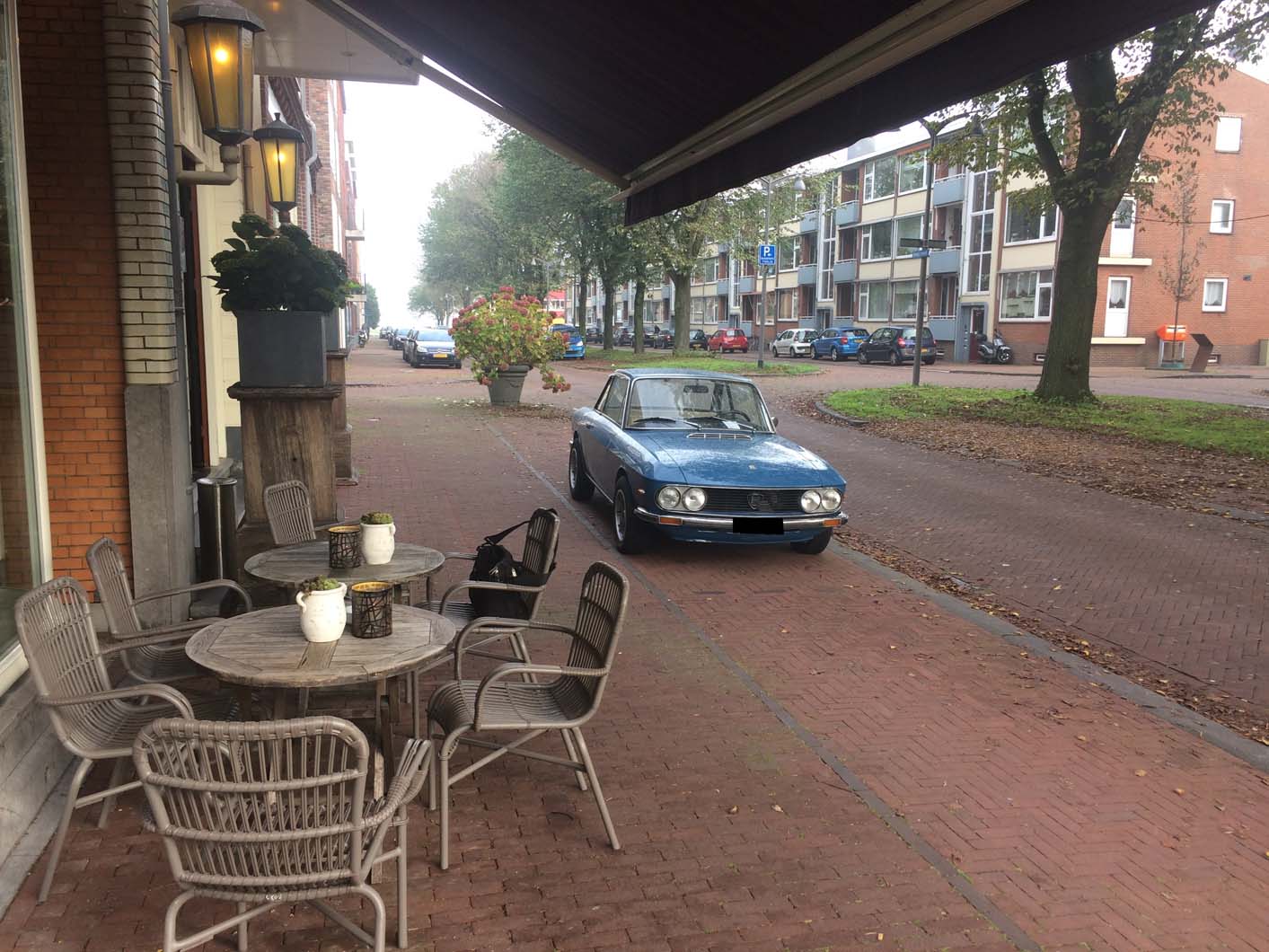 We needn't have worried – Cesare greeted us warmly, as did his father and an Italian-American relative of theirs, Gerry, who had been drafted in for translation duties. Gerry was a Chicagoan with a vintage accent and a sturdy yet cheery disposition that could have seen him deposited here as the Allies swept north in 1944.
The Fulvia was there, gleaming in the open garage between a Ferrari 208 GT4 and a Fiat Nuova 500 L, while a well-used Fiat Panda 4x4 Sisley and an Alfa Romeo Giulia Nuova Super project car sat across the courtyard. Evidently, these people were kindred spirits.
The Lancia's Agnano Blue paintwork had been replenished 12 years earlier and was holding up very well, while the cream leather upholstery was tidy in the front and pristine in the back. The hazy instrument glasses would be easy enough to replace, while the wood-effect dashboard and some headliner tidying would be more involved. All common enough issues in old Fulvias, though, and none serious.
We scoured the bodywork for rust or repairs – outside, inside and underneath – and found no trace of either. The repaint had been exacting, while the underseal was ancient but seemed to have done its job. Despite the continuing downpour, a test drive threw up no surprises, either, so with smiles all-round, hands were shaken. The formalities could wait, though: we were ushered inside, where Cesare's mum had laid on food, espresso and home-made limoncello, and we ate, drank and talked cars some more. It was an occasion more than a transaction – if only all used car purchases were so.
Quite sensibly, transfers of car ownership in Italy take place at privately run local agencies for the equivalent of the DVLA. Various fees were charged in the process, prompting Gerry to momentarily channel Jackie Mason: "They tax everything over here, you know – hey, you wanna make love, they tax you!" Perhaps an explanation at last for Italy's enormous tax gap.
The agent counted my cash before passing it on, a receipt was issued and new ownership documents raised. Cesare's sister nipped in to say goodbye to the car and his father made me promise to look after it. That much I could do.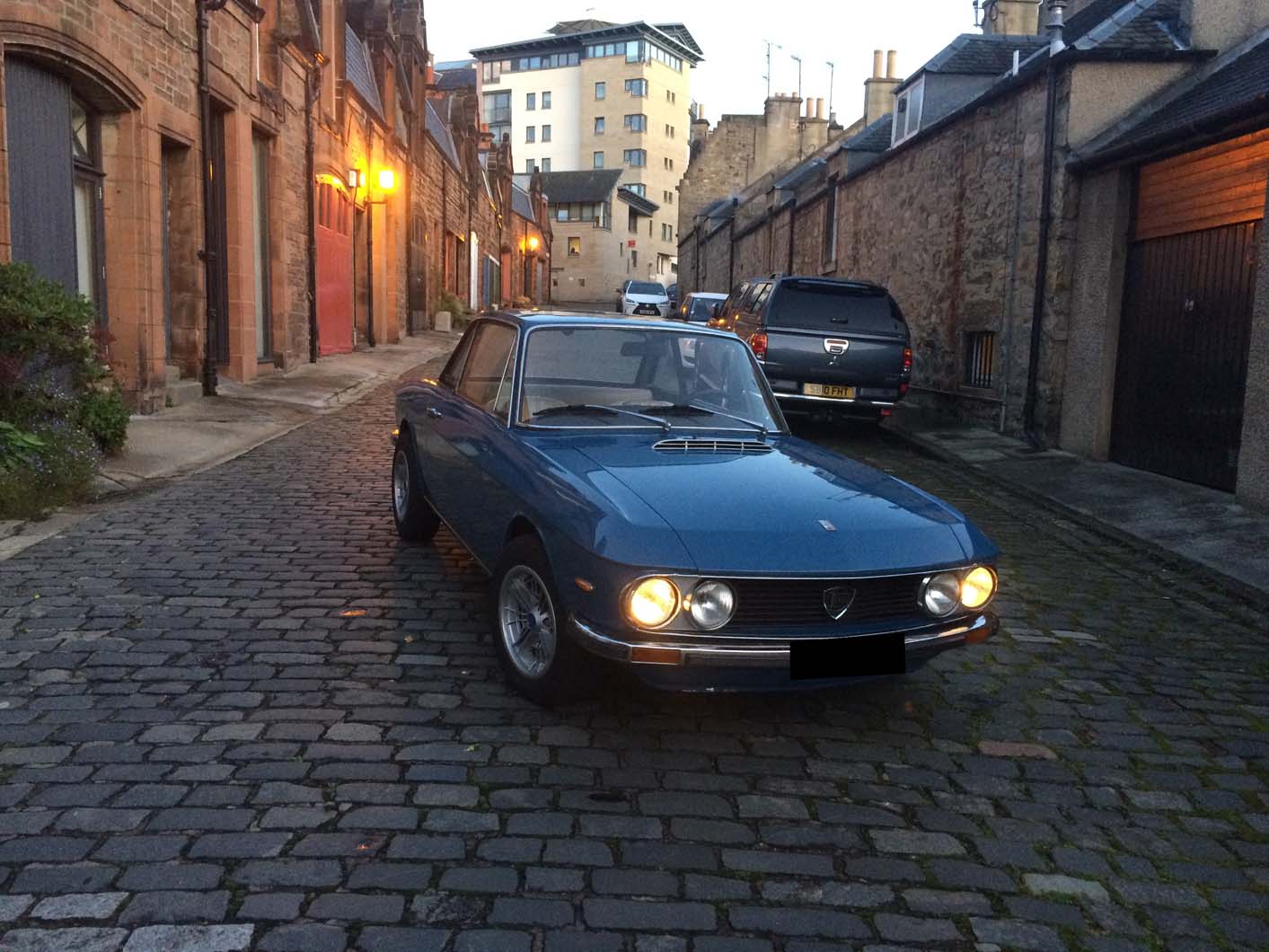 The original plan had been to drive the Fulvia home, but time constraints and logistical hurdles had made that untenable. As luck would have it, a large car-transportation company was located nearby, and we agreed a price to move the car to IJmuiden port near Amsterdam, where I would collect it in a few weeks. We left the Fulvia's keys with the transporters, Gerry said his farewells then confidently strode off and got into the wrong car, and after a couple of sodden snaps with me next to the Lancia, Cesare gave it a final, loving tap and all was done.
After what felt like three weeks' worth of Christmas Eves, the transporter driver called to say he'd be delivering the car the following day. Following a last-minute flight from Glasgow to Amsterdam (the novelty of booking a one-way ticket endures as one of the great joys of buying a used car), I found myself in the surprisingly plush Hotel Augusta in IJmuiden, yards from the DFDS ferry terminal for Newcastle. The transporter eventually arrived at 2am, and in the thick, dark haar, my little Fulvia was unloaded and parked up under the hotel's glowing canopy. It was all very surreal – had Carlos the Jackal appeared from the shadows, he wouldn't have seemed out of place.
The Newcastle ferry was fully booked for three days, but an early-morning call to DFDS blessedly turned up a last-minute cancellation on the 478-cabin Princess Seaways for that afternoon. I then spent a while with the hotel's owners, who'd taken an interest in the Lancia and showed me their own eclectic collection of motors: a Nuova 500, Triumph TR4, Toyota FJ Cruiser, US-spec Volvo 244 GL saloon and an evocative, coachbuilt Beardmore taxi.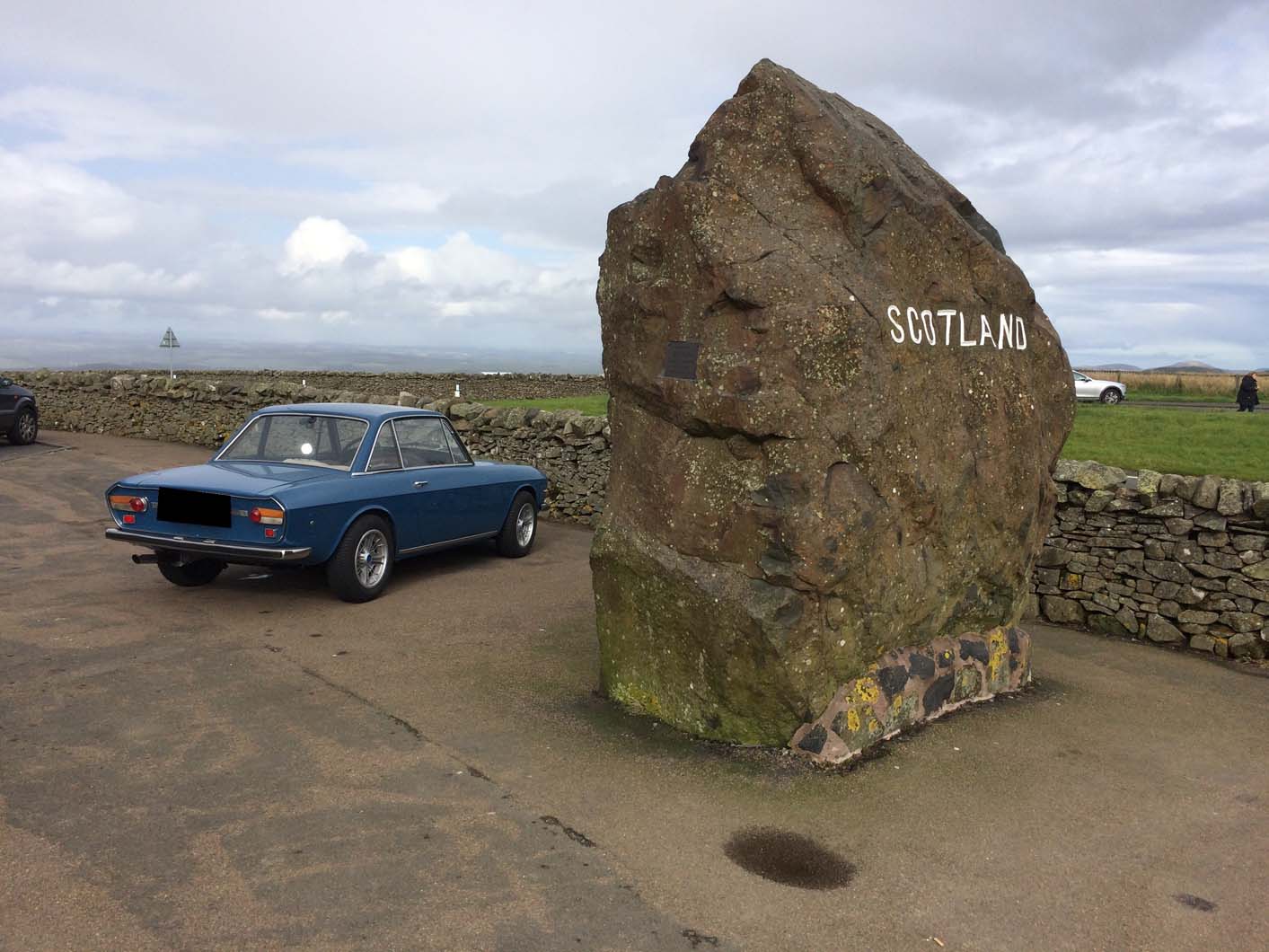 The Fulvia was running fine, but a temperamental lock left my passport stranded in the boot as the columns of cars slid past me and onto the ferry. There's a knack, of course, as I inevitably discovered, but I'd have preferred that discovery to have been made more quickly and in less fraught circumstances.
The ferry was a revelation to me – a large, comfortable hotel in which you lay your head down in one country and wake up in another, and your car comes, too. Obvious, perhaps, but experiencing such as easy link between northern Britain and continental Europe has led to the plotting of future trips already.
The morning arrival in Newcastle brought sunshine and a chance, at last, to drive the Fulvia properly. First, to Tynemouth for breakfast by the sea, then inland, across the border at Carter Bar and a stop-off in my hometown of Hawick on the way to Edinburgh. It's a great route in even the dreariest of cars, so I'd been looking forward to it.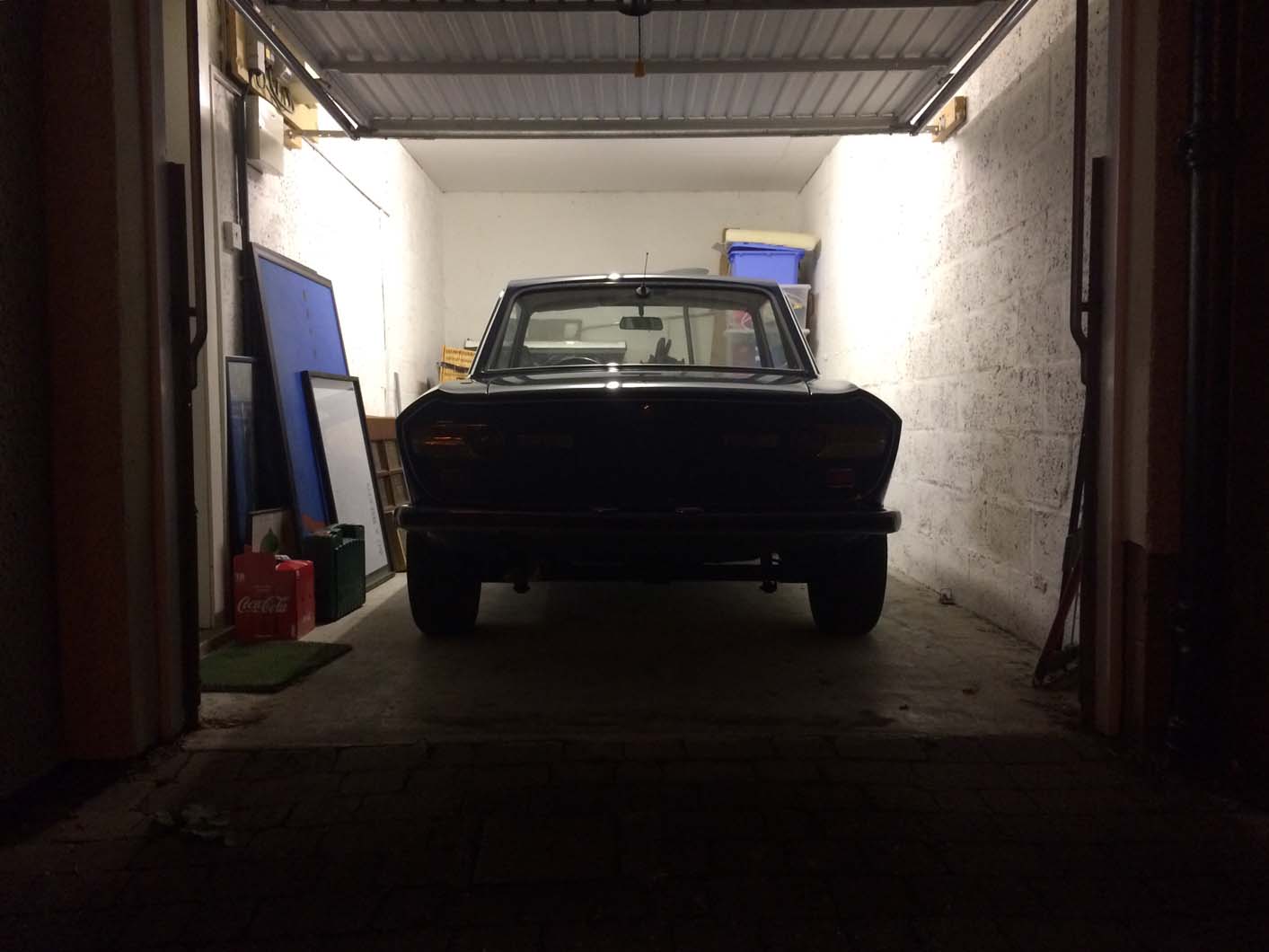 The Fulvia behaved impeccably. I knew of the intense engineering in these cars and the mechanical quality that made them so expensive when new – the car duly delivered and I was hammering along the back roads in no time. The gearing is very short and you're in fifth before you know it, but with 1298cc making just 90.7 metric horsepower at 6000rpm, I've no complaints about that. The 13deg V4 is loud and perhaps not running as sweetly as it should, but the timing and twin Solex carburettors will be seen to in due course. In the meantime, throttle response is still good and drivetrain vibration limited. The long-throw, dogleg gearbox is sweet and the all-round disc brakes almost shockingly effective for such an old car.
Once on the move, the unassisted steering is fingertip-light; you guide the Fulvia through corners with the same delicacy and restraint as you would a period Lotus Elan. Unsurprisingly, the 84lb ft being channelled to the front wheels doesn't trouble steering purity, either. The Melber alloys look great, but their tyres have some age-related cracks and their extra width means the arches rub during compressions with two aboard, so I might revert to the painted steel wheels that also came as part of the deal and put some new rubber on them. As far as I pushed the elderly tyres, though, cornering grip was good. And there's a happy combination of body control and ride comfort on offer, despite the incongruously old-hat leaf springs – the car weighs just 970kg unladen, after all.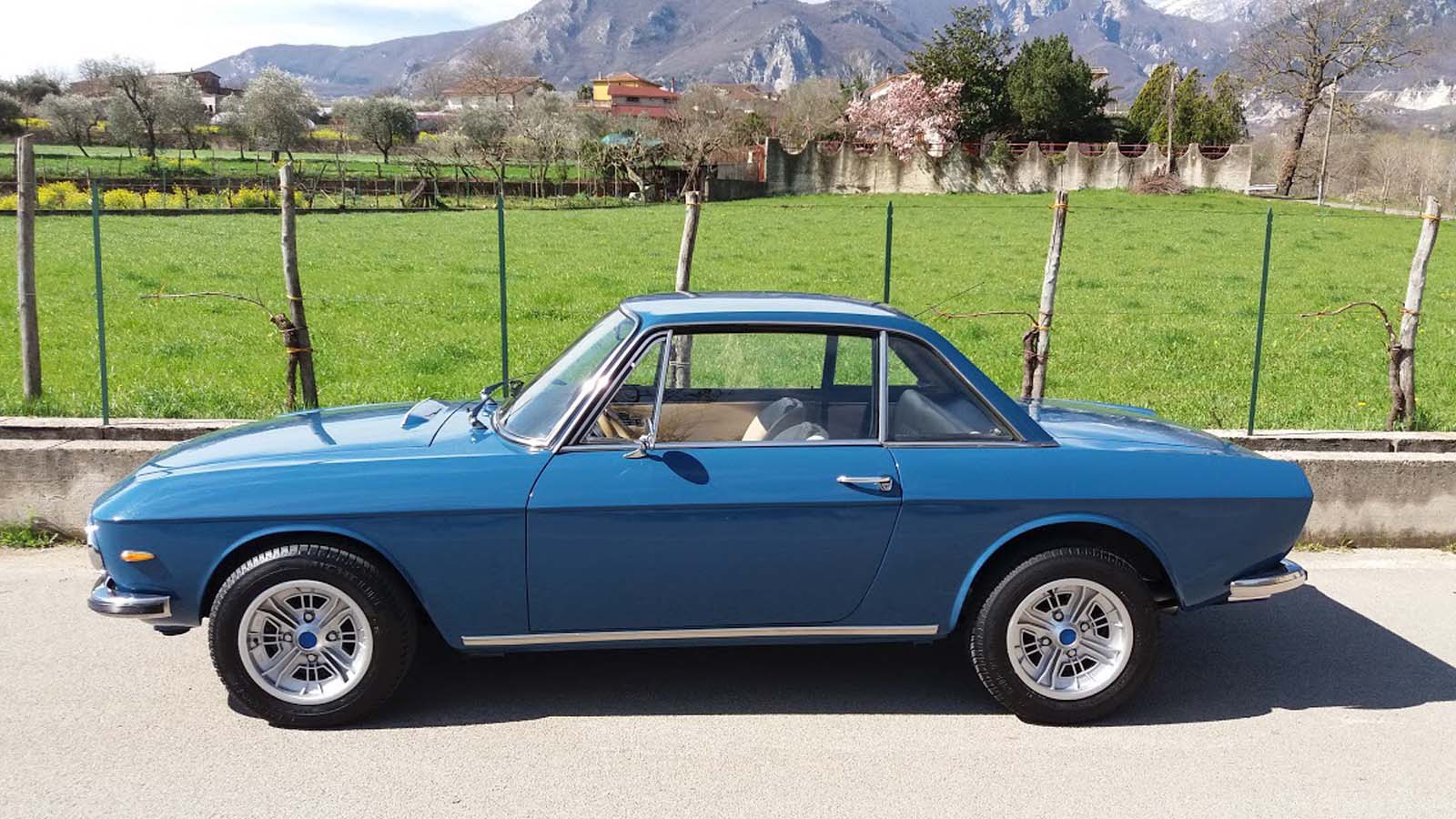 I dare say a chastised Renault Kangoo could be driven almost as quickly, but the rally-bred Fulvia was designed for these helter-skelter back roads and comes alive here. It's willing where many modern cars would be either passive or reluctant, and its noise, controls and all-round mechanical transparency fully occupy your senses where others would isolate them.
I reached home in Edinburgh in fading light, and after a continent's worth of grime was removed with a wash, the Fulvia was back to its elegant best before being put away. The likes of thee and me are lucky to find delight in cars, and I count myself even luckier to have found this one. I hope the ownership proves as much fun as the purchase.
Next up is a trip to former Fulvia rallyist and renowned Lancia-whisperer Neil Jeffrey at Car Craft in Broxburn to prepare the car for its first MOT and for a tutorial in tuning a single-head, narrow-angle V4.
More content: