If you weren't around when the Peter-Stevens-designed Esprit Turbo landed in 1987, you won't know what a splash it made. There'd been Lotus Esprits before it, designed by Giorgetto Giugiaro, and very good looking they were, too, but the Stevens car had even more presence and a timeless, aero-inspired look that, 30 years later, has lost none of its freshness and appeal.
A past neighbour of mine had a brand-new Turbo in Calypso Red with cream leather. In the quiet market town where I lived, its arrival was front page news, at least in our local rag's motoring section. Put one on your driveway today and it's likely to provoke the same reaction, at least among the neighbours. And if they laugh up their sleeves about the car's modest 2.2-litre four-cylinder turbo engine, you can always bring the Porsche 718's 2.0-litre four-pot into the conversation…
Click here to buy your next used car from Autocar
Mechanically, the 1987 Esprit Turbo was largely unchanged from the previous-generation model, with the exception of the rear brakes that were now outboard and the adoption of a Renault five-speed transaxle. The fit and finish of the glassfibre body were improved by a new resin injection process. At the same time, the interior, handling and performance were brought up to date.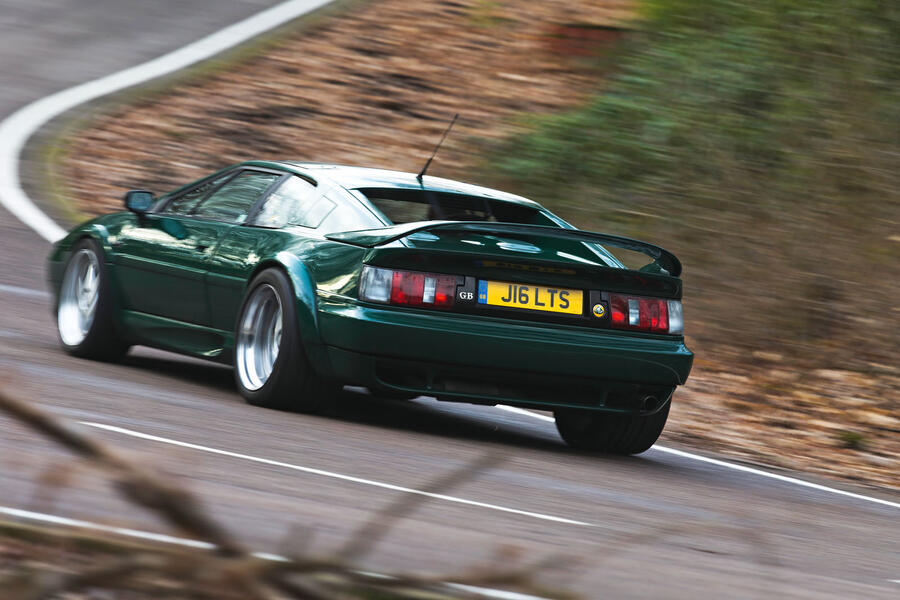 For the record, the Type 910 engine, force fed by a Garrett T3 turbo and with Bosch K-Jetronic fuel injection, produced 215bhp, a figure that may have declined somewhat if you stick a leggy Turbo on a rolling road today. It was good for 0-62mph in 5.3sec (the car weighs only 1270kg) but an uprated version called the Turbo SE arrived in 1989. Thanks to an intercooler and a new multi-point fuel injection system, it produced a more impressive 264bhp for 0-62mph in 4.9sec. You can tell the model by its large rear wing.
This standard Turbo continued until 1991. The Sport 300 of 1993, a stripped-out version with 302bhp and beefed-up spoilers and wheel arches, was the Esprit Turbo's last hurrah before the arrival of the Esprit S4. Only around 50 Sport 300s were made and they're sought after today.