The next-generation BMW M5 will be revealed this August with a variable all-wheel drive system and an uprated V8 engine producing around 600bhp, making it the most technically advanced car to wear an M badge yet.
The 2018 BMW M5 has now been revealed. Click here for the full story
In the run-up to its public debut at the Frankfurt motor show, the car is undergoing high-speed testing at the Nürburgring, where it has been spotted this week wearing new design features including larger front air intakes to supply its twin-turbocharged 4.4-litre V8 petrol engine with more air.
BMW M5 prototype review: super saloon goes four-wheel drive
Despite being based on the current car's unit, power for the 2018 5 Series flagship (which has been imagined without covers by Autocar in the picture below) will be substantially increased from the old model's 552bhp, overtaking the limited-run 592bhp M5 Competition Package as the most potent M5 yet and aligning the car closely with its archrival, the latest Mercedes-AMG E 63, which has 603bhp in its fastest guise.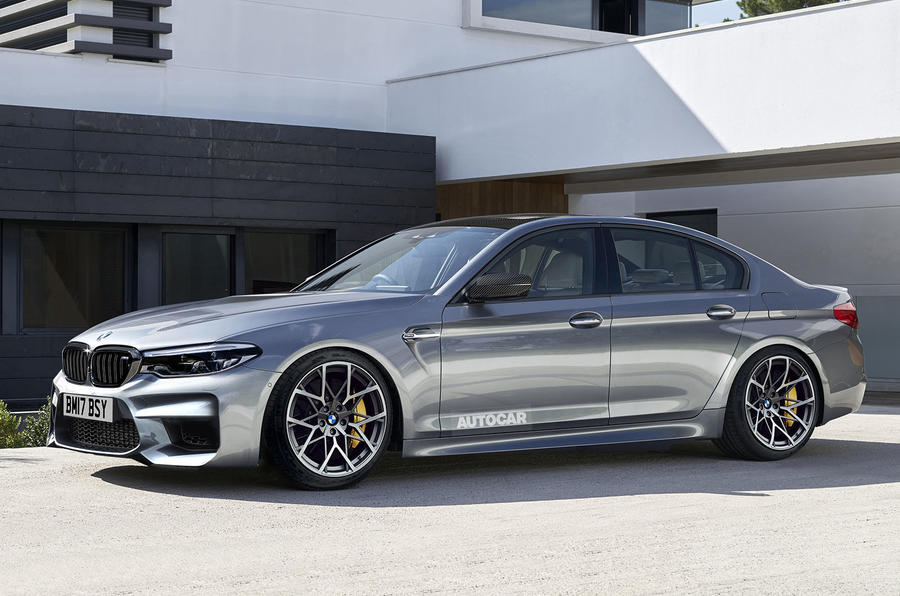 The car will use a specially developed version of BMW's xDrive all-wheel drive system - the first time one has been used on an M5 - that uses a multiplate wet clutch located in the gearbox on the output to the front driveshaft. It provides a continuously variable split between front and rear axles to enable advanced torque vectoring.
This will improve agility and performance, but also enable more fuel efficient running in less aggressive engine modes. In total, the car will have up to five driving modes, including an M Dynamic setting where 100% of torque will be sent to the rear wheels, accessed through buttons mounted on the steering wheel.
This widened flexibility for the car's drive systems will be enhanced with the fitment of an eight-speed automatic gearbox in place of the outgoing car's seven-cog system. The new torque-converter 'box will be based around the standard ZF-produced gearbox used in other 5 Series models.