The seventh-generation BMW 5 Series saloon has been revealed, featuring an evolutionary exterior design, an updated interior, a broadened engine line-up and semi-autonomous driving functions.
We've driven a pre-production version of the 2017 5 Series
Sales of the new mid-sized executive four-door begin in February following the car's public debut at the 2017 Detroit show.
Headlined by a rapid M550i xDrive M Performance model, the latest incarnation of the 5 Series sports an appearance that's not as removed visually from that of its predecessor as previous new 5 Series models have been.
The car takes influence from the new 7 Series, adopting a subtly sharper form than that of the old 5 Series with tauter surfacing and more finely honed crease lines along the flanks, including an additional feature line running along the top of the front and rear doors.
Key elements, such as the kidney grille and Hofmeister kick within the C-pillars, have been reinterpreted with a more contemporary form. All models get LED head and tail-lights as standard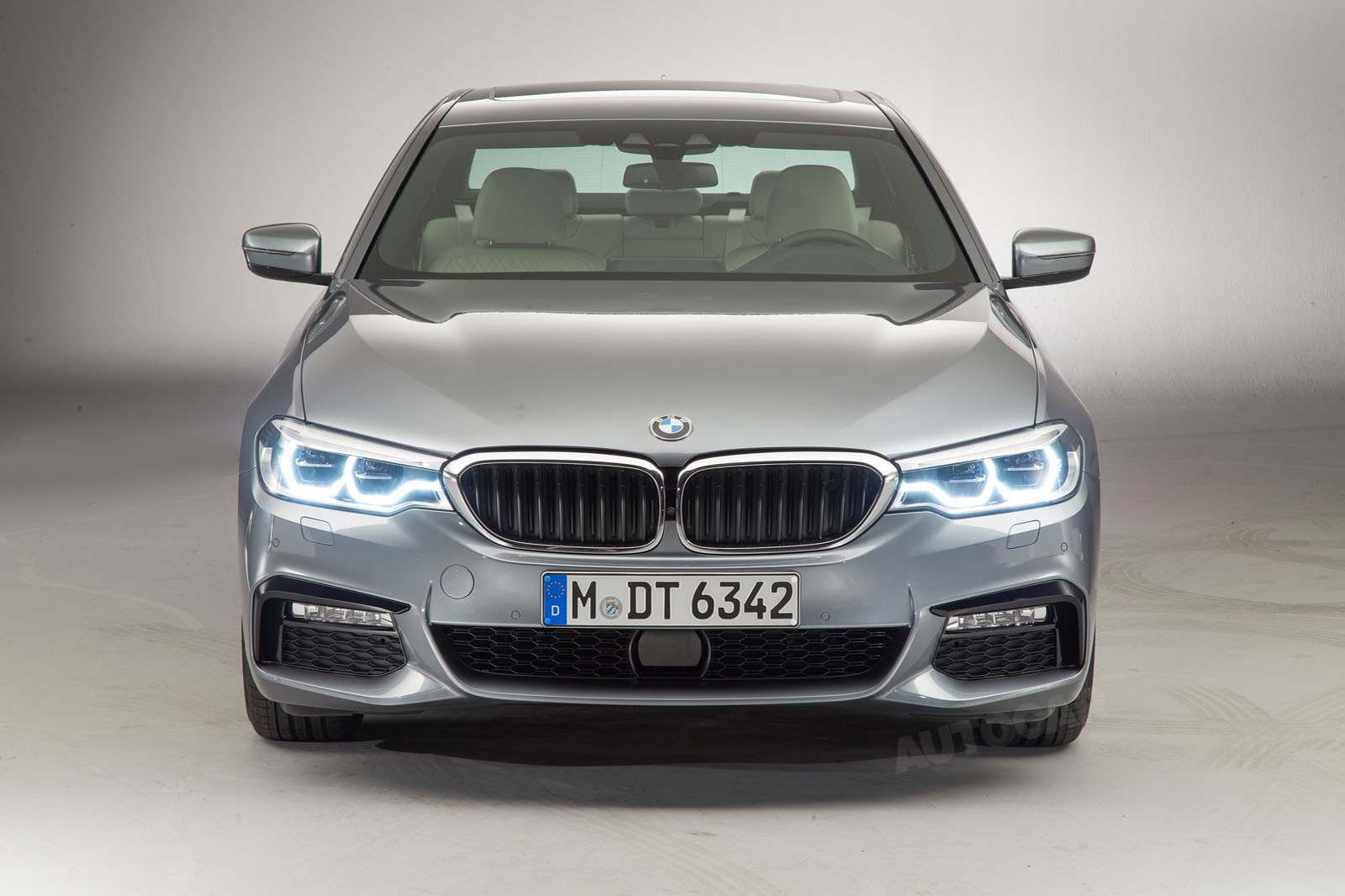 According to project director Johann Kistler, the decision to retain a familiar appearance rather than opt for an all-new look was based on feedback from customers and a record 2.1 million sales for the previous-generation car.
Kistler said: "In the final choice of designs we had three proposals. The production car is the middle of those three – we also had a more conservative proposal and one that pushed the boundaries more."
The new 5 Series has grown in size, but only slightly. Length has increased by 36mm to 4935mm, width grows by 6mm to 1868mm and height increases by 2mm to 1466mm.
The wheelbase is 7mm longer than that of its predecessor at 2975mm, while the track widths of the 520d are up by 5mm at the front and 3mm at rear at 1605mm and 1630mm respectively.
For context, the latest Mercedes-Benz E-class stretches to 4880mm in length, 1850mm in width and 1470mm in height.
Thanks to the increases, the 5 Series' interior space is improved, notably rear leg, shoulder and head room. There's sufficient space for five adults on newly developed seats front and back. Crucially, the rear bench has been reshaped to provide a more defined centre seat, rather than being shaped primarily for the two outer seats, although a wide centre tunnel continues to rob foot space at the base of the centre rear seat.
Boot capacity is also up, by 10 litres to 530 litres, although that's still 10 litres shy of the Mercedes-Benz E-class saloon.
A comprehensive aerodynamic development program has netted the new 5 Series a class-leading drag coefficient of 0.22. This has been achieved with the help of active grille elements with louvres that open when more cooling air is needed but otherwise remain closed to smooth out airflow.