The highly cherished Audi RS4 Avant is back after an unveiling of the new fourth-generation model by Audi Sport boss Stephan Winkelmann at the 2017 Frankfurt motor show.
Set for UK delivery during the second quarter of 2018, the new model builds on the developments brought to the RS5 Coupe earlier this year with the adoption of a turbocharged 2.9-litre V6 petrol engine developed in a joint venture between Audi and Porsche.
With 444bhp and 443lb ft, the new unit delivers the same amount of power but a significant 125lb ft more torque than the third-generation RS4 Avant's naturally aspirated 4.2-litre V8 petrol powerplant.
It is also a considerable 95bhp and 74lb ft more than that delivered by the turbocharged 3.0-litre V6 used by the latest S4 Avant.
With a kerb weight of 1790kg, this provides the RS4 Avant with a power-to-weight ratio of 249bhp per tonne.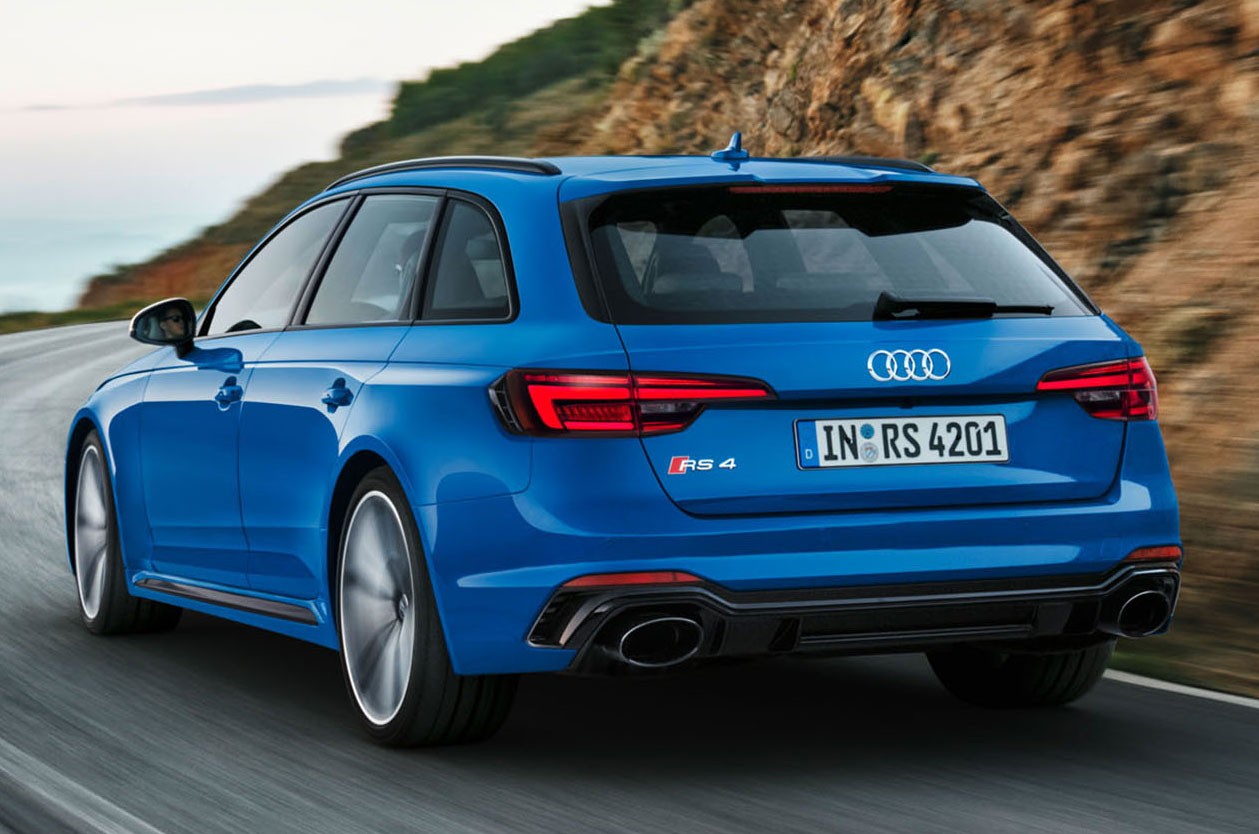 The new engine is combined with a standard eight-speed automatic gearbox with remote steering wheel mounted shift paddles and a quattro four-wheel drive system to provide the 2018-model-year RS4 Avant with a claimed 0-62mph time of 4.1sec – some 0.6sec quicker than its predecessor.
Top speed is nominally limited to 155mph, though buyers can order the new Audi Sport model with an optional RS dynamic package that raises it to 174mph.
Along with the increase in performance, the new RS4 Avant also boasts a significant reduction in fuel consumption and CO2 emissions at a claimed 32.1mpg and 199g/km. By comparison, the old model was rated at 26.4mpg and 249g/km.
"The RS4 is our icon," said Winkelmann. "It blends power with superlative utility."
Setting the new RS4 Avant apart from the S4 Avant is a series of unique design touches Audi Sport says were inspired by the detailing of the Audi 90 quattro IMSA GTO race car.
They include a deep new front bumper featuring large air vents, both left and right, as well as a smaller aperture underneath the new car's reworked single frame grille and pronounced blisters over the front wheel arches.
Further back, the RS4 receives new exterior mirror housings and beefed up sills underneath the doors. In addition, there are widened rear fenders featuring even more pronounced blisters over the rear wheel arches than those seen up front and small vents mimicking the look of those up front alongside the outer edges of the LED tail-lights.