This year, Triumph launched a new version of its Scrambler motorcycle. It's a 1200cc twin and is almost as ruggedly handsome as the bloke riding it here, a former off-road champion called Matt Reed who runs the Triumph Adventure Riding Experience in Wales.
Triumph was going to take the bike to Matt to shoot some promotional video in a deserted forest and, well, the short of it is that I love the Ariel Nomad and it had been a while since I last drove one. So I pitched up too.
But the bike magazines rate the Scrambler as much more serious than it looks. Triumph throws in a free GoPro video camera when you buy one, too, to encourage owners to take it on some adventures and bring back the footage.
I know my way around four wheels a bit better than two, which is why I'd arrived in a Nomad, Ariel's first foray into off-roading and still my favourite SUV. I know it's only two-wheel drive but it's as capable as any 4x4 I could want. Light and with a 245bhp, 2.4-litre Honda engine driving the back wheels through an H-pattern gearbox, I know it's a riot. Ariel offers three sets of dampers, from 'quite good' through to 'WRC-spec', and on increasingly aggressive off-road tyres, with this example's in the middle.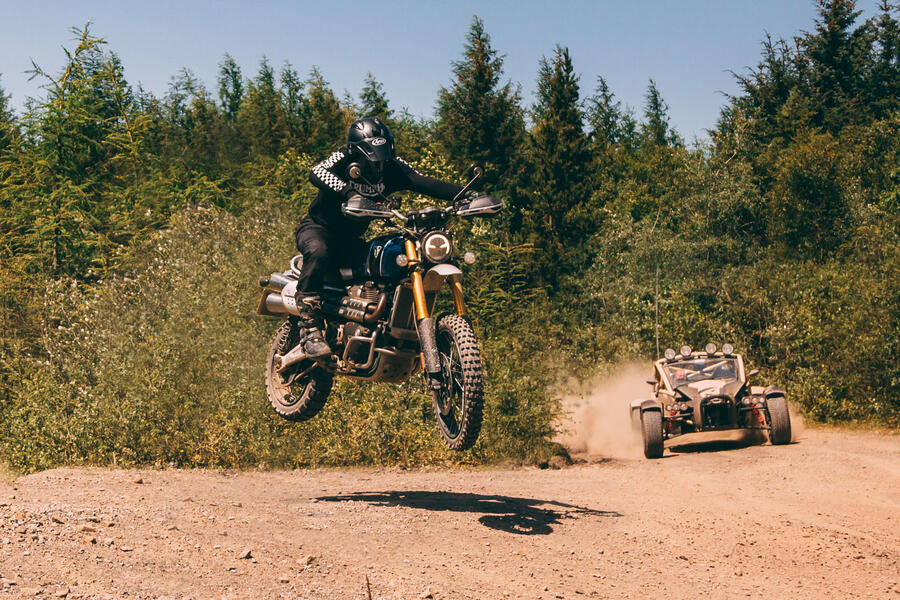 There'll be a new Nomad at some point, using some of the learnings from the latest Atom 4, but this one, launched in 2015, still has so much going for it. It weighs a little under 700kg and although you can get a supercharged version, 245bhp is plenty for me in dust like this. The Nomad is responsive and has a remarkable ability to smooth out or skip over lumps that most off-roaders would pound into. What I perhaps like most is that it retains a sports car-like balance on account of being so light, and rear-drive only.