This year, Triumph launched a new version of its Scrambler motorcycle. It's a 1200cc twin and is almost as ruggedly handsome as the bloke riding it here, a former off-road champion called Matt Reed who runs the Triumph Adventure Riding Experience in Wales.
Triumph was going to take the bike to Matt to shoot some promotional video in a deserted forest and, well, the short of it is that I love the Ariel Nomad and it had been a while since I last drove one. So I pitched up too.
So there we were, in Wales, with Reed on the motorcycle and me in the Nomad, and between us we came up with a long, rough circuit coursing through the trees, with a pretty simple brief to shoot some brilliant pictures and video and end up with a 'lap' time at the end of it, to decide which was quicker. A lap of a place I'd never been to before but where Reed operates on most days of his working life. (Sorry, just wanted to get my excuses in early.)
You can buy the Scrambler in two forms, XC or XE, with this range-topping XE model getting better dampers and costing from £12,500. It's a bit retro, to the extent that technically Triumph calls it a Bonneville derivative and lists it in its 'modern classics' range. In classic style it gets twin rear shocks, one each side of the wheel, whereas proper modern dirt bikes would have a single big shock mounted to a swing-arm ahead of the rear wheel, allowing greater and quicker suspension movement.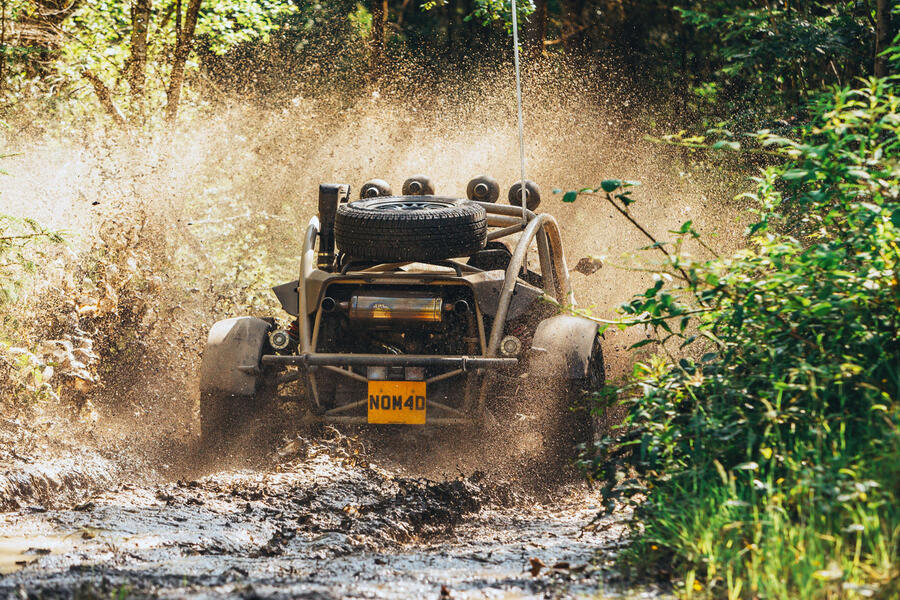 But the bike magazines rate the Scrambler as much more serious than it looks. Triumph throws in a free GoPro video camera when you buy one, too, to encourage owners to take it on some adventures and bring back the footage.
I know my way around four wheels a bit better than two, which is why I'd arrived in a Nomad, Ariel's first foray into off-roading and still my favourite SUV. I know it's only two-wheel drive but it's as capable as any 4x4 I could want. Light and with a 245bhp, 2.4-litre Honda engine driving the back wheels through an H-pattern gearbox, I know it's a riot. Ariel offers three sets of dampers, from 'quite good' through to 'WRC-spec', and on increasingly aggressive off-road tyres, with this example's in the middle.