My, my, the Lotus Evora has changed. The latest version of this now decade-old sports car (there is only one Evora derivative on sale at the moment) is the GT410 Sport – and it's feisty. 
It's got one of those motorway rides. You know the type: with that collusive, delicious high-speed fidget that can only be made by a short, firm coil spring working in tandem with an expensive, belligerent Bilstein damper – and which gently insists you divert immediately from your intended errand-to-wherever to some proper driving roads. It has a supercharged V6 powertrain that demands you time your manual gearchanges well, with the proper footwork, and that picks up from 4500rpm with raw, unfiltered ferocity. It steers with the weight and feel – and kickback – of a competition racer. It really grips – once the Cup tyres are switched on.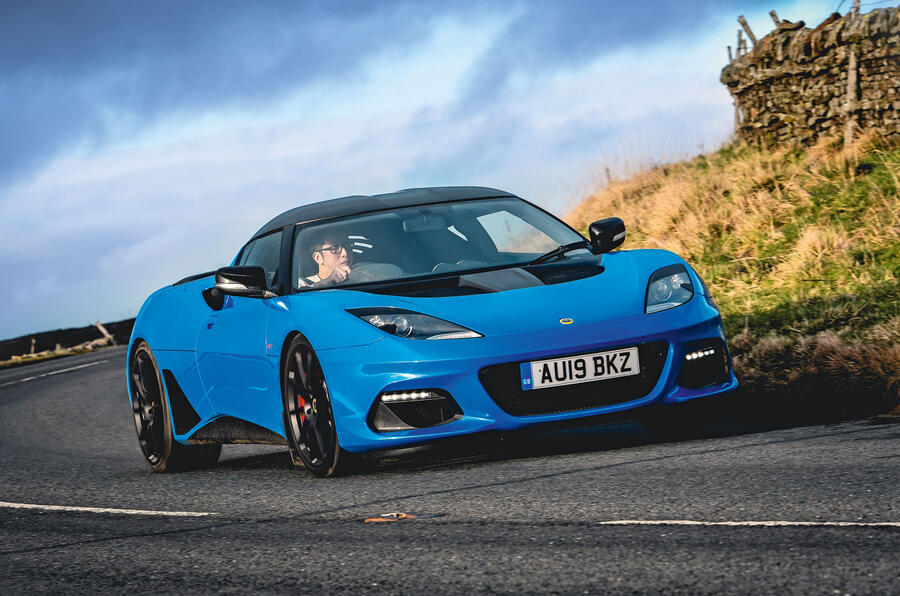 Lordy, this car has put on some muscle. In many ways, it could even compare to a Porsche 911 GT3: for immersive control feedback, track-ready purpose and potential for driver reward. 
And that means it ought to be a pretty stern test for the latest '992'-generation Carrera 4S, right? If only the sports car market was so easy to make sense of. Compared with both Evoras I remember driving three, five and nearly 10 years ago now, and with the latest Porsche 911 Carrera, however, the GT410 Sport is certainly different. And difference is your best friend when the opportunity presents to lay a challenge for a car as complete and accomplished as the new 992. Difference is what you need to crack open the lid on this new Porsche's character and make-up – to find out what it's gained and given up, how it's developed and diverged.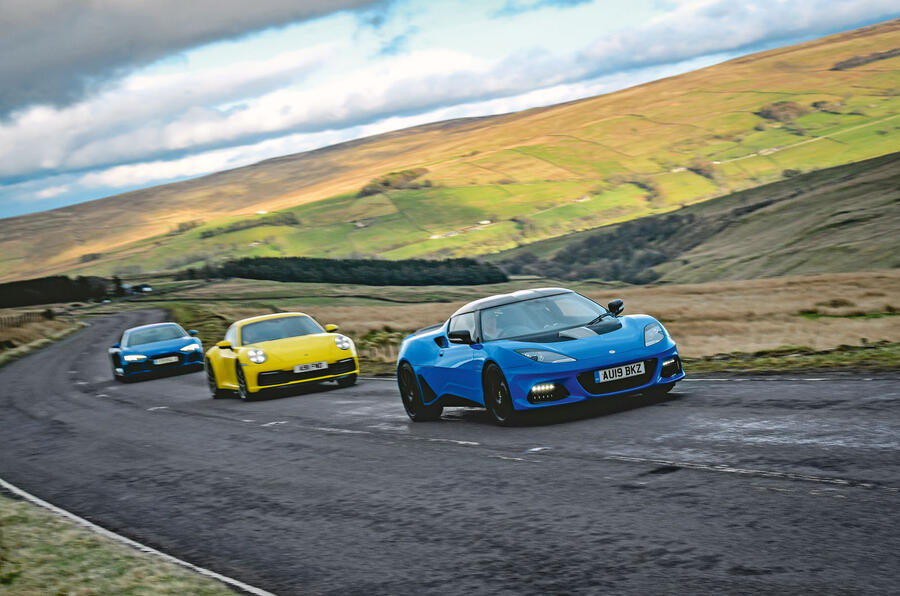 We could have looked for less difference among the line-up for this group test – and, for a while, we did. To tell you the truth, the Jaguar F-Type R was indisposed on the dates of our Porsche 911 welcoming party, and the Aston Martin Vantage was washing its hair. I understand the reticence. A '991' Carrera GTS gave the current Vantage a thorough dusting in a group test I wrote only last year, as well as a McLaren 540C. And the differences between that GTS's partly optional mechanical specification (Carrera 4 'widebody', 444bhp 3.0-litre turbo flat six, lowered PASM suspension, PTV active rear diff, four-wheel steering) and the one about which you're about to read? Well, you might say they're incremental.