To me at least, the GT4 category is where tin-top sports racing cars are at. Ten years ago it would have been GT3 but, not only are GT4s as quick today as were GT3s back then, you can also drop a million quid into GT3 racing with frightening ease and still find your best efforts come to nought when some snake-hipped, gimlet-eyed, no-prisoners professional pedaller barely out of short trousers decides that rather than lose a couple of tenths going around you, he'll just stick you in the barrier instead.
A modern GT3 car is a formidable weapon capable of lapping Spa at the same sort of pace as Group C prototypes from the early 1980s. GT4s are still bloody rapid – I raced a McLaren 570S GT4 at Spa last year and found myself turning in to Eau Rouge at 144mph – but they cost a tiny fraction of GT3 money to buy and, crucially, to run. They're also nicer cars to drive because they're not so heavily dependent on their aero and the way the car must be driven to exploit it, and while the best drivers will always go fastest, it is easier to home in on the full potential of a GT4 car than a GT3, which gives us amateurs some kind of chance.
Take this Porsche 718 Cayman GT4 Clubsport. It will lap Silverstone at a rate that will make any road car look inept, yet if you have even a modicum of talent and experience, you'll feel perfectly happy to push on as soon as its Michelin slicks are warm. Do not let that 'Clubsport' moniker fool you into thinking that this is just a mildly tweaked road car like, for instance, the famous old Porsche 968 Clubsport. This is a highly evolved racing car, dramatically different in all important regards from a street GT4 Cayman. It has, for instance, the older 3.8-litre flat six under its engine cover, yet it produces fractionally more power: 420bhp versus 414bhp. Unlike the road car, it has a PDK gearbox, but with its top gear removed, to leave just six.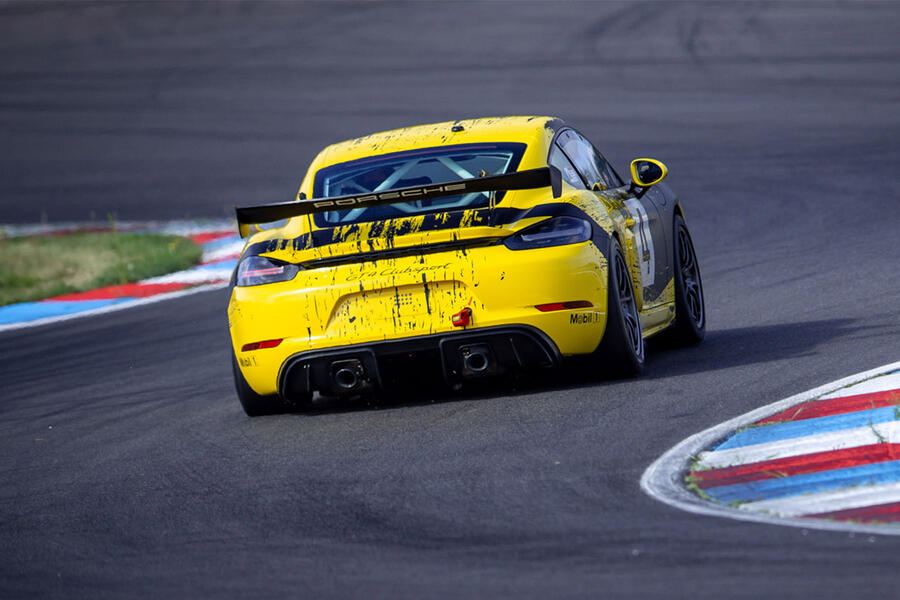 It has GT3 Cup car front suspension, race springs, fully adjustable geometry, dampers with adjustable rebound and bump, a three-position anti-roll bar, a purpose-built race brake set-up with adjustable bias and, of course, those pure race slick and wet weather tyres.
The entire interior has been ripped out, leaving just the basic shape of the dashboard, some switches and the column stalks to remind you which make of car you're in. A brilliantly clear Cosworth data-logging system replaces the conventional dials.
So the car should be a lot lighter than a standard Cayman GT4. But it's not. Because once you've factored back in the air jack system it carries, the welded-in roll-cage, communications systems, fire extinguishing kit, removable roof section (mandated by rule makers) and standard 90-litre race tank, the car weighs 1320kg, which is about the dry weight of a GT4 road car.
In a racing context, it is as easy to drive as the street Cayman GT4 is in a road context. You might find the unfamiliarity of the cockpit, the sight of those slicks and the knowledge you're in a racing car a trifle intimidating, but you need to remember these are cars designed to be driven by people without much racing experience and come with all the electronic aids found in the road car. For similar money, you can buy a Porsche 911 Cup car, which is a very different proposition indeed: with no ABS, no traction or stability control, a sprint-spec tyre that needs constant management and demanding limit handling, it requires an altogether different, more senior approach.