The new Porsche 911 Targa 4S Heritage Design is the first of four classic-led special editions and marks broader expansion plans for Porsche's bespoke arm, Porsche Exclusive Manufaktur.
The four special editions will be revealed over the course of the 992-generation 911's lifetime, appearing on different 911 variants and celebrating different decades in the 911's history. They are intended to blend the technology of modern-day 911s with design elements from the past.
The idea was first launched last year on the limited-edition 911 Speedster Heritage Design. Porsche Exclusive Manufaktur director Boris Apenbrink said: "The Speedster Heritage Design concept was a prequel which tested out how the design features work on Porsche fans and customers."
As the first Heritage Design production model, the Targa 4S was chosen because it is "the most emotional derivative in the 911 range", said Apenbrink. "Everyone recognises a Targa at first glance, so we decided this was the best basis for the first Heritage Design model."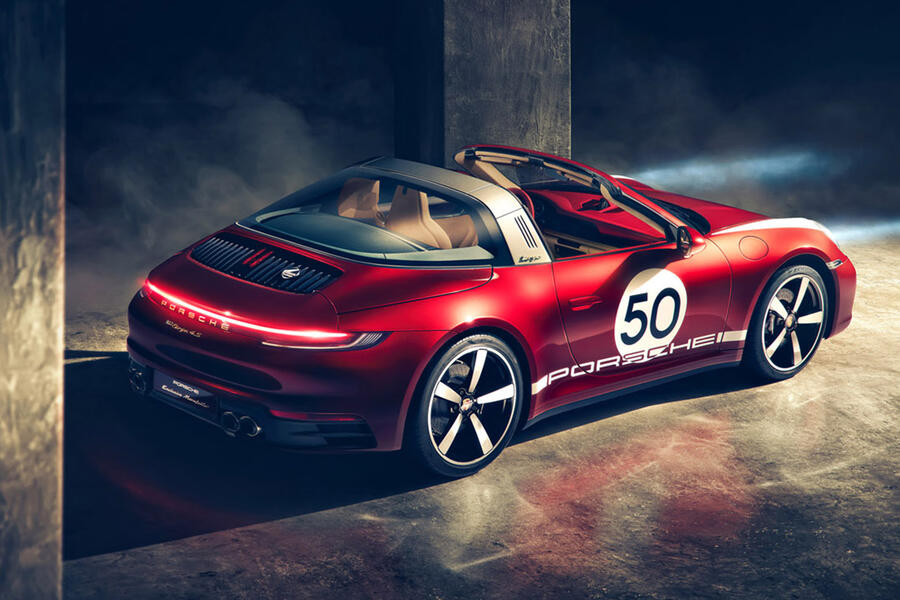 Limited to 992 units - reflecting the eighth-generation 911's internal designation - the Heritage Design model costs £136,643 – £26,918 more than a standard Targa 4S. Order books open today, with first deliveries in the autumn. Technical specifications, including a 0-62mph time of 3.6sec, remain unchanged.
The model harks back to details of the 1950s and 1960s, led by exclusive Cherry Red paint, which was inspired by the early shades of the 356. The Porsche logo returns the word 'Porsche' to its old font, while the brake calipers are black. "In the '50s, we didn't have red or yellow ones," says Apenbrink.
There is historical white livery, including lollipop stickers on the doors on which customers can specify numbers, and gold trim parts as they once were. Porsche has also reintroduced a badge on the rear lid, inspired by those given to 356 owners who reached 100,000km in their cars.
"We took that design and made it a bit more modern but easily recognisable for fans," said Apenbrink.
Inside, the Heritage Design's stand-out details are red leather and corduroy seats, both of which were used in the 356, as well as the white indicators and sport chronograph known from classic Porsches.
Talking about the rollout of more models from the bespoke division, Apenbrink said: "It will be up to two years before you can expect the next car. We don't want to overdo it. Porsche Exclusive stands for passion and craftsmanship. We want enthusiasts to say: 'They've nailed it, that car has everything that is truly iconic for the '50s'.
"This first one reflects the '50s and '60s, while upcoming ones will cover the '60s, '70s and '80s. We started on the Targa, and the other three limited editions will be based on other 911 variants."