Guess who wants to go first when it's decision time at an Autocar Handling Day test and you have to take your turn to sit down at our veteran Windows laptop (no brutish jabbing at the keyboard, please; it's pre-war) and type your final scores into the all-knowing spreadsheet of doom? Nobody – that's who. Trust me, there's much less 'politeness' when we open the pit lane.
From urgent phone calls to bursting toilet commitments, every stalling tactic you can think of suddenly comes into play in order to prevent a given road tester from being the first to vote, and therefore being unable to sneak a peek at his colleagues' rankings before committing his own. As the bloke who usually sets up the Excel score sheet, my votes are often the first down – but the queue behind me to take up position in the hot seat is slower forming than a conga line at a state funeral.
Britain's best affordable driver's car 2019 - part one
Mercifully, it didn't come to the locking of doors and shouting like John Bercow in the bijou briefing room of Llandow Circuit this year. Like me, judges Prior, Lane, Davis and Calo all had to pick a final top three from the field of nine cars we'd assembled and award three points to their favourite, two to second place and one to third. With performance value and usability in mind, therefore, as well as outright driver appeal, we all duly obliged; and a podium made up of two full-sized, front-driven, manual- gearboxed hot hatchbacks and the only rear-driven sports car in the field emerged.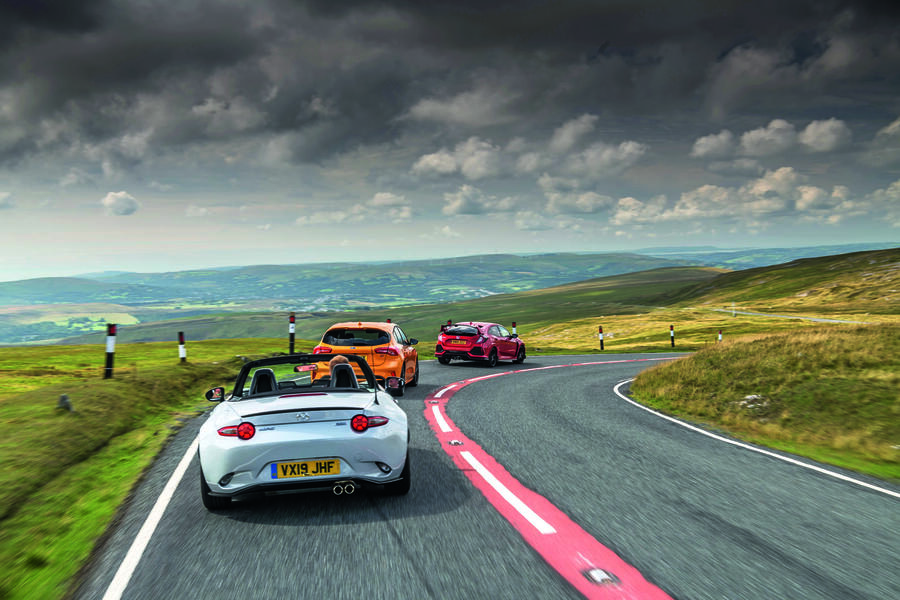 In no particular order, then, the Civic Type R and MX-5 made the cut – previous annual Britain's Best Affordable Driver's Car champions in both cases – as well as the test's freshest-arriving meat: the Focus ST.
Quite a podium, that. Much as some of us had hoped that the sharp end of the competition might be a bit closer fought, truly outstanding driver's cars have a habit of, well, standing out; and while all five judges had both the Honda and Mazda in their top order, only one overlooked the Ford. It was a terse 'nul points' for the Golf GTI TCR, Mini John Cooper Works, Leon Cupra R ST and Mégane RS 300 Trophy. That may seem tough on cars that weren't short on driver appeal by any means, but, contrary to appearances, I guess we're a tough bunch. It was a solitary point, meanwhile – but no podium place – for the i30 N Fastback. It was universally saluted for being a performance car of intriguing potential and made of all the right ingredients, albeit ones not quite blended and brought together with flawless skill.
Which brings us, inevitably, to the sharp end of this contest; and to what exactly separates one of the greatest hot hatchback debutants of the past several years from what's probably the most widely anticipated of 2019. Would either be good enough to force its way between Mazda's affordable rear-driven sporting icon and another BBADC title? Our jury had plenty to say on the former question, but was split on the latter; and so our 2019 champion ended up taking the golden biscuit by a margin of just three points.