You have to visit Volkswagen's local news page to find it. VW's global news feed is so dominated by e-mobility and the upcoming ID electric car range that there's no room there to mention the demise of the Beetle, the last of which has just rolled off the production line in Puebla, Mexico.
There, it is bigger news. Some of the Beetle's generations have been more loved than others, at no time more so than, I think it's fair to say, in America during the 1960s, but the love bug has now finally reached its end after a stellar innings.
The next car to roll down the old Beetle production line at the Puebla factory will be an 'American-market-focused compact SUV that fits below the Tiguan'. Of course it'll be a flipping compact SUV. What else?
The VW Beetle story - picture special
It was announced this would happen last year, and it was inevitable. This Beetle, introduced in 2011, failed to capture the imagination in the way that the 'new' Beetle of 1998 did, which in turn was but a pastiche of the original, so that in recent times only 15,000 or so Beetles a year have found a home in the car's biggest market, the US.
But between the two most recent generations, 1.7 million have still been made: 1.2 million 'new' Beetles, the second-generation car, and half a million of the latest, third generation. That's on top of the 21.5 million Type 1s, the rear-engined, air-cooled car that shook off its grim late-1930s origins, when press drives of the car were accompanied by SS officers, to become the most loved car in the world.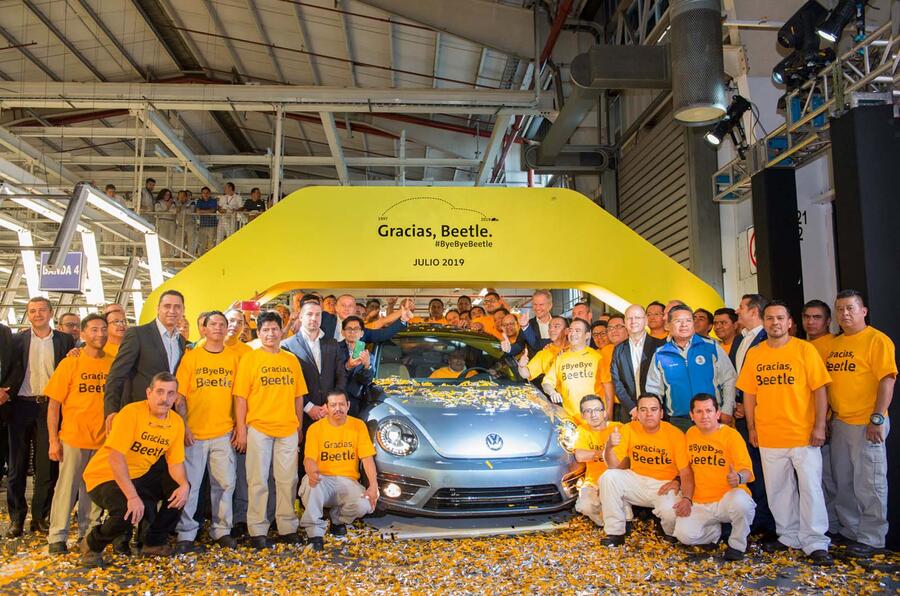 You could argue the newer cars weren't natural successors to the Type 1 – at least not in the way that, say, new Porsche 911s are a continuation of the old models – but the reinvented front-engined, watercooled, Golf-derived retro models were still Beetles, after all, meaning that an eight-decade life has come to an end with perhaps less fanfare than the car's durability merits.
And I guess I get that. The first production ID electric model is called ID 3 because it represents the 'third major chapter' in Volkswagen's history, after the Beetle and Golf. VW would like its electric vehicles to shake off the recent diesel emissions scandal memories we've all still got, without inviting a stroll even further along memory lane. But this feels to me – even though it has been a long and inevitable time coming, and even though flat-four Type 1 production stopped two decades ago – something of a landmark moment.