Why we're running it: To find out how appealing this dynamic family hatch is in its most basic form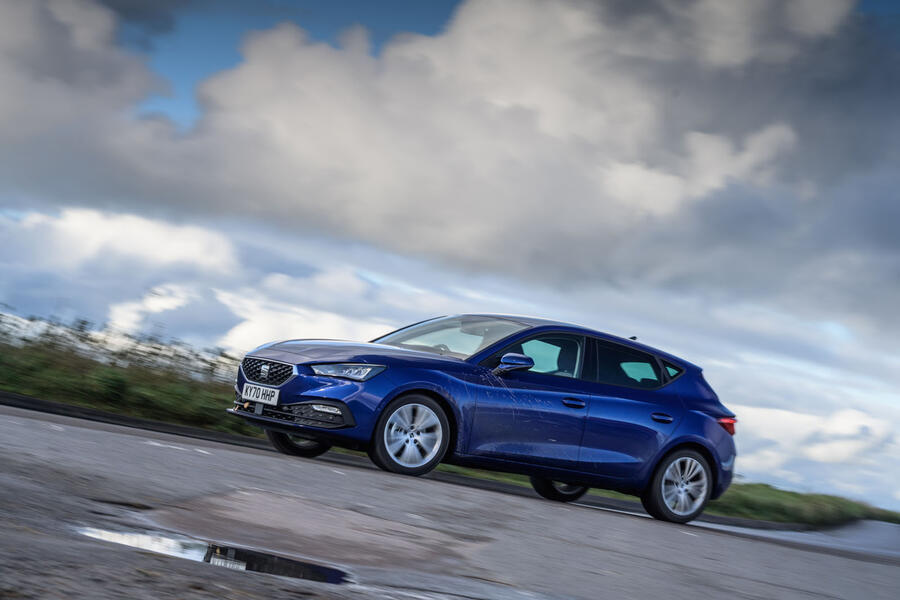 Life with a Seat Leon: Month 3
We've swapped our no-frills 1.0 TSI hatchback for a posh 1.5 TSI - 24 March 2021
Pastures new have greeted Lawrence Allan, so the task of comparing the two ends of the new Seat Leon range has fallen to me.
I had a week driving his Leon, a Mystery Blue hatchback in SE Dynamic trim (the second rung up a ladder of six) and with the 108bhp 1.0-litre four-pot turbo petrol engine, before a posher model took its place.
"I bet you'll get a bit of a shock when you put your foot down for the first time and nothing happens," Allan joked as I stepped out of my torque-crazy electric car, but even this most basic of Leon powertrains didn't really feel underpowered for what would be a family runaround.
Unless you're the kind of person who is always in a hurry. I was one of those people back when I had a life, so I must confess that the extra 28bhp of my new Desire Red 1.5-litre turbo petrol Leon was welcome. If buying for myself, I might even have been tempted by the additional 20bhp offered for £770.
There's an impressive variety of powertrains available in the Leon, you see – the others being a mild-hybrid version of the 1.0 TSI; a 113bhp 2.0-litre diesel; and a 1.4 TSI petrol-electric plug-in hybrid with 201bhp and a 40-mile electric-only range.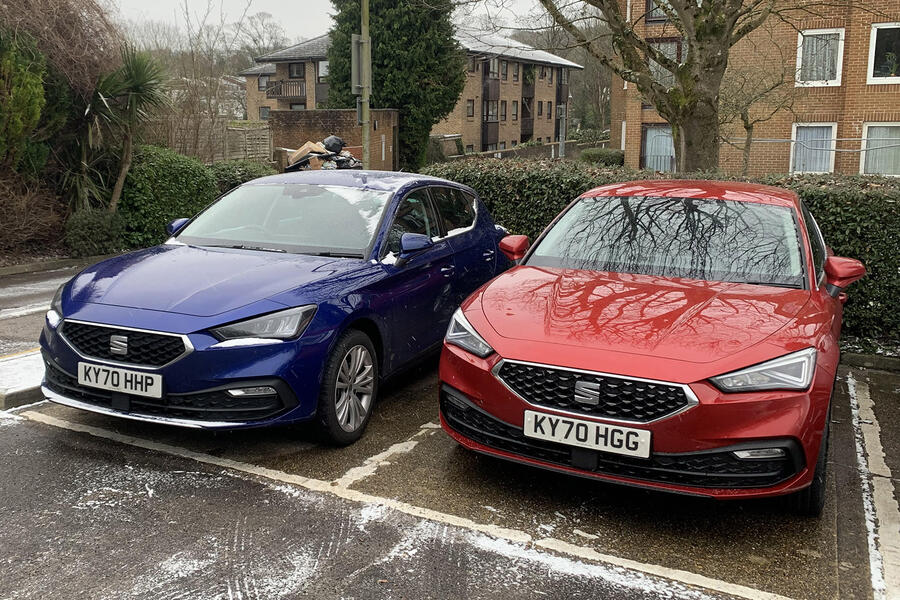 You can order a dual-clutch automatic gearbox, but my Leon has a six-speed manual, which I'm very happy about. How lovely it is to use: it reminds me more of the Mazda MX-5's, with its gratifyingly precise action, than the numb, wobbly, cube-topped lever in my old Peugeot 2008.
The 1.0 TSI Leon was satisfying to drive, and it has been the same story with the 1.5 TSI; that sweet gearbox, the modest engine, keen chassis and taut steering combine to make this an enjoyable car with which to exploit inviting country roads. The Leon is positioned as the more exciting sister of the Volkswagen Golf, and it shows.
This Leon is in Xcellence trim, which Seat calls "the indulgent one". Indeed, it's enhanced with a reversing camera and keyless entry and start in addition to the fullLED lights, scrolling indicators, four selectable driving modes, 'microsuede' upholstery, tri-zone climate control, seat heating, heated leather steering wheel, rain-sensing wipers, wireless phone charger, ambient interior lighting, electric adjustment for the driver's seat, manual height adjustment for the front passenger seat and adjustable lumbar support for both that are added by the FR and FR Sport trims below. It's hard to argue with Seat's claim that it "oozes class", regardless of how much that verb makes me shudder.