The Nissan X-Trail was going to be built in Britain in a deal done in the highest corridors of power. Then Nissan CEO Carlos Ghosn (you know, the one now exiled in Lebanon, on the run from Japanese authorities still) walked into Theresa May's 10 Downing Street in 2016 to ensure the UK's looming exit from the European Union wouldn't harm his firm's latest investment in its Sunderland factory.
Three years later, Nissan announced that the new X-Trail would actually be built in Japan, laying thinly veiled blame for this U-turn on Brexit. Remain or leave and regardless of where it's built, though, the X-Trail still holds plenty of appeal for British buyers as it enters its fourth generation.
For starters, it returns making an excellent visual first impression. Interest waned in the previous X-Trail as customers found it too similar to the Nissan Qashqai (remember, it had the role of replacing both the Mk2 X-Trail and the Qashqai+2) and too much of a crossover rather than a proper SUV, which it made its name on. So Nissan has reversed that this time, making the X-Trail a chunky, substantial presence on the road once more, rather than a bigger Qashqai.
The staple diesel engines that were once the only gig in town for models like this are no more. Instead, the flagship and predicted best-selling powertrain in this new X-Trail is the e-Power system being introduced across various Nissan models. It's a novel and clever type of series hybrid, with the front wheels being driven by an electric motor and a small battery that draws its power from a 1.5-litre variable-compression-ratio three-pot turbo petrol engine that's designed to always run in the most optimal state for efficiency.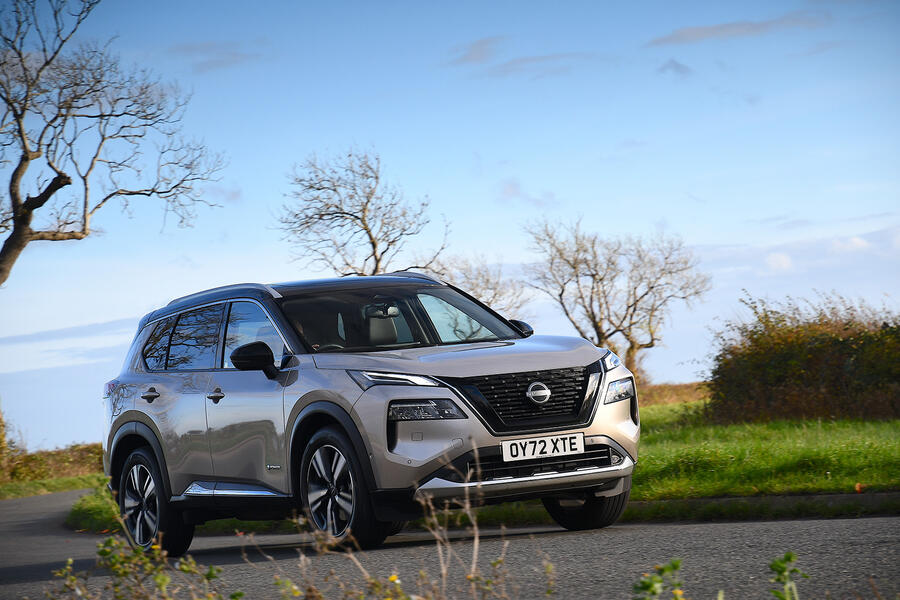 Peak system output is 201bhp. If it's not too much of an oxymoron, think of it as a petrol-powered electric car, with an ICE providing the electricity, rather than a large battery charged from an external source, and you're pretty much there. In a first in the X-Trail, the e-Power system is offered with four-wheel drive, an additional electric motor powering the rear axle.
Not done with marketing slogans, Nissan has called this electric four-wheel drive system e-4orce (and we haven't even got to the e-Pedal yet). It's also soon to be found on the four-wheel-drive version of the firm's new electric SUV, the Ariya. Peak system output is 211bhp in this version of the X-Trail, which we're testing here. Another engine is offered, too – a 12V mild-hybrid 161bhp 1.5-litre petrol, offered with front-wheel drive only and not expected to sell in any great volume.