What is it?
The Nissan X-Trail is the world's best-selling SUV, according to Nissan. A remarkable 750,000 examples of the X-Trail (badged Rogue in some overseas markets) found owners in 2016.
This family crossover also finds itself right in the UK new car market's sweet spot. According to the number-crunchers at JATO Dynamics, in the first half of 2017 the UK SUV segment accounted for 31.1% of new car sales. That's a meaty 435,971 sales and way ahead of the supermini sector (20.2% and 282,500 sales) or the hatchback sector (20% and 280,995 sales).
Now is clearly a good time for the third-generation X-Trail, initially launched in 2014, to be refreshed. This isn't a massive makeover, with much of the effort going into updating the exterior, making the interior feel more upmarket and adding more electronic gadgetry.
On the outside, the nose has been remodelled - it's more aggressive, distinctive and chromed - and the rear bumper has been reworked for a similar result. Higher-spec models get a visual lift from a big chrome strip along the bottoms of the doors. Inside, Nissan makes much of the new 'premium' steering wheel, which is bigger and fatter and has more fingertip controls.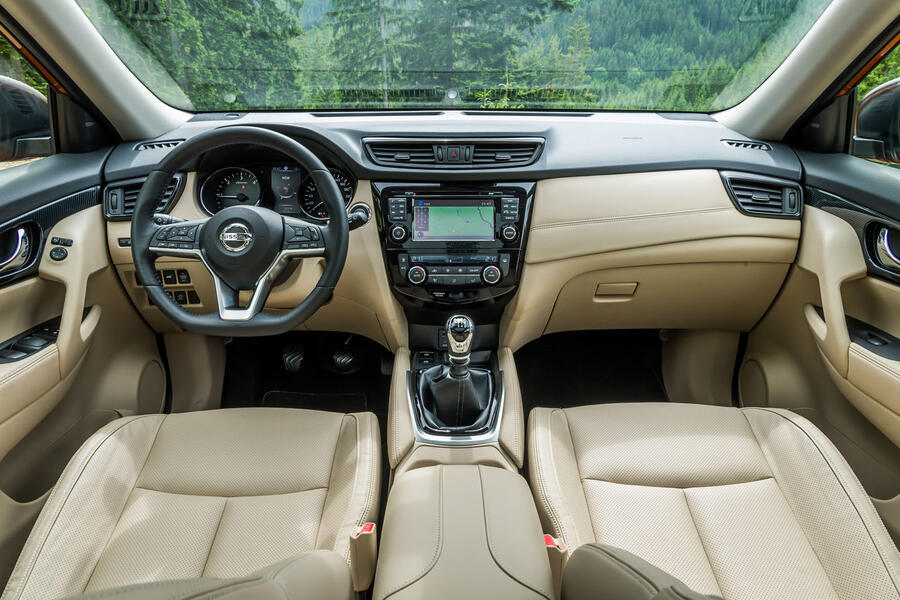 The centre console has also been restyled for more storage space and there are various other upgrades in materials and finishes. Top-end versions now have seat heating for the front and second-row seats and a hands-free electric tailgate. A (child-size) third row of seats is still available and the boot size in the two-row versions has edged up in capacity to 565 litres.
Nissan is heavily pushing driver assistance technology, so the X-Trail gets quite a raft of options. These include a new 'Rear Cross Traffic Alert' that gives warnings when reversing out of a parking space. Also new is 'Stand Still Assist', which can hold a manual X-Trail stationary for three minutes before applying the handbrake. In early 2018, Nissan will add the option of 'ProPilot', which can control the X-Trail's steering, acceleration and braking - within a single lane - on a motorway in heavy congestion and at a high-speed cruise.
The engine choice remains the same: a 128bhp 1.6-litre diesel, a 174bhp 2.0-litre diesel and a 161bhp 1.6-litre turbo petrol, mixed with manual or CVT gearboxes and front-wheel or four-wheel drive.