Why we're running it: To discover if the spirit of the iconic 3dr Mini lives on in the 5dr hatch, while also providing a dose of practicality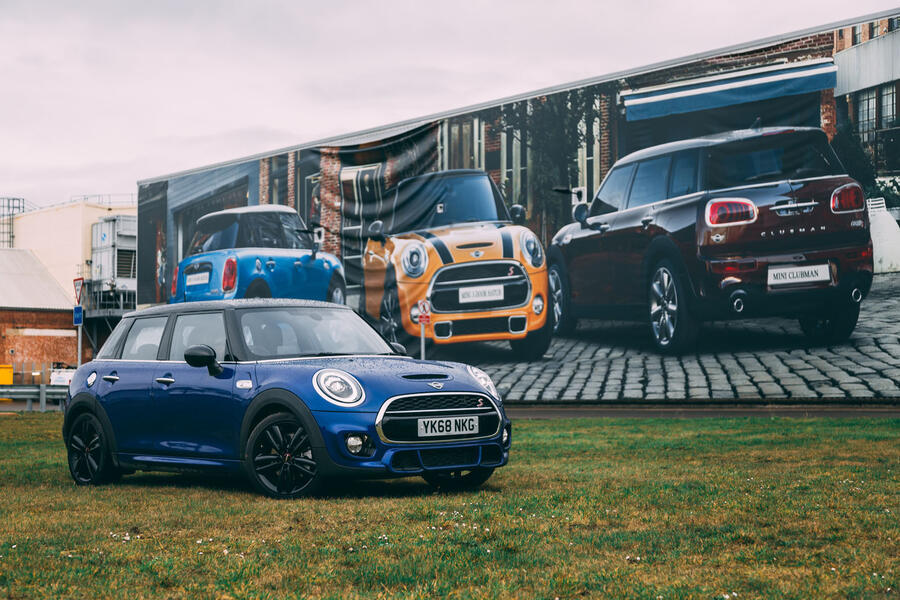 Life with a Mini 5-door hatch: Month 1
It's not what you think it is - 17th April 2018
People that aren't car fans but who have car knowledge are often confused by the Mini five-door. When I say I'm driving the five-door Cooper S, they reply: "Oh, the Countryman?" Many aren't aware the five-door hatch is a thing, instead thinking the Countryman is Mini's five-door car. Some more marketing on this model wouldn't go amiss.
Mileage: 2450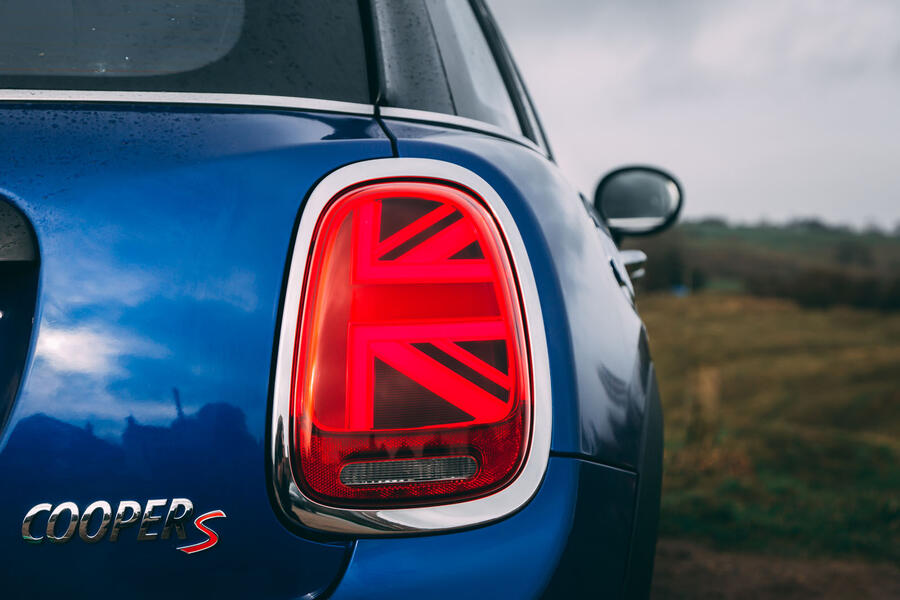 We took the Oxford factory tour, and came away with a new addition to our fleet - 10th April 2018
When Mini introduced its 5dr hatch in 2013, it had wised up to a growing trend: the general demise of three-door hatches in favour of five doors.
The Mini, of course, is a special case given the iconic status of the 3dr hatch, and so the two run happily alongside each other in the line-up. Currently, the UK mix is 55/45 in favour of the 3dr.
Both of these models have the added novelty of being made in the UK. Given that more than 85% of cars sold in Britain are imported, running one that's made, more or less, down the road gave us the perfect opportunity to do the unusual and pick up our finished car, a Mini 5dr Hatch Cooper S Sport, from the factory in which it was built.
Your average Mini buyer wouldn't be so lucky: there's no special treatment for Mini owners at the brand's Cowley plant in Oxford, but anyone can do a tour for £19 a pop – and, indeed, they do. Last year, 25,000 visitors took the factory tour.
Our Mini is a 5dr Cooper S in Starlight Blue with black contrast. It took between 26 to 28 hours to build, typical of every Mini at the plant, which is the equivalent size of 94 football pitches. Around 1000 cars are made here every day.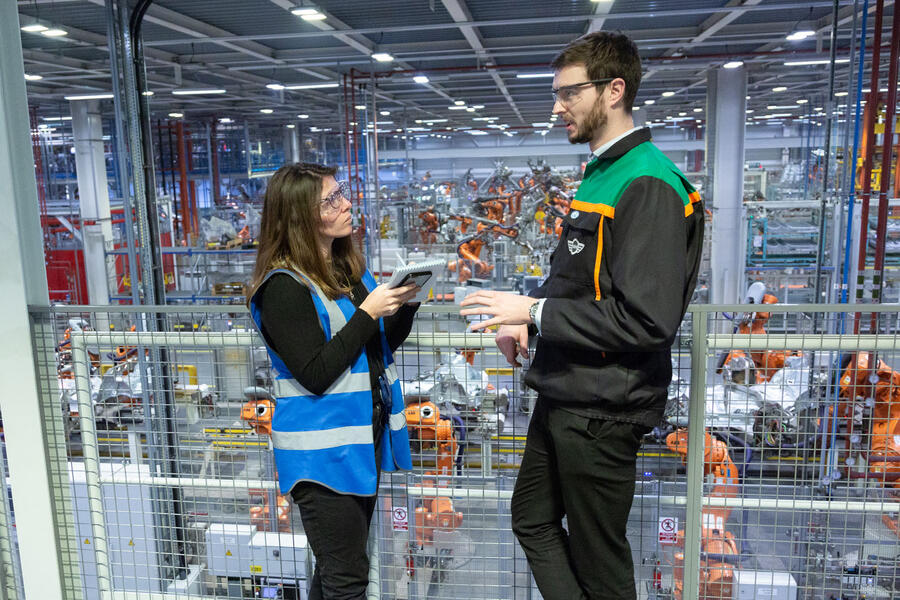 On all parts of the production line, 5dr siblings to our car sit alongside the three-door hatch and Clubman, in any order. They are mostly 3dr Minis, which make up 50% of the numbers at Cowley, followed by the Clubman at 30%, then the 5dr at 20%. From later this year, the electric Mini will be built here, too.
In the early stages of our tour, we pass the stage where cars are stamped with a vehicle identification number. One is done every 60 seconds. I discover that the VIN of our long-termer was stamped at 3.22pm on 9 November 2018. (Yes, we took a long time to pick up the car.)
Further down the line, we watch a host of robots in action fitting sections of the body. Production manager Alex McKenzie tells me there are 19 cameras aimed at each door, measuring accuracy to a tolerance equal to half the width of a human hair.
He adds that the chrome headlights and bar are the hardest parts to achieve a high quality fit. "It is mainly things that are distinctive to the Mini that are difficult. We've got really tight tolerances for such an iconic car," McKenzie says. "The Clubman is the hardest of the three models built here because it has more panels. But they are difficult cars to build generally when you consider what a small package they are."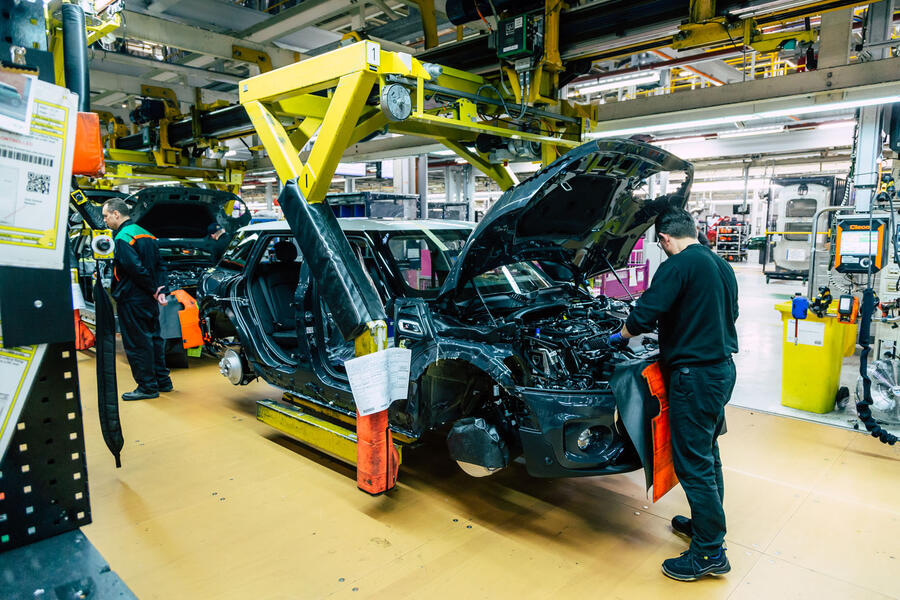 Almost two-thirds of finished cars depart on two daily trains that run through the site, while the rest go by transporter. Ours is the exception. We take some photographs of the car in the heart of the site, which dates back to 1913, before getting on our way.
We've run a Clubman in the past couple of years, but this is our first long-term test of the 5dr model. We want to gauge the practicality of the 5dr hatch, which is 16cm longer than its 3dr counterpart and with 30% more luggage space. Would we buy this or an Audi A1 Sportback?
Our test car is the facelifted model, launched early last year. The best way to tell the difference from the previous car are the rear lights, which now feature a Union Flag design.
Of course, we've gone for the most fun model, the range-topping Cooper S, which accounts for one-fifth of 5dr hatch sales in the UK. The Cooper S uses a 189bhp 2.0-litre fourcylinder engine that delivers 207lb ft of torque and achieves 0-62mph in 6.9sec – 1.4sec faster than the mid-range Cooper.
Late last year, Mini overhauled its trim structure to make it more straightforward for buyers. There are now three levels: Classic, Sport and Exclusive. We've opted for Sport, which adds a series of John Cooper Works features, including a bodykit, sports suspension and bucket seats.
There are three equipment packs available on all Minis, covering driving assistance systems, comfort and navigation. We have the Navigation Plus Pack (£2000) and Comfort Pack (£900). Navigation Plus includes sat-nav, Bluetooth, realtime traffic information and a host of connectivity services such as overthe-air updates. The Comfort Pack features rear parking sensors, front heated seats, an armrest and more.
After those packs, we've gone for the adaptive suspension (£600), black interior trim (£160), head-up display (£500) and Starlight Blue exterior paint (£525). That all adds up to a not-insubstantial price of £28,050.
Going from my most recent long-termer, a Volvo XC40, to a Mini 5dr Cooper S was a stark contrast. The XC40's purpose is to be comfortable and practical, whereas the Cooper S hankers after a dose of that, plus a little extra. It's early days, but already the Mini's sporty handling has put a smile on my face. But will it stay there?
Second Opinion
A practical Mini? Three words that, written down, don't make much sense, but which the evidence suggests is possible, because five doors and compact packaging mean this really is a car a young family could realistically live with. I only wish that the multitude of buttons and dials weren't such an assault on the senses, as they make it feel cluttered, even if it isn't.
Jim Holder
Mini 5-door Cooper S Sport specification
Specs: Price New £23,895 Price as tested £28,050 Options Navigation Plus Pack £2000, Comfort Pack £900, adaptive suspension £600, black interior trim £160, head-up display £500, Starlight Blue exterior paint £525
Test Data: Engine 1998cc, 4-cylinder turbocharged petrol Power 189bhp Torque 207lb ft at 1350-4600rpm Kerb weight 1329kg Top speed 146mph 0-62mph 6.9sec Fuel economy 38.2-40.9mpg CO2 148-150g/km Faults None Expenses None