Iconic is a frightfully overused word, but when applied to the Mini, it's one that's truly apt.
The car is the epitome of British popular culture throughout the 1960s and 1970s, going through various updates and guises. Production finally ended in 2000, and its fame continues beyond.
The Mini, unlike BMW's modern-day interpretation, fitted its billing, and arrived with much fanfare in August 1959, under the names Austin Seven and Morris Mini-Minor, the latter of which Autocar road-tested on the 28th of that month in de luxe specification.
Editor at the time, Maurice A. Smith (DFC), introduced the magazine thusly: "Earlier in the year – in April – we were very happy to be able to describe and test a new British small car from the ordinary and, in many respects, a major step forward. Now, following the Triumph Herald, a second outstanding and original small car design has emerged, this time from the British Motor Corporation.
"This 850cc design, the work of Mr. Alec Issigonis and his team, bristles with originality, yet there is nothing remotely freakish about it. Whether they be engineers or laymen, those who examine this car are unanimous as to the good common sense and ingenuity built into them.
"The road test will gladden many hearts for it gives promise.
"There is good reason to believe that these new cars will be able to better even the remarkable records of the two small car series after which they are named. Perhaps it is appropriate at this time of launching to wish good luck and Godspeed to the new models, and to all who work on them and drive in them."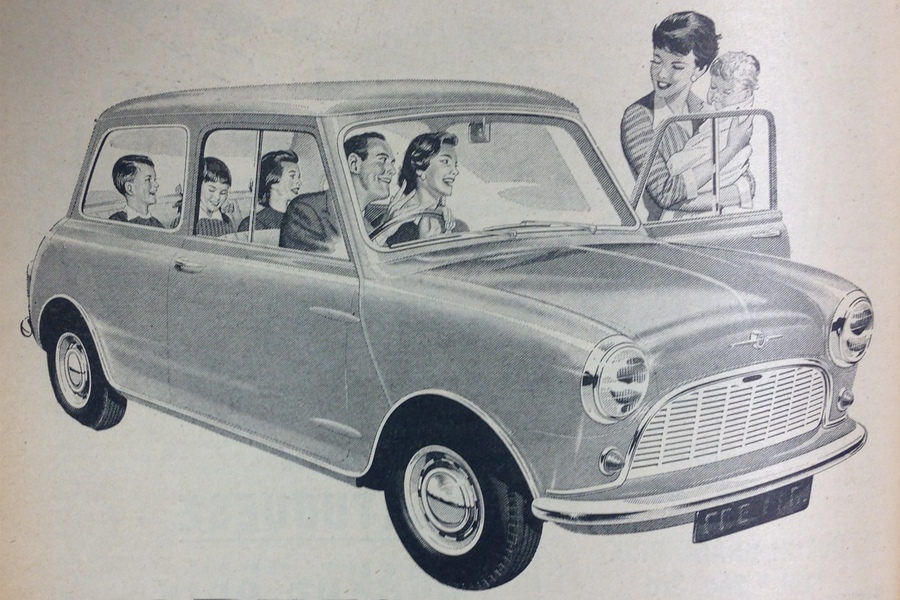 The 'gladdening' road test was certainly complimentary of the £378 10s motor.
"Throwing convention to the winds often produces freaks in the automobile world, but when done by a clever and imaginative designer, the result may be outstanding," we said. "This is certainly the case with the Morris Mini-Minor, which was found to set new standards of comfort and road worthiness in the very small family car class."
Such comments go to show just how bloated modern motors have become, when you consider that something considered a family car when it was designed not even 60 years ago is now dwarfed to an almost comical degree by even the smallest of city cars.
"When one is standing beside the car it appears low and small, 10in wheels accentuating this effect. Inside, however, it is found that there is as much space, or more, than in larger cars."
This was due to the Mini's innovative design: "With the 847cc 4-cylinder engine set across the nose, and beneath it the entire transmission for driving the front wheels, nearly 80 percent of the car's overall length of 10ft is made available for passenger and luggage accommodations. Head and elbow room are adequate for both front and rear seat passengers. The rear seat is wide enough for two adults and a small child on shorter journeys."