Why we're running it: To see if this newest twist on the Range Rover formula is worthy of the badge – and its price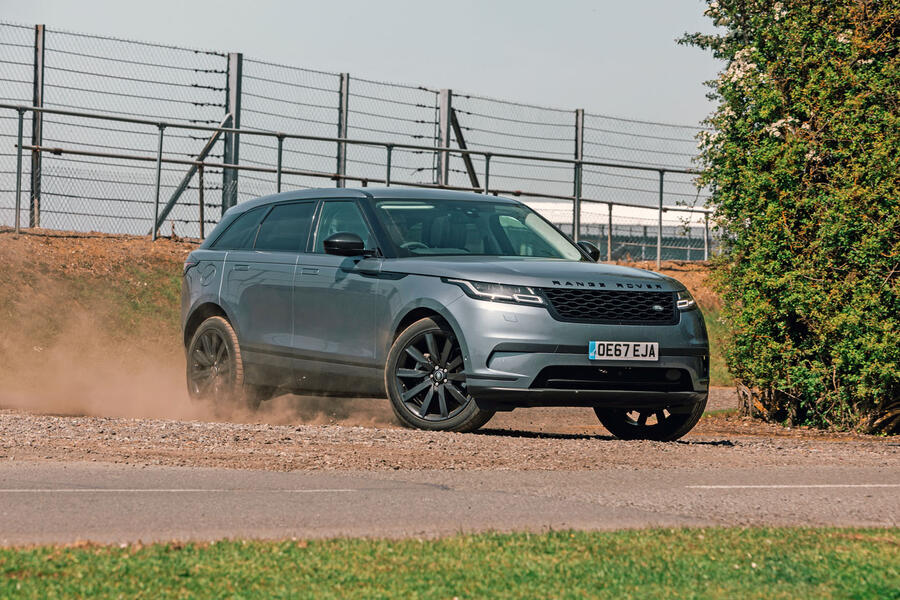 Life with a Range Rover Velar: Month 2
Retractable handles open up a whole new debate - 10 July 2019
There's lots of talk over the Velar's door handles, which pop out when the doors are unlocked and sit flush in the body when the car is locked or on the move. Opinions range from they're brilliant to that's just something else to go wrong (and our own Matt Saunders managed to lock himself out of an Evoque with the same handles recently – his fault). Me? I'm somewhere in the middle.
Mileage: 15,220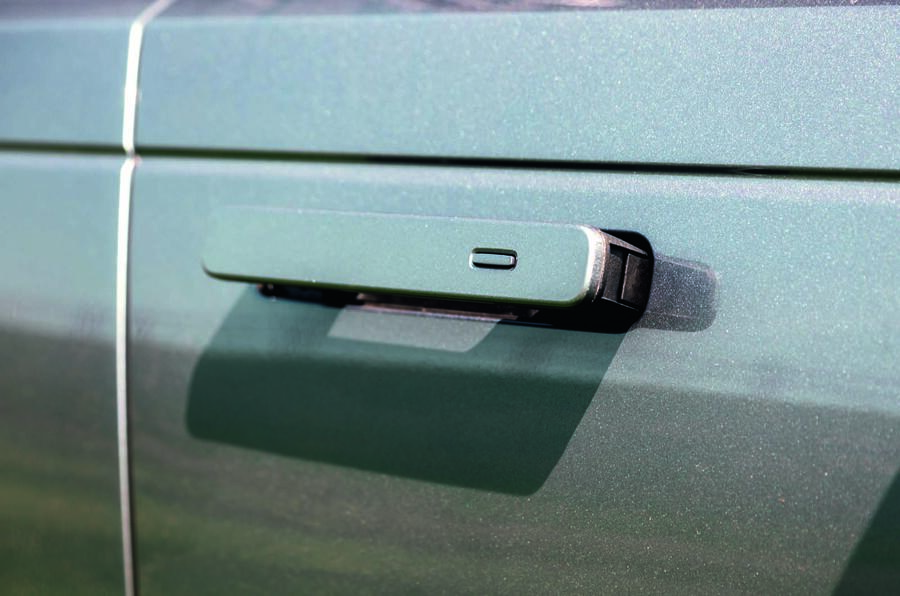 Luxury wheels and a car-sick dog. What could go wrong? - 3 July 2019
A Range Rover is also a Land Rover. Yes, there's all that luxury and sense of peerlessness in the way Range Rovers of all sizes and prices waft around, cosseting owners in a much warmer way than any German car could, yet as a Land Rover and a Range Rover, this must not be at the expense of everyday usability, practicality and versatility. 
We've heard about the Velar's origins before – that it's based on a Jaguar F-Pace (a car that starts at around £10,000 less) and therefore does without a separate low-ratio gearbox – so there are those who will question its true 'Land Roverness' straight away. We're planning a hardcore off-road drive at a Land Rover Experience centre next month to settle that debate. 
But mucky stuff aside, how good a Land Rover is the Velar? Getting the car coincided with me also getting a dog for the first time. These two things were unrelated, I assure you, yet have allowed me to properly explore the Velar in that 'lifestyley' way Land Rover would at least like to think most of its cars are used.
Starting back to front, let's look at that boot. The tailgate is remote-operated, which is convenient when you've got your hands full, but is not split in the fashion of the full-size Range Rover, which has always been handy for opening down as a shelf to sit on and take cover while your wellies come off. A by-product of that is the boot entry into a full-size Range Rover is completely flat, whereas in the Velar there's a slightly irritating step down from the lip, which is at least protected by a scuff plate. 
In the boot, there's the good kind of hard-wearing carpet that not even a sharp-clawed greyhound could pluck yet is also easy to wipe clean. While not as fancy as the fabric in the main cabin, it's far more useful and is a welcome case of substance over style.
There are a couple of handy hooks there to hang bits off as well as controls to adjust the ride height and make access to the boot higher or lower. Those rear seats fold 40:20:40, which is perfect for allowing the dog to be tethered, peer forwards and sit safely in the boot without getting mucky paws on the back seats. 
I'm pleased to report, then, that the design department's desire to give the Velar such a dramatic, swoopy shape hasn't compromised space or practicality from the rear seats backwards.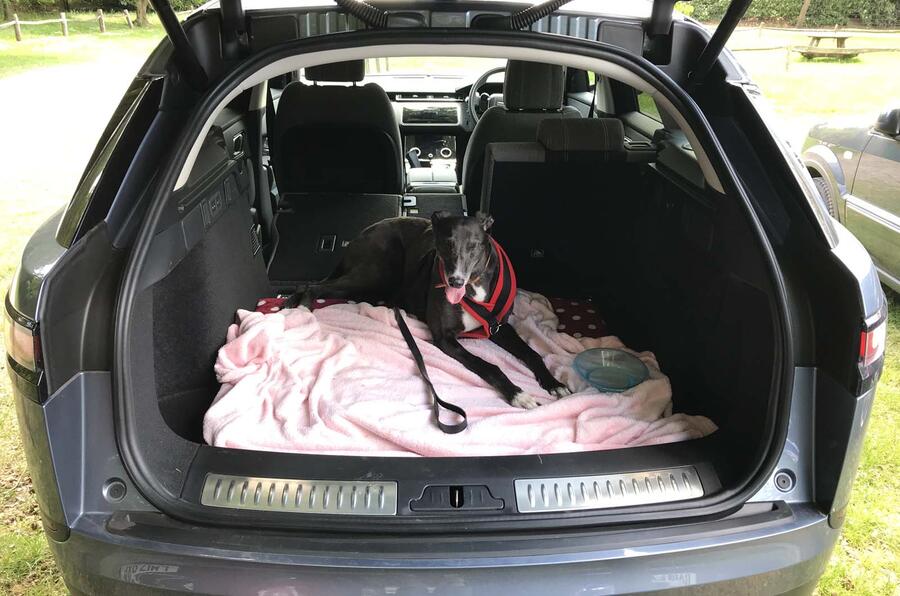 Having a dog that is prone to car sickness tunes you into another level of vehicle dynamics. Which is an area where six-cylinder-plus Range Rovers have always scored highly – in their smooth, linear power delivery. They're actually two-paced, but in a good way: nice to drive around slowly with gentle throttle inputs, yet with enough torque and then high-speed responsiveness for brisk motorway performance. The torque-convertor automatic is proving a good match for the V6 diesel in this D300 model, and economy is also usefully improving towards 40mpg. 
The ride doesn't quite have the pillowy smoothness and absolute isolation of the full-size Range Rover, despite the Velar's optional air suspension. It's smooth and supple at speeds low and high, one of the few blots on the copybook being the low-speed secondary ride. Those 18in alloy wheels look big and heavy, and they occasionally feel it over brittle surfaces at lower speeds, too, in a way that a bigger Range Rover on even larger wheels wouldn't. 
Whatever you think of it, on the road and in terms of its daily usability, the Velar can wear that Land Rover badge guilt-free. 
Love it:
Glass roof Big panoramic roof floods an already brightly trimmed cabin with even more light. Makes a change to the sea of black leather usually found in the class.
Loathe it:
Auto headlights They're a bit rude to other road users, dropping down a good couple of seconds after I would. I keep being flashed as a result…
Mileage: 14,811
Life with a Range Rover Velar: Month 1
Go in with an open mind - 12th June 2019
I've got this nagging sense about the Velar that people don't want to like it. That it's too flash, too expensive. So they don't approach it with an open mind and come loaded with negative preconceptions. But whatever you think of it, the Velar is a fantastically designed and desirable product with real innovation born right here in the UK. It deserves an open mind. 
Mileage: 14,111
Racking up 3000 miles in a couple of weeks, including a family road trip to St Ives​ - 5th June 2019
Cornwall: first stop for our new Range Rover Velar. Barely five minutes after it had arrived, photographer Jed Leicester took away his family in it to the south-west for a bank holiday break and instantly put the Velar under the strain of a fully loaded family road trip.
So speedy was Jed to grab the keys that he even beat me to any kind of meaningful drive. Jed's big journey south plus the few cross-country drives on business that I've done since to get my own first impressions mean that the mileage figure is already 3000 up from when we took delivery (with 10,000 already on the odometer, remember) in just a couple of weeks.
That allows those first impressions to be a bit deeper and more varied than normal. The odometer's rapid rise is also a good indicator of a car that people really want to get to know.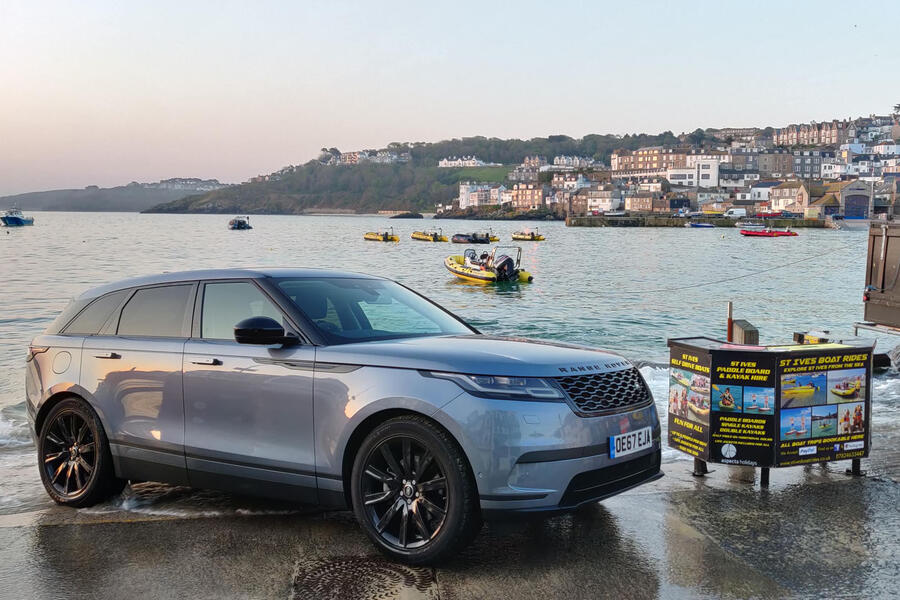 Jed's drive was far more visually interesting than any of mine and took him to deepest St Ives. But having a wife and two kids and not being a hardened road tester meant his eye for looking at the car was different from mine, and his top-line report ("very nice, comfortable and luxurious") invited further digging.
Interestingly, the first thing he went into detail about was the parcel shelf. "Breathe on it, and it springs open," he told me. He's right: the shelf is actually a retractable cover on a roller wheel and it's somewhat on the 'springy' side. Yes, the car isn't a Discovery and thus doesn't have ultimate versatility in mind, but you do expect better from a £70k-plus car.
Yet beyond that, the Velar went down very well with the Leicesters. Jed loved the seats, and the fabric in particular. "I was a big fan of the seat design and cloth used," he told me. "I assumed that leather would be the go-to fabric, but the suede (or whatever it was) was mega." It is, to quote the spec sheet, Premium textile seats with wool blend and Suedecloth, a £620 option, and one well worth having.
The luxurious fabric has a real Scandi-cool vibe to it and makes the Velar feel far more contemporary and individual from the samey black leather cabins of its German rivals. It's a real selling point and key differentiator of the car.
The fabric has practical benefits, too. "It helps you stick to the seat instead of sliding around on slippery shiny stuff," said our family man about the seats front and rear. It's actually the rear seats of the Velar from which I write this very story, by the side of a road (the glamour…). Back here, the luxurious ambience continues and there's more space than you'd perhaps expect from the sleek exterior styling. I'm 5ft 10in and it's fine for head and leg room, and the sloping roofline and narrow glasshouse don't make it feel cramped.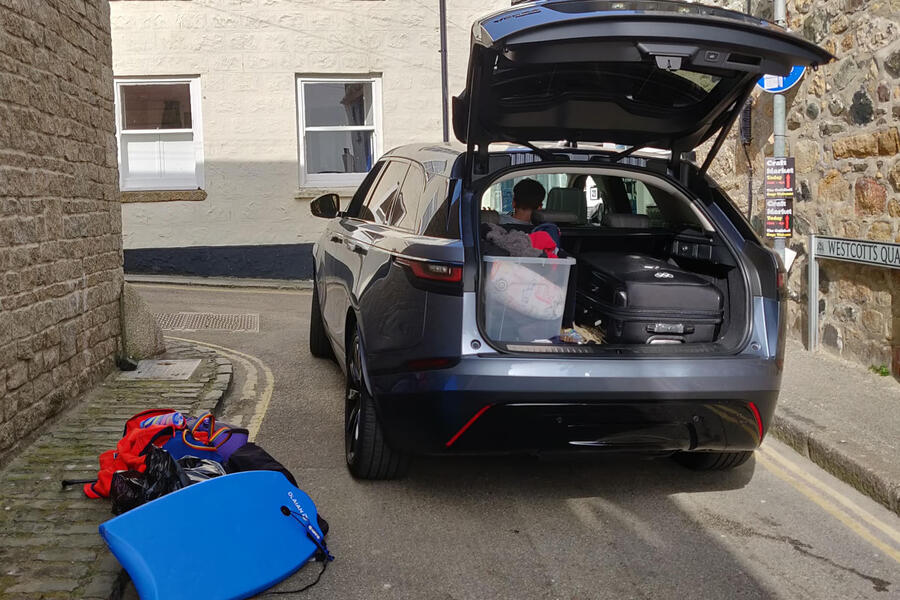 Yet when behind the wheel, you never forget it is a big car. "It's not necessarily the car you'd choose to take down the narrow cobbled streets of St Ives," said Jed, whose experiences tally with my own. So although it is a big car, it can become easy enough to place once you learn its extremities. But as I mentioned in its first report, it's still a harder car to place than the larger Range Rover/Range Rover Sport because the driving position is lower and further back and you're not as obviously aware of where the car's four corners are.
Jed was impressed with the economy and range, too. On longer journeys, you can nudge towards 40mpg and the big, 60-litre fuel tank means you're never wondering too much about where the next fuel station is. Only one fill-up was needed from south-west London to St Ives (not needing to stop to meet a man with seven wives) before pootling around Cornwall for some day trips, and then back, one done with an eighth of a tank left and costing Jed just £60.
So while the Velar is certainly an expensive car to buy, at least it's not a ruinously expensive one to keep moving.
Love it:
V6 engine There's a smooth, easy-going nature to the V6 diesel powertrain that's not as laboured in its performance as four-pot Velars
Loathe it:
Infotainment glitches Lots of bugs already have required a few turn offs and on again. Feels like we've been here before with JLR's infotainment system.
Mileage: 13,490
Welcoming the Velar to the fleet - 23rd May 2018
Is it really two years old already? Because the Range Rover Velar, still a concept car made good for the road to my eyes, certainly doesn't look it.
However great the many challenges it faces are, let's not forget that Jaguar Land Rover still makes plenty of cars of huge desirability, few more so than those wearing a Range Rover badge.
We know plenty of the larger Range Rover and Range Rover Sport cars that continue to age gracefully and grow in popularity after the addition of plug-in hybrid drivetrains last year, and the recent Evoque replacement that has conquered all before it in double-quick time on this website.
But the Velar is the sibling we've had the least experience with. These next few months are all about redressing that and really getting to know Range Rover's middle child.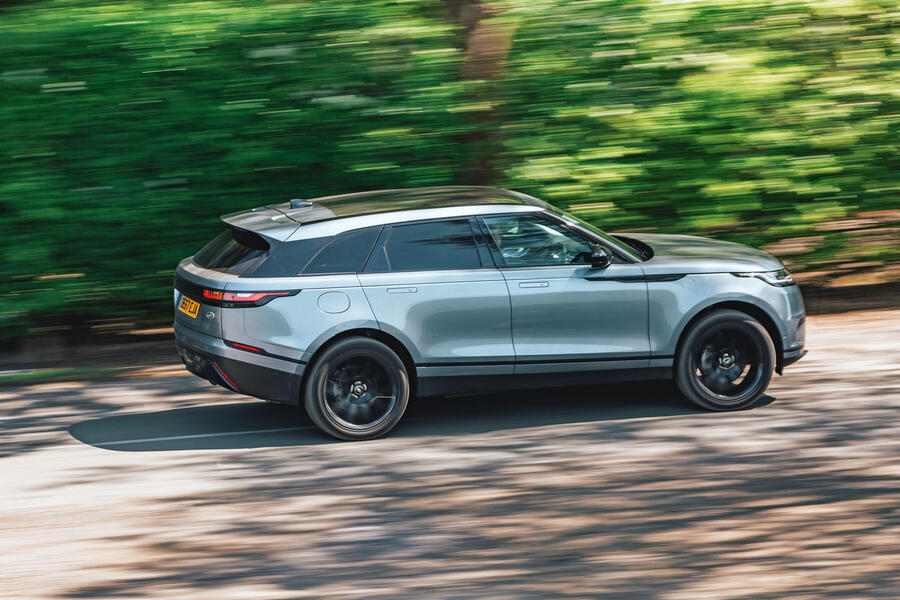 We say 'know least about', but it's still a relative term. The Velar has been through an Autocar road test, in 2017, and was awarded three and a half stars. The asking price and the quality of the car and componentry offered in return was the most limiting factor for a luxury SUV powered by a four-cylinder engine.
The Velar we've got on test right now is a 296bhp V6 diesel, which always felt a more natural companion for a car with premium, Range Rover-like aspirations, even if that price still induces a sharp intake of breath. The £68,110 sticker on our top-spec HSE model before options will find you mid-range, six-cylinder examples of the Audi Q8, BMW X6 and Mercedes-Benz GLE with change in your pocket – cars you'd consider more natural rivals for the Velar's Range Rover Sport big brother.
So this is the chance for the Velar – still a car of huge desirability and notable features, remember – to really prove its worth.
The Velar has made a steady start to life. In its first full year of sales in the UK, some 13,000 found homes. That's impressive, if not quite the 20,000 Land Rover had planned at its reveal in spring 2017, before falling demand for diesel and a depleted car market in general thwarted those ambitions.
Intriguingly, though, that's only ever so slightly more sales than the larger and more expensive Sport, a car that still feels like such a sweet spot in the Range Rover line-up and now very much flavour of the month with the aforementioned plug-in hybrid powertrain.
While the full-size Range Rover and Range Rover Sport are closely related, the Velar's DNA is more closely shared with Jaguar models. It's a sister car to the F-Pace, in a natively rear-drive aluminium architecture that's also found on the XE and XF saloons.
That means there's no hardcore off-road running gear, the Velar instead using a conventional four-wheel-drive system. The 3.0-litre V6 is hooked up to an eight-speed automatic, and while there's no low-speed 'box, the Velar should still go further than most of its peers off road with Land Rover's Terrain Response system and other electronic trickery.
It's unashamedly the most car-based model Land Rover has yet made, then – something that's evident not only in its technical makeup but also its long, low, sleek styling and low-slung driving position.
That's the first thing that strikes you about the Velar when you first sit in it: just how enveloped you are in the cabin with everything wrapped around you – the glasshouse is slim, the bonnet long and the seat far back. That's a real departure from the Range Rover norm, where you typically have an imperious, perched view of the road ahead and a view of each of the car's four corners, however large it is.
In that cabin you can also admire the Velar's other party pieces: the interior design, material use, technology and perceived quality. While the dual-screen layout has already made its way down to the Evoque, there remains a wow factor about this cabin and its modernity, something only enhanced by the absence of leather and the use of luxurious fabrics instead.
This being the range-topping HSE, all that comes at a cost, though. That the price tag starts with a six (well, a seven by the time you add up the options on our year-old, 10,000-mile test car) is intriguing in itself.
When Land Rover was busy showing us the Velar at its launch two years ago, it had plenty of charts to illustrate that as most buyers spent £40,000 on an Evoque and £80,000 on a Sport, there was a large hole in the middle where people wanting to spend £60,000 on a Range Rover couldn't do so.
Lower down the line-up you find JLR's four-cylinder Ingenium petrol and diesel engines in various states of tune, before you get to this V6. It was the range-topper of the entire Velar line-up until the recent announcement of the SVAutobiography model, complete with JLR's magnificent 542bhp supercharged 5.0-litre V8.
You can have the HSE trim even on the entry-level four-cylinder 178bhp diesel model – a £58,000 car itself – which shows that Land Rover perhaps considers the Velar's appeal to be in its materials and design as much as its technology. While it is possible to get a Velar for less than £45,000, that's still almost £10,000 more than the cheapest F-Pace.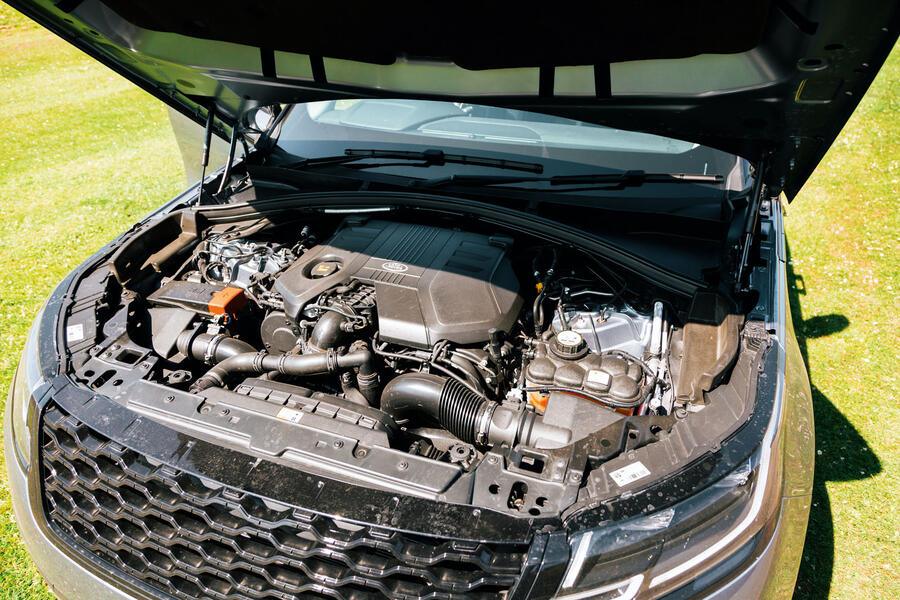 So there's no getting away from the fact that the Velar is an expensive car among its peers, yet Land Rover would argue a Range Rover will always look to command a premium. Whether it can or not is just one of so many stories and sub-plots to explore in our Velar over the next few months. Bring it on.
Second Opinion
The Velar's styling marked a new era for Range Rover – and, based on its sleek, grown-up looks, I wouldn't be surprised if it attracts a new generation of buyers, too. It's intended to sit between the Evoque and Range Rover Sport but, given its expense, I'm interested to see whether the Velar is a more appealing option to own overall than the original footballer's car. 
Rachel Burgess
Land Rover Range Rover Velar HSE D300 specification
Specs: Price New £68,110 Price as tested £73,295 Options  Byron Blue metallic paint £725, Privacy glass £390, Fixed panoramic roof £1115, 21in 10-spoke gloss black finish wheels £830, Electrically deployable towbar £985, Black pack £520, Premium textile seats £620
Test Data: Engine V6, 2993cc, turbocharged diesel Power 295bhp Torque 516lb ft Kerb weight 2029kg Top speed 150mph 0-62mph 6.3sec Fuel economy 34.7-38.0mpg CO2 No WLTP figure Faults None Expenses None