Why we're running it: To see if Cupra's classy crossover is up to the rigours of day-to-day running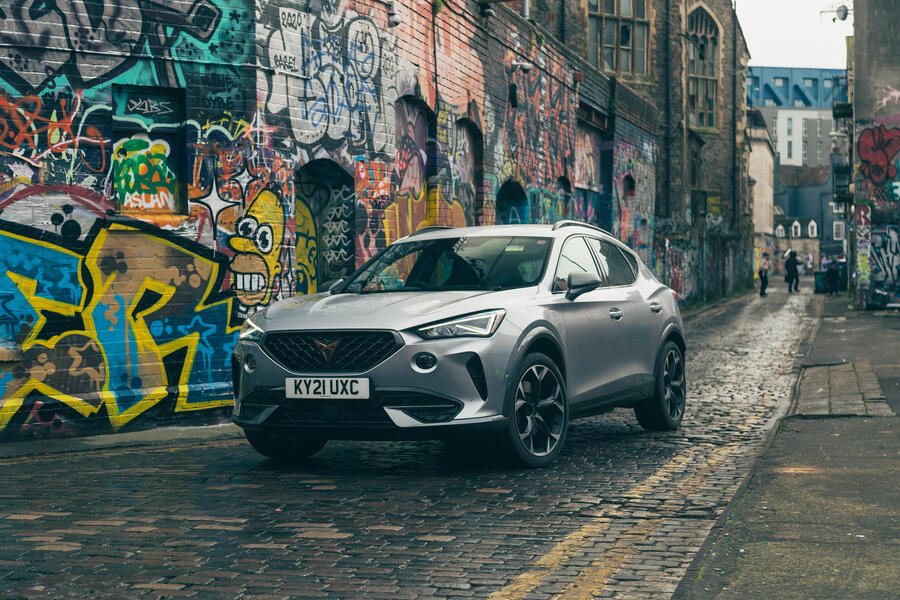 Life with a Cupra Formentor: Month 5
Time has been called on our eye- catching crossover. Will it be missed? - 23 February 2022
"Is that a Lamborghini?" No, stranger in the supermarket car park, it isn't – but you're not the first to ask.
The Cupra badge is clearly still something of a mystery to many Brits, because after several months and 15,000 miles with our Formentor, I continued to find that people wanted to stop and talk about it when I was out and about.
That was especially true at night, which I chalk up to the prominent rear light bar and interestingly shaped LED headlights, which look tastefully futuristic.
Factor in the angular design and bronze trim accents, plus the fact that sister brand Seat has resisted the urge to release its own version, and you've got an undeniably distinctive car. Prospective owners who relish the attention would be wise to spring for the Petrol Blue Matte paint (a £1860 cost), which, I think, is much more menacing than our car's (admittedly less expensive) Urban Silver.
I hadn't had a long-term test car I'd consider 'fun to drive' for a while, so I was keen to explore the Formentor's dynamic ability. It didn't disappoint: the supportive seats hug you nicely in place through corners, the adaptive dampers tighten everything up when you find a fine stretch of road, and the PHEV powertrain delivers as much power as a Volkswagen Golf GTI. The augmented engine note was a little too fake for my liking, and having all the power sent to the front wheels could make the steering more than a little lively under full throttle, but the overall experience was much closer to a hatchback than the many 4x4s that use the same platform.
The Formentor's hybrid system was at its most efficient on shorter journeys where I could plug in at either end, letting me largely rely purely on electricity. I don't remember ever seeing the claimed 33 miles of range, but even during the colder months, EV mode could handle trips of 20-plus miles without calling the petrol engine into action. Fully electric driving was always nicely refined and super-smooth.