The new McLaren GT, on display at the Goodwood Festival of Speed, will "redefine the rules of Grand Touring", according to the firm.
The new model is so distinct from McLaren's existing line-up of Sports, Super and Ultimate Series models that the Woking brand has positioned it in its own category. It's said to revive the spirit of "traditional Grand Touring - long distance driving in comfort, at higher speeds and with room for luggage".
All the news from the Goodwood Festival of Speed 2019
However, McLaren also claims that it is lighter, faster and more engaging than any existing products in the GT segment.
Measuring 4.68m long and 2.09m wide, the GT is McLaren's largest model on sale (excluding the sold-out Speedtail), and targets everything from the Aston Martin DB11 to the Bentley Continental GT. McLaren claims that, at 1530kg, it's more than 130kg lighter than its "closest core competitor".
Much of this is thanks to the McLaren's carbon fibre monocoque, dubbed 'MonoCell II-T' in the GT as it incorporates a new rear upper stucture. This allows for the most luggage space of any McLaren to date: a 420-litre space below a soft-close rear tailgate combines with a further 150-litres of storage at the front - a best-in-class combined capacity. The firm claims it has enough load length to carry two pairs of 185cm skis.
As well as offering segment-leading space, McLaren has optimised the design for long-distance comfort. The strong carbon structure means that the C-pillars are glazed and rear quarter windows feature, improving visibility and cabin ambience. It still retains the trademark dihedral doors, however.
The interior combines McLaren's focused, minimalist approach with a raft of new luxury touches. Seats unique to the GT, both electrically adjustable and heated, are said to offer the perfect balance between support and long-distance comfort. A new, faster and more advanced infotainment system features, with the latest HERE navigation software and heating and ventilation controls now incorporated into the touchscreen. Further features include hidden ambient lighting, a Bowers and Wilkins sounds system and the option of a new electrochromic roof panel that can darken and light up at the press of a button. Cashmere upholstery will even be offered later this year; a production car first.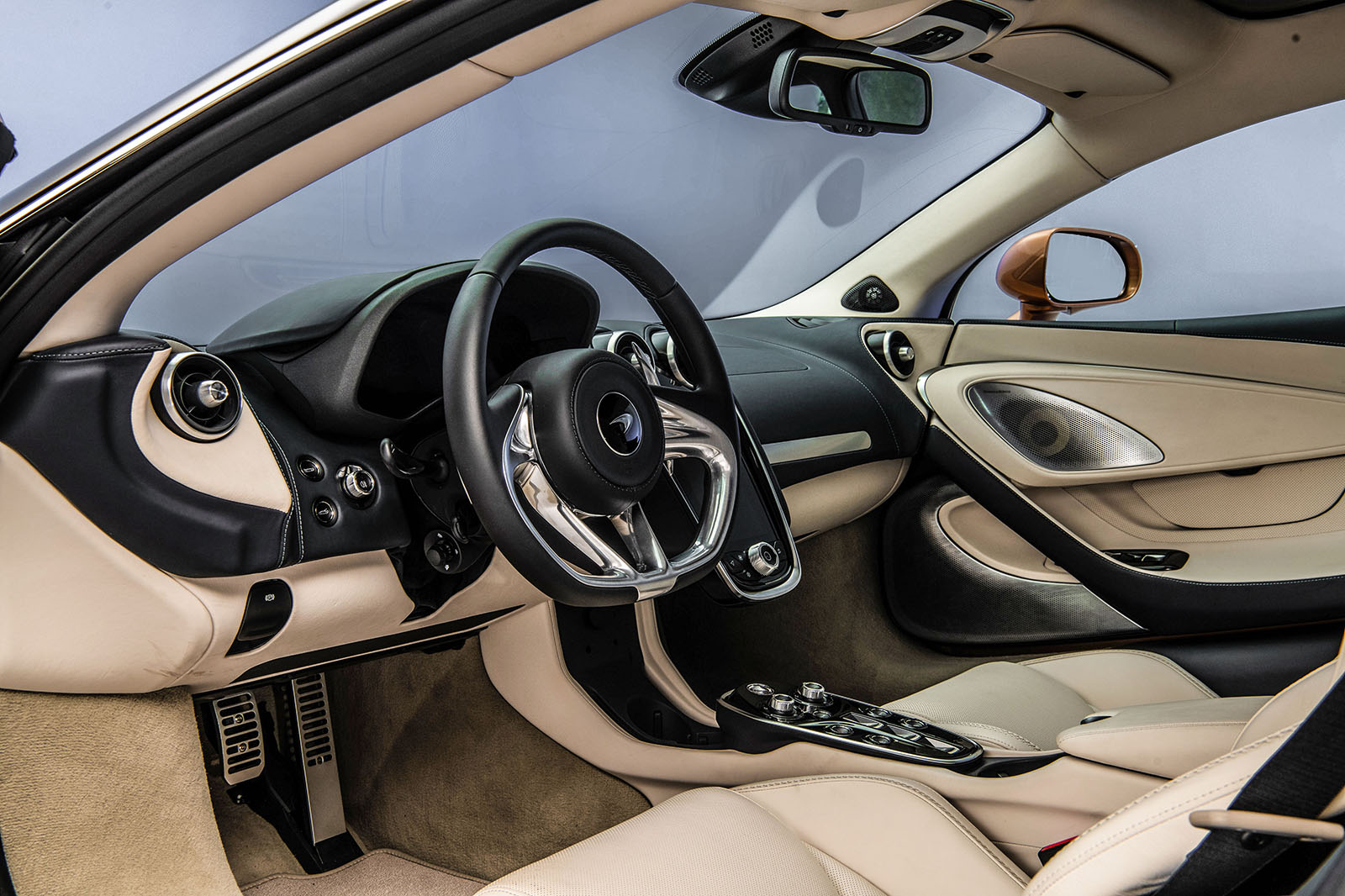 McLaren's familiar 4.0-litre twin-turbocharged V8 powers the GT, offering 612bhp, 465lb ft of torque and a power-to-weight ratio of just under 400bhp-per-tonne - the least of any McLaren on sale. 0-60mph still comes up in 3.1secs, however, while 0-124mph takes nine seconds and it will hit 203mph flat-out.