Unit 11, Humber Avenue, Coventry. Doesn't sound extraordinary, does it?
But wander in and you'll discover the home of what is, by some measure, the UK's most advanced autonomous vehicle manufacturer – so advanced, in fact, that it is already in the business of selling its four-seat electric self-driving pods to happy customers around the world at about £150,000 each.
This is not some outpost of Jaguar Land Rover or Nissan, however, but rather one part of the less well-known RDM Group, the parent company of Aurrigo, its autonomous vehicle arm, which is perhaps best known for its ongoing test projects in Milton Keynes, where it has been running its pods safely and effectively in public environments for some time now.
Listen carefully and you'll soon get an idea of the depths of expertise in the room – partly from the number of big-brained qualifications being bandied about (think maths, computer science and electronics degrees) and partly from the variety of accents that give away the global pull of working at a cutting-edge firm.
Dotted around the up-and-comers there are also familiar industry faces among the 160-strong workforce: Jez Coates, ex-Caterham technical head; Richard Bartlam, former designer at MG Rover; and the Royal College of Art-trained Elliott Hawkins, now RDM's head of design. Also present is Miles Garner, ex-Philips and Sony sales and marketing lead.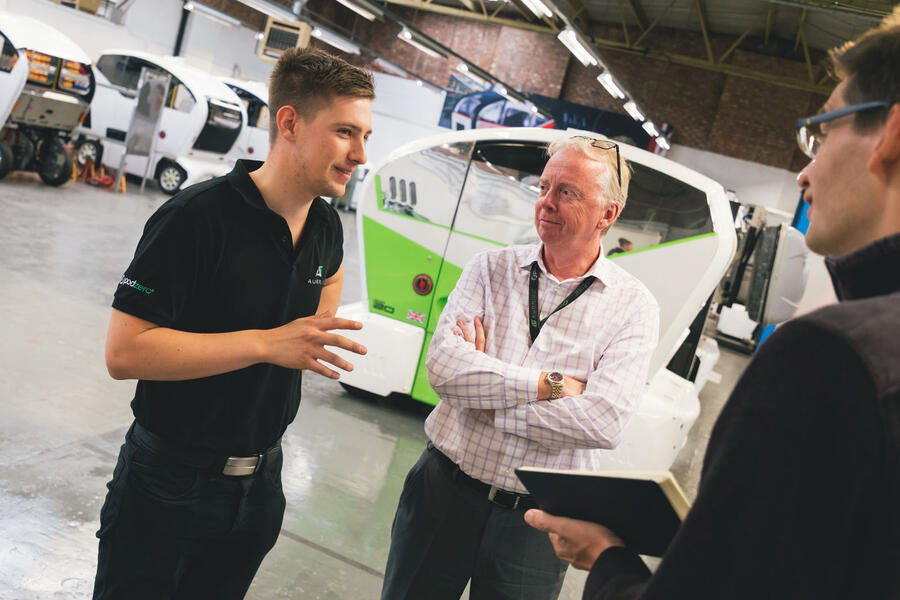 Heading it up is the firm's CEO and co-owner, David Keene, who is – to emphasise the above point – also entitled to call himself Professor David Keene, BSc (electronics and electrical engineering), MIET, CEng and FRSA. "We're on a journey with autonomy but I think our success to date is the result of being realistic and unrelenting," says Keene, surveying the first, two-seat autonomous prototype the firm built – without even any suspension – six years ago.