Hot hatchbacks are a regular sight on the Autocar long-term test fleet. There's little else that can balance power, practicality and cost as well as the humble family car once a manufacturer has given it a performance-minded overhaul, and we love them for it.
The category is dominated by familiar makes and models, though, so it's rare we get the opportunity to run a manufacturer's first attempt at a hot hatch. But that's exactly what happened when we took delivery of a Hyundai i30 N to our test fleet at the beginning of the year, not long after it had earned an admirable three and a half stars in an Autocar road test. 
Better yet, it arrived while we were running the latest version of the car that first popularised hot hatches back in 1976. The Volkswagen Golf GTI is a consummate all-rounder and as compelling here in its seventh generation as it has ever been.
The big question, then, is whether Hyundai has managed to best Volkswagen at its own game at the first attempt of trying or the GTI is still the car you'd want to live with. This naturally caused great debate in the office, so we've left it to news editor and i30 N minder Rachel Burgess and Golf GTI-running editor Mark Tisshaw to argue it out.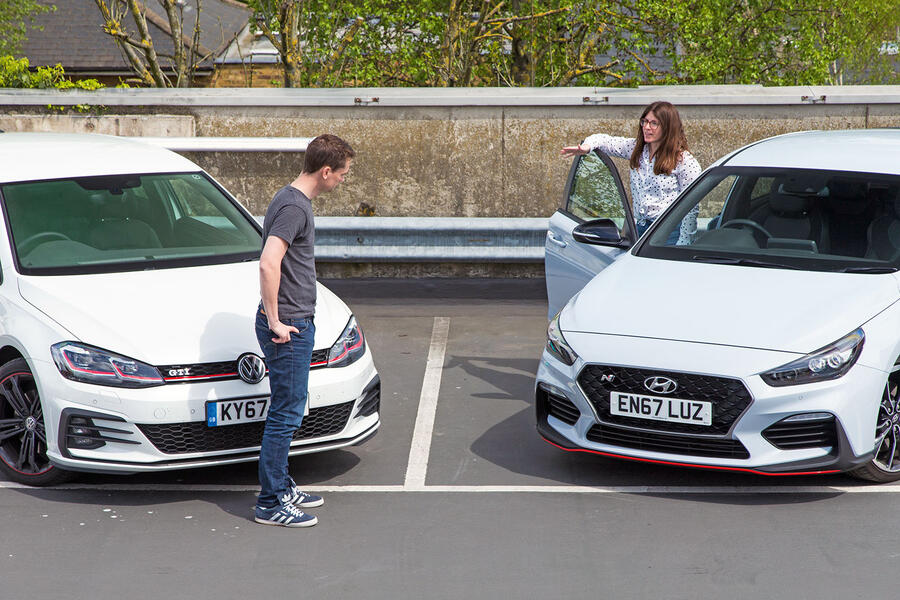 RB: Do you reckon the GTI still rules the hot hatch roost, then?
MT: Now there's an opener… The GTI is unique, not in the clichéd sense, but because nothing else has really replicated its formula, the i30 N included. You'd be mad to launch a new hot hatch with the GTI's low power figure, but its appeal has always been in its all-round usability.
RB: I've always had a soft spot for the GTI. Still, the arrival of a new hot hatch is rare, so it's been great to have a few months to really get to grips with the i30 N. It isn't as well-rounded as the GTI, granted, but that very reason sometimes means it's more exciting.