The Lamborghini Huracán created for Pope Francis has been sold at auction for around £630,000 - over four times the price of the base Huracán.
Lamborghini created the one-off special edition of its Lamborghini Huracán supercar for Pope Francis last year. Rather than becoming his new popemobile, the car was always destined to be auctioned off for charity.
The Italian firm's Ad Personam customisation department created the one-off Huracan rear-wheel drive in homage to the Vatican, with a special livery based on the city state's flag. The car is painted in Bianco Monocerus, with a Giallo Tiberino decoration.
The Huracán was presented to Pope Francis by Lamborghini boss Stefano Domenicali at the Vatican. The pope blessed and signed the car, which was auctioned at RM Sotheby's Monte Carlo Grimaldi Forum.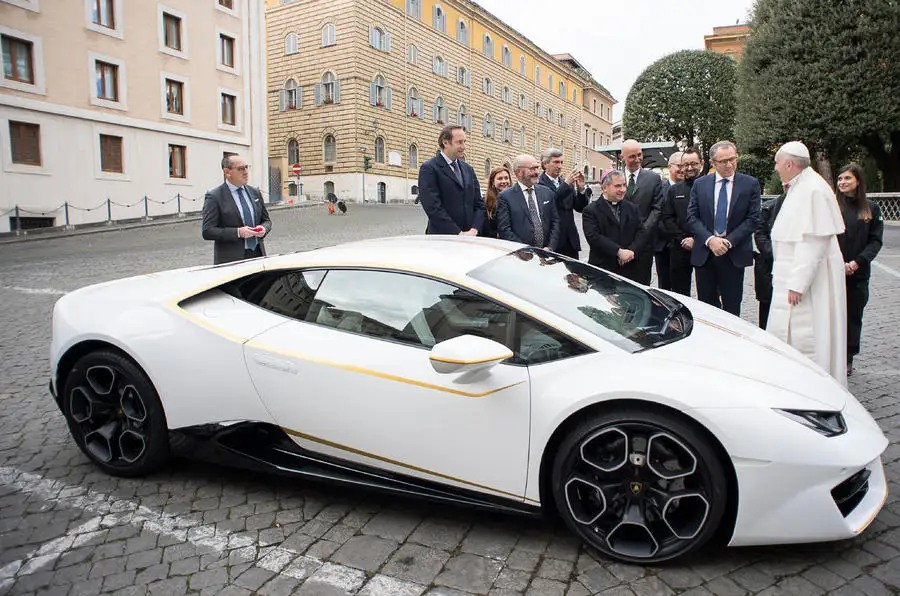 The proceeds raised by the auction are to be donated to the Pope, who will divide the cash between three causes: aiding the Christian community in Iraq's Nineveh Plain; the Pope John XXIII Community that aids the victims of trafficking and abuse; and Italian associations that aid women and children in Africa.
Despite being given the Lamborghini, Pope Francis is thought to prefer somewhat more humble cars. He preferred to use public transport when he was a cardinal, but has driven a 1984 Renault 4 he was previous given around the Vatican. He has also used a Ford Focus from the Vatican car pool to make trips inside Italy. On visits to the USA in 2015 he used a Fiat 500L and Jeep Wrangler as transport.
Read more
Tesla Model S Shooting Brake: world's quickest estate is now completed
One-off Volkswagen Golfs on display at Worthersee