The original Mini stands out on the streets of New York. It looks like an alien between the huge SUVs and saloons that crowd the roads of the Big Apple. And this particular Mini stands out more than most – although you wouldn't know it to look at it.
When the car is stationary, you wouldn't know this 1998 Classic Mini was no ordinary model until you looked under the body. Because that's where you'd find the Classic Mini Electric's powertrain: a 38bhp electric motor. One pulley is flange-mounted at the engine, with one at the gearbox, and the two are connected with a toothed belt. As a result, the electric motor has all the gears from the regular car.
Mini Electric: first pictures of pivotal EV
"The principal was simple. We threw unnecessary stuff out and put the engine in," says Moritz Burmester, who modified the car. So there is no exhaust system, no petrol tank and no rear bench.
New York motor show 2018: news and updates
Instead, the Classic Mini Electric is fitted with 30 lithium-iron phosphate batteries, which are installed behind the front seats. They were put there "so we could match the weight of the Classic Mini, which is 770kg", explains Burmester.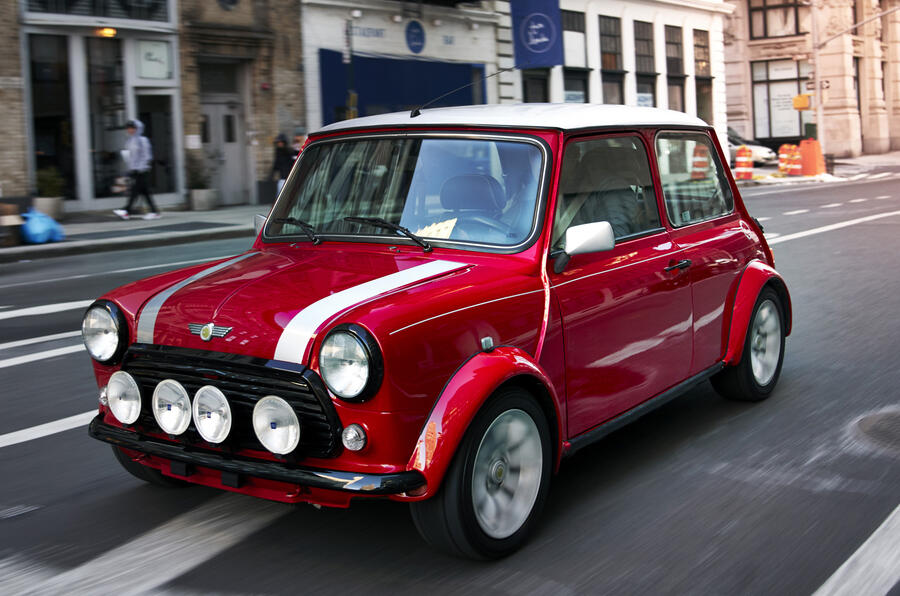 The Classic Mini Electric has a top speed of 75mph, with a maximum range of 65 miles. The one-off takes four hours to charge fully from a 220V household outlet.
Driving the Classic Mini Electric is pure fun. As you'd expect from any original Mini, the small British machine dances fleet-footed around corners. When you steer, the Mini reacts – it really does handle like a go-kart.
As soon as you hit the throttle pedal, the Mini's electric motor powers it ahead as if there were no tomorrow, while the engine buzzes in a manner that reminds of Luke Skywalker's X-Wing Fighter.