Goodwood Motor Circuit is steaming, but the Revival is still a fair few months out so this has nothing to do with the general atmosphere.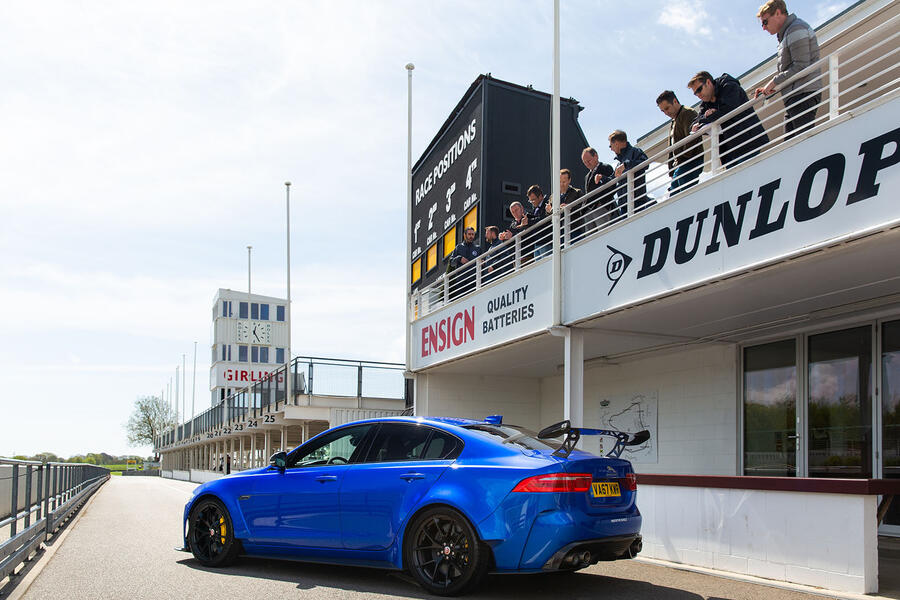 Rather, the problem with which David Pook is deftly contending concerns the haze of evaporating rainwater partially cloaking a patchwork of standing water, bone-dry islets and every shade of unpredictability in between. He's making corrections little and large, and he's making them in areas of this frighteningly quick circuit not only where you might expect the need to arise but also where you absolutely would not.
The time for discourse about the car's limited suitability for daily driving, its frankly outrageous exhaust blare – which met homologation requirements with 1dB to spare – and his desire to capture, at least in part, some of what made the E46-generation BMW M3 CSL so utterly compelling as a road-racing crossbreed has well and truly passed.
Pook is at the wheel of a prototype Jaguar XE SV Project 8, a car for which he has led the dynamic development during its fleeting 18-month gestation. Only 300 will ever exist, despite the attempts of company coin-counters to squeeze a few more examples out of Special Vehicle Engineering.
It's a significantly more ambitious endeavour than Project 7, the extroverted speedster based on an F-Type, although both cars fall under the 'crazy ideas with commercial opportunities' mantra championed by SVO managing director John Edwards. Today, it has been described variously as a statement car, the ultimate expression of what performance means to the marque, and a nailed-on future classic. It is also the fastest road-legal four-door saloon around the Nürburgring.