Since 1927, Skoda has run an in-house vocational academy to help train future designers and engineers, and since 2014, the students of the Skoda Academy have produced a one-off concept car each year to highlight the skills they are learning.
The latest machine is the Mountiaq, which was developed over eight months by 35 apprentice students, who are studying various aspects of the car industry, supported by the firm's design, production and technical teams.
The Mountiaq, which has no production intent, is the sixth concept developed by students of the school, which is based in-house at Skoda's Mlada Boleslav headquarters.
The first concept was the Citijet, a two-seat Citigo. It was followed by the Funstar (a Fabia-based pick-up), the Atero (Rapid-Spaceback-based coupé), the Citigo-based electric Element and the Sunroq (a Karoq convertible). This is the first machine to have been based on the Skoda Kodiaq.
The students developed two concept ideas: the Kodiaq-based pick-up and an Octavia 'supersport'. The bulk of the students voted for the pick-up, with the decision then approved by the Skoda board. Apparently, the hardest decision surrounded the name, with numerous ideas put forward before Mountiaq – of which we very much approve – was settled on.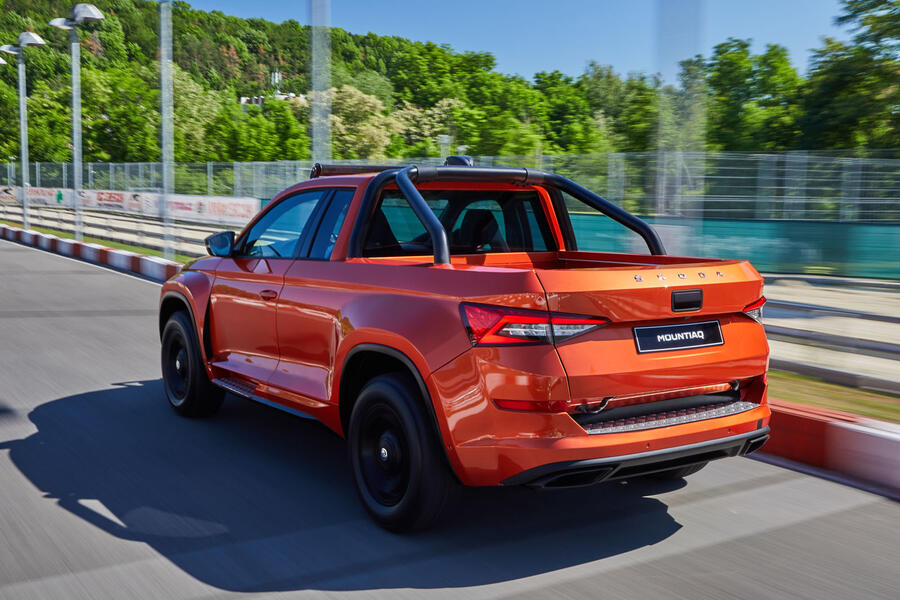 What is the Skoda Mountiaq like?
After design work on the Mountiaq had been undertaken, the students were given a Kodiaq to re-engineer. The finished concept retains the mechanical underpinnings of the large SUV, which is based on the Volkswagen Group's MQB platform. Although the Mountiaq utilises the existing 187bhp 2.0-litre TFSI petrol engine, the bodywork and interior have been extensively reworked.
The students reinforced key elements of the existing bodywork, with the rear replaced with a flat load bed. Ensuring that rear gate functioned was one of the toughest design challenges. It also required a new rear window and side windows to be created.