People used to describe travelling in the 1955 Citroen DS19 as 'other worldly'. And when you set that self-levitating, space-age shaped, hydraulically suspended car in the context of the crude, steel sprung, clumsily crafted cars of the day, it's easy to see why. Approaching the 19_19 for a drive is similarly other-worldly.
It's a car that looks like no other, its pod-like cabin slung between enormous wheels capped with old school mudguards, its body part-blue, part-black, its headlights mere strips and its glass nose recessed beneath them. A pair of slender pod-like objects burst from the rear of the roof to lend it the aura of a moon buggy, and it has the ground clearance of one of Citroen's old, Hydropneumatically-sprung models riding at maximum height.
It's fully electric, of course, and fully autonomous too, those pods being LIDAR sensors – although the driver can drive if desired. Sizeable doors open onto a large cabin free of obstructive pillars and largely upholstered in purple, its centre consoles and steering wheel in marble-like white. The front passenger's generous recliner is trimmed in white too, to create a more soothing ambience.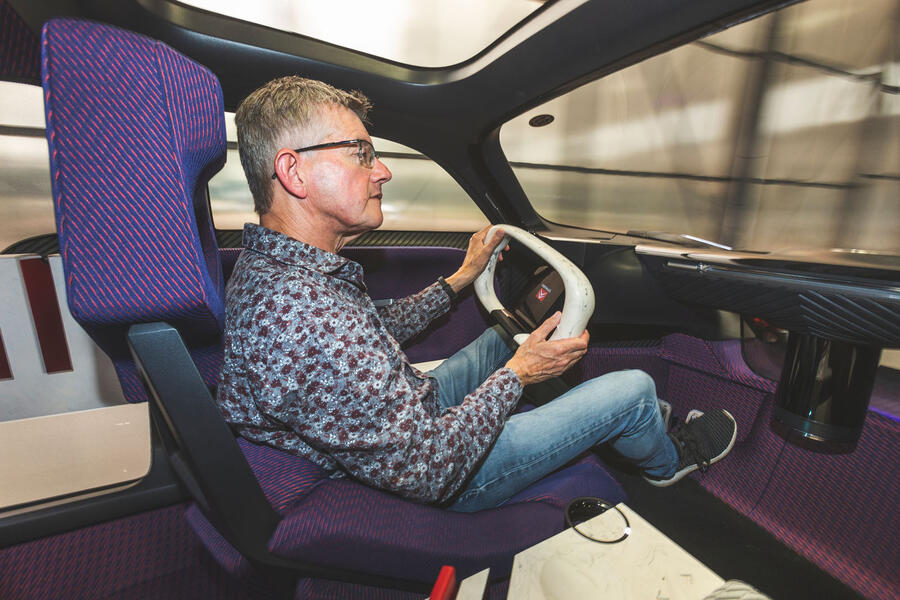 The 19_19's black sill is high enough that you almost step up into the car, before sinking into the bucket-like cluster of cushions that is the lower portion of the driver's seat. Those cushions look supremely comfortable, but, because this is the stylish but undeveloped chair of a concept, they're a little lumpier than you might expect. Never mind – there's a rectangular steering wheel to divert your interest, its trad-Citroen single spoke hosting a not-very-readable sequence of colour displays.
Beyond it you stare through a shallow windscreen bounded by fat, curving pillars. This vista combines with the equally shallow glazing of the doors to recall the view out from a fat-pillared saloon from the 1940s, which isn't inappropriate given the 19_19's mudguards. In every other way, though, this Citroen bounds effortlessly into the future.