The 2020 Karma Revero range extender electric luxury saloon will make use of a three-cylinder petrol engine from BMW, likely the 1.5-litre unit used in the i8.
UPDATED: New Karma Revero GT and Pininfarina GT revealed with BMW hybrid powertrain
The Munich-supplied unit powers a generator that charges a new, improved lithium ion battery, which in turns feeds a pair of rear-mounted electric motors. This set-up that allows for a claimed 0-60mph time of 4.5sec – nearly a second faster than the current Revero.
More detailed performance information will be revealed when Karma officially unveils the new Revero at the Shanghai motor show, alongside its new Vision EV concept and a luxury saloon concept developed with Pininfarina.
Originally launched in 2016, the Revero is the model born out of the ashes of Fisker's bankruptcy. Chinese-funded, California-based firm Karma has been selling the model in the US since then and is now planning to introduce it in European and Asian markets after a number of updates to make the powertrain more competitive.
Spy pictures show that the four-door coupé, which will rival the Porsche Panamera 4 E-Hybrid, will get styling revisions to its front and rear but that its overall bodyshape will stay true to the Fisker Karma, from which the Revero was developed.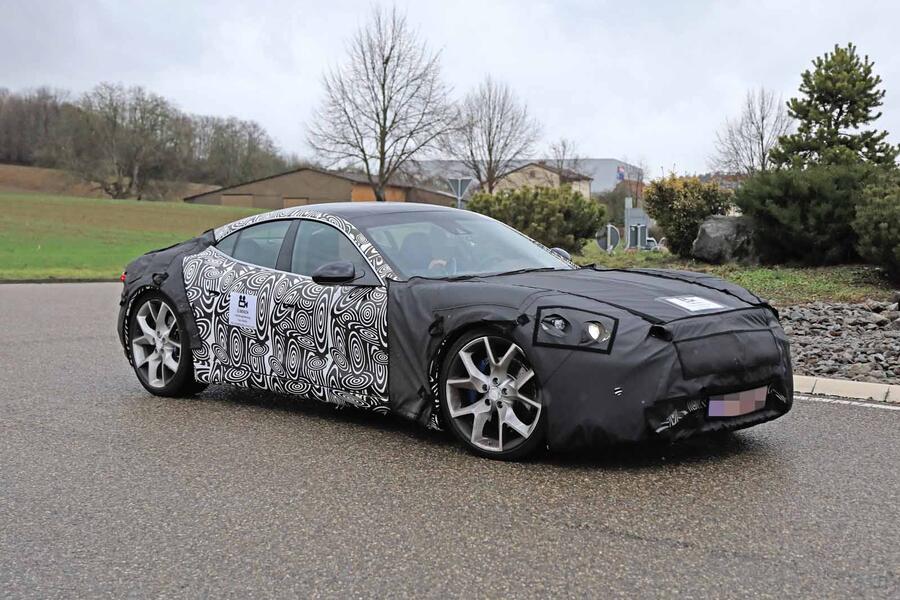 Karma's chief revenue officer, Jim Taylor, previously told Autocar that the Revero's delayed entry into Europe (including the UK) and Asia was always part of the business plan. Prices for the current model start at $130,000 (£98,124) in the US.
The current Revero uses solar panels located on its roof that can power the car's electrified powertrain. Solar panels have been seen on earlier development cars, so expect improvements to their efficiency with the 2019 model if they do continue into production.
"The energy collected from the solar panels is supplied directly to the car's high-voltage battery, which in turn powers the electric motors," Taylor explained when asked how they work on the current model. "Our solar panels are twice as powerful as the original [Fisker] ones."
While no charging time for the solar roof was revealed, Taylor suggested that strong Californian sunshine would enable owners to leave their car parked outside all day and return to it with noticeably more charge.
"We're still a long way off from being able to charge it up significantly in a few hours, but if you left your car parked in an airport car park for a couple of days, you'd see more energy," added Taylor.
The input of the sun's energy is displayed on the Revero's infotainment screen, so drivers can see when energy is being captured, even on the move.