The Porsche Panamera 4 E-Hybrid, the fourth and most technically advanced of the new Panamera models to date, is on show at the Paris motor show.
The second-generation car follows the reveal of the Panamera 4S, 4S Diesel and Turbo two months ago.
Read about this year's Paris motor show here
One of two petrol-electric hybrid models planned to join the new Panamera line-up, the plush new, 456bhp four-wheel-drive Panamera 4 E-Hybrid will open for UK sales in April next year.
Priced from £79,915, it succeeds the earlier 4 S E-Hybrid with a 31-mile electric range and combined fuel consumption of 113mpg, together with an official 0-62mph time of 4.6sec and a 173mph top speed.
At the heart of the Panamera 4 E-Hybrid is a newly developed petrol-electric drivetrain that is also set to appear in next year's Porsche Cayenne E-Hybrid. It uses Porsche's recently unveiled twin-turbocharged 2.9-litre V6 petrol engine tuned to 325bhp and 332lb ft, in combination with an electric motor mounted in the front of the gearbox capable of delivering up to 134bhp and 295lb ft.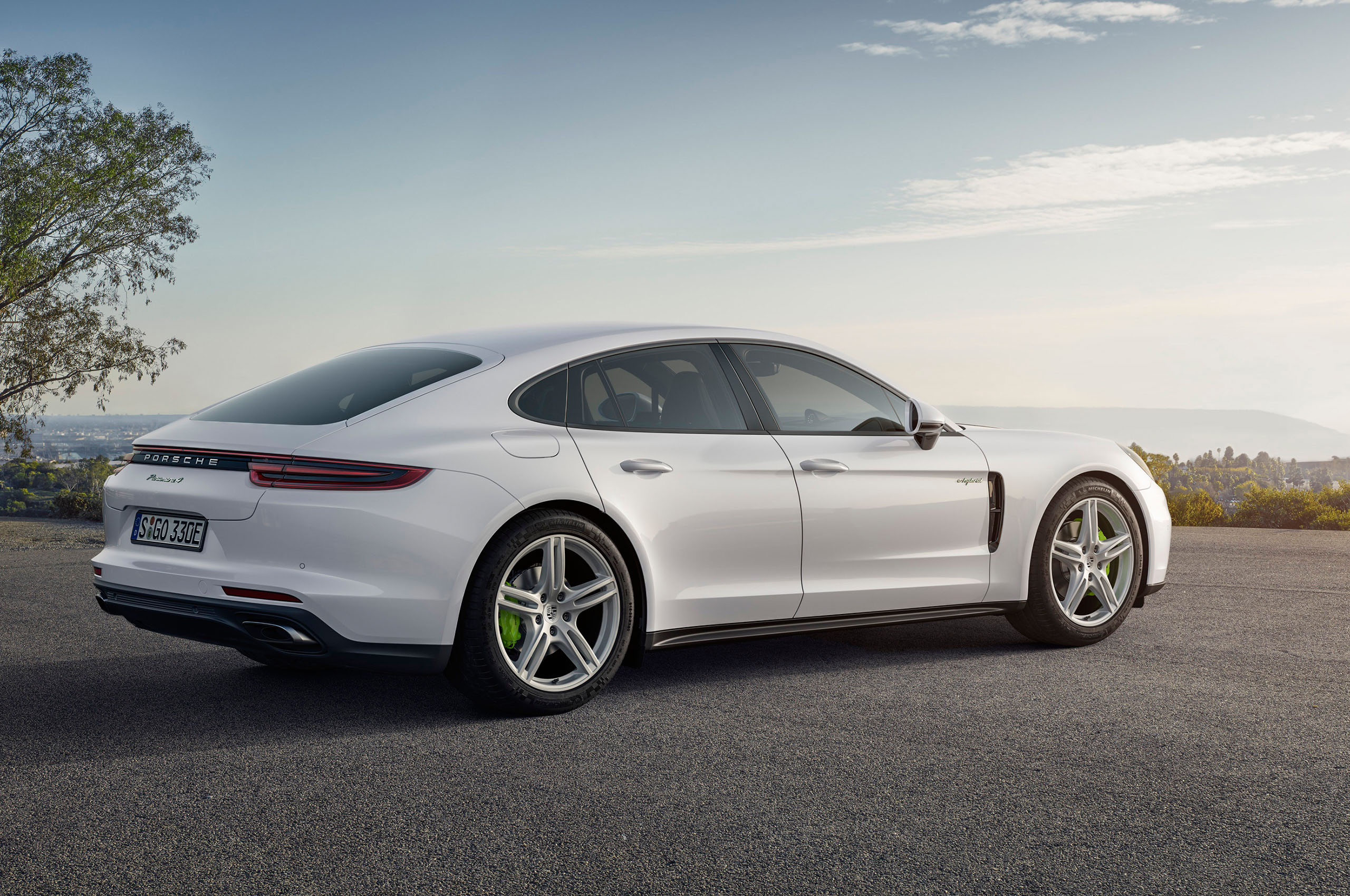 Together, the combustion engine and electric motor provide combined system outputs of 456bhp and 516lb ft. This provides the Panamera 4 E-Hybrid with 46bhp and 81lb ft more than the first-generation Panamera S E-Hybrid it replaces in the Porsche line-up.
It is also 22bhp and 111lb ft up on the second-generation Panamera 4S, which is powered by a more heavily tuned version of Porsche's twin-turbocharged 2.9-litre V6, albeit without the assistance of an electric motor.
Significantly, Porsche has altered the programming of the electric motor to provide greater emphasis on performance. It now works in tandem with the petrol engine the moment the throttle is depressed. Previously, the throttle needed to be 80% engaged before the reserves of the electric motor were combined with those of the combustion engine in an earlier strategy aimed at optimising economy.