The new, seventh-generation BMW 5 Series has entered the final phase of engineering development and durability testing ahead of its unveiling in the second half of 2016.
We've seen the 2017 BMW 5 Series in leaked images. Read more, and see it here.
It's set to reach UK showrooms in early 2017 and go head to head with the upcoming new Mercedes-Benz E-Class, the Jaguar XF and the Audi A6. It will offer a broader range of powertrain options than today's record-selling model. These will include a new plug-in petrol-electric hybrid with, BMW insiders confirm, a zero-emissions range of more than 20 miles.
Our spy photographers have also spotted the 5 Series GT, 5 Series Touring and M5
The decision to fit the new 5 Series with a contemporary 48-volt electrical architecture enables it to feature advanced autonomous driving systems. It can have hands-off operation up to a pre-determined speed, a sophisticated anti-collision system and fully autonomous braking, among other features.
The increasing importance of connectivity means the new 5 Series will be equipped with a fifth-generation iDrive system, as used by the new 7 Series. It supports new touchpad and touchscreen functions, allowing you to operate the various features in a similar style to that of a smartphone, with familiar pinch, point and swipe commands, or alternatively via an updated rotary dial mounted on the car's broad centre console.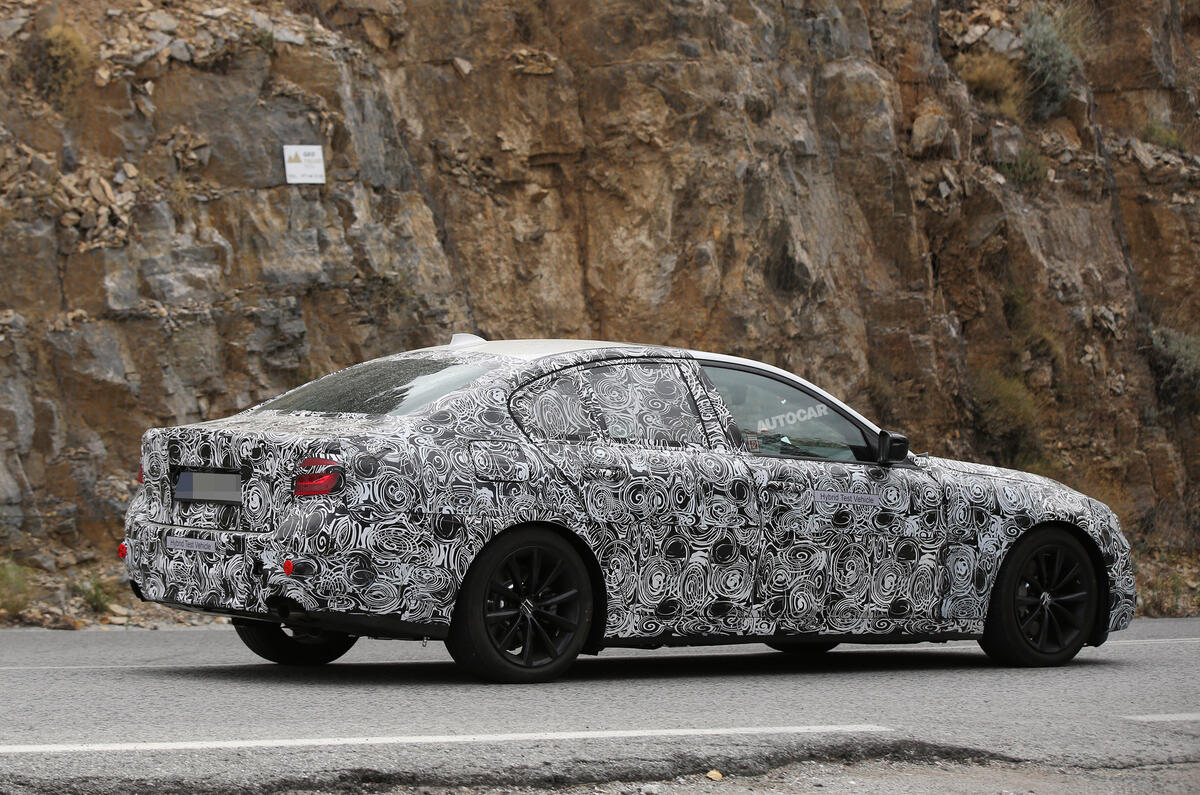 The new model will also offer optional gesture control, with a three-dimensional sensor mounted within the headlining to detect up to five different hand movements. BMW will also make available its latest voice recognition system, providing the new iDrive system with four different operating options in total.
As with today's seven-year-old model, the new 5 Series will be produced in three distinct bodystyles: saloon (codenamed G30), Touring (G31) and GT (G32). The GT will continue to feature a large liftback but in what one high-ranking BMW insider has described to Autocar as a "much more elegant form".
The saloon is scheduled to make its public debut at the Paris motor show during the third quarter of 2016. Dates for the launch of the Touring and GT are yet to be finalised, although sources with knowledge of the planned production schedule suggest they will appear at the Geneva and Frankfurt shows in 2017.
Recent prototypes photographed testing on public roads in Germany reveal that the new 5 Series has gained an evolutionary exterior styling update, with cues lifted from the Pininfarina Gran Lusso Coupé concept car first shown at the 2013 Villa d'Este Concours d'Elegance in Italy. Its traditional three-box silhouette is retained. However, a more heavily raked rear window and sloping boot deck provide it with a sleeker profile and more shapely rear end than today's model.