The Jaguar I-Pace will be used by Waymo, Google's self-driving car arm, to develop autonomous technology as part of a long-term partnership between the two firms revealed on the eve of the New York motor show.
The deal - described as a "long-term strategic collaboration" - will result in autonomous I-Paces hitting the roads to undergo testing later this year and being available for public use from 2020. Underlining the significance of the agreement, Waymo has committed to put "up to 20,000" I-Paces on the roads as part of the deal, which the companies say will give them data from up to one million trips per day to analyse and learn from.
Waymo boss John Krafcik suggested that Jaguar Land Rover (JLR) is one of several planned partners. He said: "Our model is not to be a car company. We are very happy to be in partnership with companies whose expertise is making cars. Our goal is to make the most experienced driver in the world [referring to the self-driving systems]." He added that Waymo is "looking forward to kicking [the JLR] partnership off first, but I hope it can be the first of many partnerships together".
Driverless cars: the race to save 500 million lives (and fight for £5 trillion of business)
The production version of the I-Pace was launched earlier this month at the Geneva motor show and will hit roads in the summer. Engineered around a bespoke aluminium architecture developed for electric vehicles, the car is powered by two electric motors producing 395bhp and 513lb ft, delivering 0-60mph in 4.5sec. Power comes from a 90kWh lithium-ion battery that is rated at delivering up to 298 miles of range on the latest WLTP cycle. Jaguar says the latest, high-powered chargers can deliver an 80% charge in 40 minutes, with more standard chargers giving 80 miles of range in 30 minutes.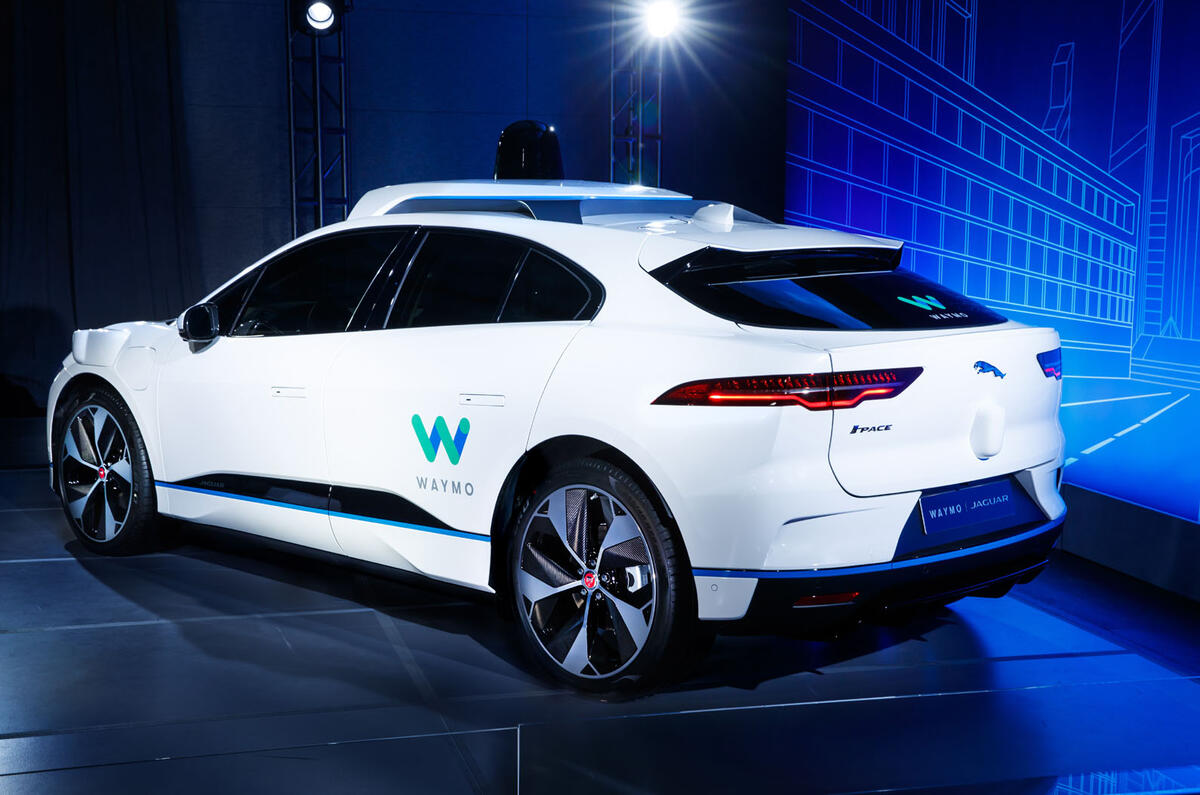 Why the Jaguar I-Pace can't rest on its maker's laurels
Waymo began developing self-driving car technology in 2009, when it ran as a project under the wing of Google. For many years, it was widely rumoured that Google was developing its own cars to use the autonomous technology and electric powertrains, but in 2016 it established Waymo as part of parent group Alphabet Inc and confirmed it would focus on hardware and software technology associated with autonomous driving. Its first automotive partner was Fiat Chrysler Automobiles.
Since being set up, Waymo says it has logged more than five million autonomous test miles on public roads in the US and more than five billion miles driving in computer simulation. It has also developed its own test track in California, where engineers are able to create specific road conditions in controlled circumstances.