Audi is building up to the unveiling of one of its biggest sellers, the 2020Audi A3, and prototypes have now dropped almost all of their disguise.
UPDATED: See the new Audi A3 here
New spy shots of the car testing show the Ingolstadt brand is following the lead of the platform-sharing Mk8 Volkswagen Golf, which hit the headlines by shedding its camouflage wrap earlier this year.
We can see that the new A3 features an evolutionary look, borrowing the geometric front-end shape from Audi's latest models, and doesn't adopt the smaller Audi A1's bonnet vents. Yet there's one distinctive design detail we weren't expecting: chrome strips running the length of the bodywork on each side from the headlights to the tail-lights, wrapping around the tailgate.
It's not clear yet if this will make production or if Audi is just experimenting ahead of the finished design. But if it does appear when the car is unveiled, as expected, at next March's Geneva motor show, it will mark a distinct departure from the rest of the firm's range.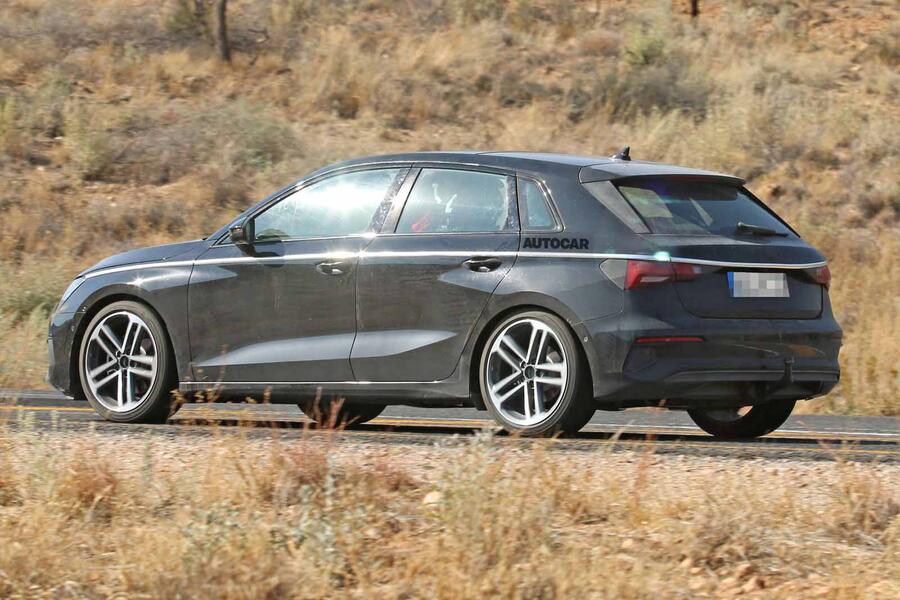 Exterior design boss Andreas Mindt has already promised 'big-time' exterior design changes for Audi's Mercedes-Benz A-Class rival when talking to Autocar earlier this year.
On the new car, which will be built on the second-generation Volkswagen Group MQB architecture first entering production in the Golf, Mindt said that the company "had some really good ideas" for its new staple hatchback, promising "it'll change, big time".
The new A3 is one of two new compact Audis in development, the other being an electric car built on the new MEB architecture. As before, the A3 will spawn a whole range of variants, including a new five-door liftback version to rival the likes of the Mercedes-Benz CLA and upcoming BMW 2 Series Gran Coupé. A disguised S3 hot hatch prototype has also been spotted testing.