The Kia Stinger range is priced from £31,995 to £40,495 in the UK, as the brand prepares its sales launch in this country.
The Stinger's entry-level engine is a 244bhp 2.0-litre turbocharged petrol unit. However, the Audi A4 and BMW 3 Series' entry-level models have 1.4-litre units, making the Stinger more of a lower-price rival to the higher-spec 2.0-litre petrol Audi A4 and BMW 330i models, which start at £33,790 and £34,730 respectively.
This pushes the Stinger's entry point well above rivals such as the Audi A4, BMW 3 Series and Mercedes-Benz C-Class, which start at a respective £27,260, £26,790 and £29,035.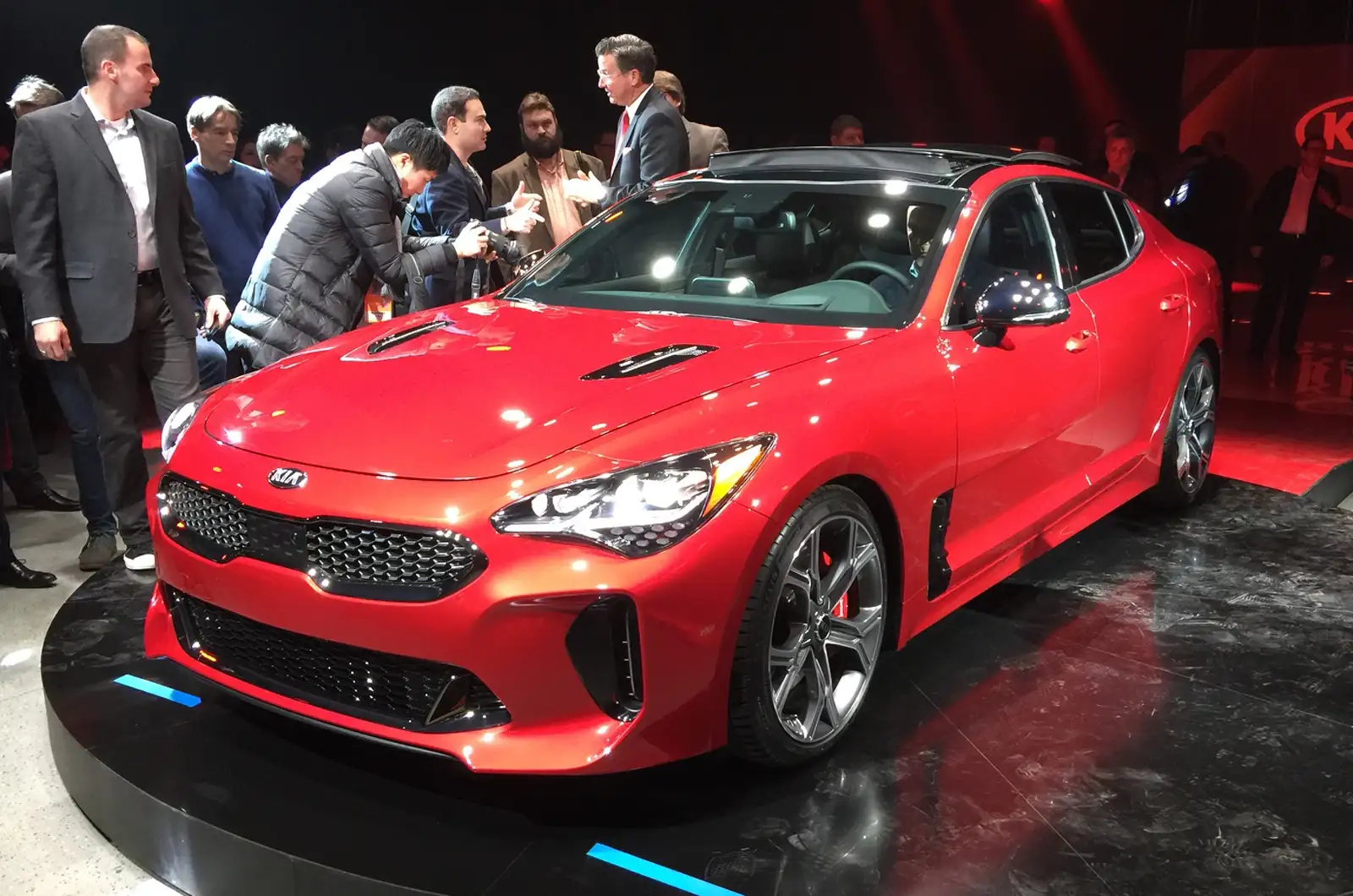 Topping the range is the Stinger GT-S, which has a 3.3-litre turbocharged V6, producing 365bhp and 376lb ft. This variant starts from £40,495; undercutting the Audi S4 and Mercedes-AMG C43 by around £5000 but topping the BMW 340i by £235.
Mid-range cars are expected to be the best-sellers, with a bias towards diesel engines. Overall, there will likely be a 60/40 split in favour of diesels. Sales begin on 1 January 2018, with deliveries beginning at this date too, and monthly prices are to be revealed nearer the on-sale date. Kia plans to sell around 1800 in the car's first year.
Engines and gearbox
Europe's entry engine is a turbocharged 2.2-litre four-cylinder diesel that produces 197bhp and 325lb ft of torque - the latter figure is available from 1750-2750 rpm. It can accelerate the car to 62mph in 8.5sec and onto a top speed of 158mph.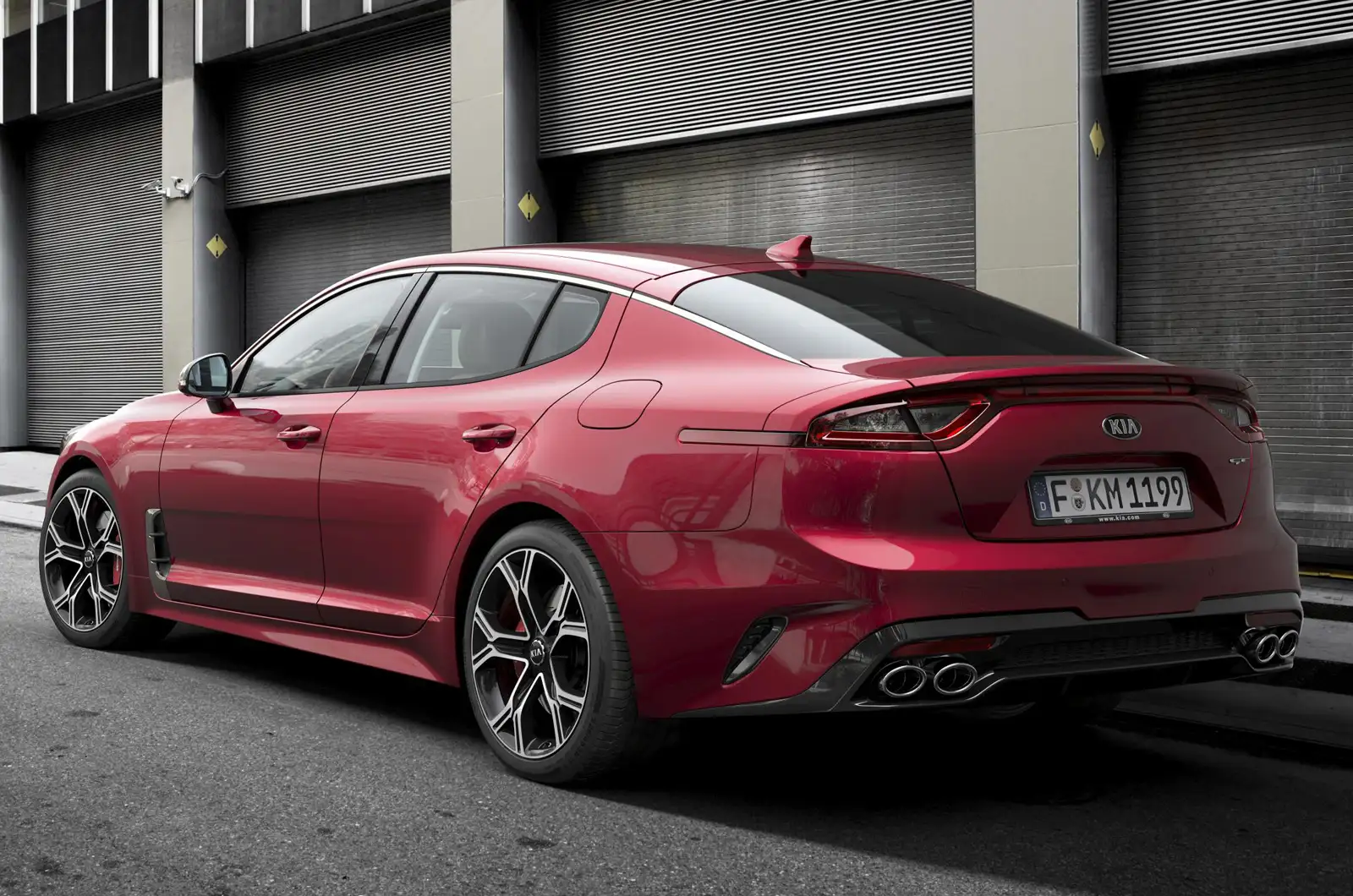 Above this sits the first petrol engine, a turbocharged 2.0-litre four-cylinder that produces 252bhp and 260lb ft of torque. No straight-line performance figures have been released for this unit yet, but it's expected to be slightly quicker than the diesel.
Top of the range is the turbocharged 3.3-litre V6 petrol engine of the Stinger GT. The GT is aimed squarely at more potent versions of the Stinger's rivals, although it sits below the likes of the BMW M3 and Mercedes-AMG C63. Its engine produces 370bhp and 376lb ft of torque and can accelerate the car from 0-62mph in 5.1sec, meaning the GT can outpunch the 349bhp Audi S4. Kia targets a top speed of 168mph for the GT.
Both rear and four-wheel-drive versions of the Stinger are available, and the car has an eight-speed automatic gearbox as standard.
Scroll to the bottom to read our interview with Kia design boss Peter Schreyer
Chassis
At 4831mm in length, the Stinger is almost 200mm longer than a 3 Series and actually closer to the BMW 5 Series (4935mm). It is 1869mm wide and 1400mm tall and has a wheelbase of 2906mm. This makes it 58mm wider than a 3 Series and 41mm lower, with a wheelbase that's 96mm longer.