Jaguar Land Rover will open a new flagship showroom in Sunbury-on-Thames before the end of 2019 as part of aggressive expansion plans that include the launch of its first dedicated electric model, the Jaguar I-Pace.
The glass-fronted building, located beside the M3 motorway in south-west London, will be visible to around 72,000 passing motorists a day. It will be 17,000 square metres in size and 15.1 metres high, essentially making it JLR's equivalent to Audi's west London showroom, which is located in clear view of the M4 and is that brand's UK flagship location.
The new JLR site's scale and visibility will mark it out as the most significant JLR dealer in Britain, but the fitment of several electric vehicle charging points will also make it best placed to hold a large supply of I-Pace models, which are due for launch in the year before the site opens. There will be charging points for customer electric cars as well (the marked parking spaces in the illustration below), emphasising JLR's intent to encourage the presence of EV models at its new facilities.
Bugatti's new Dubai showroom is its largest in the world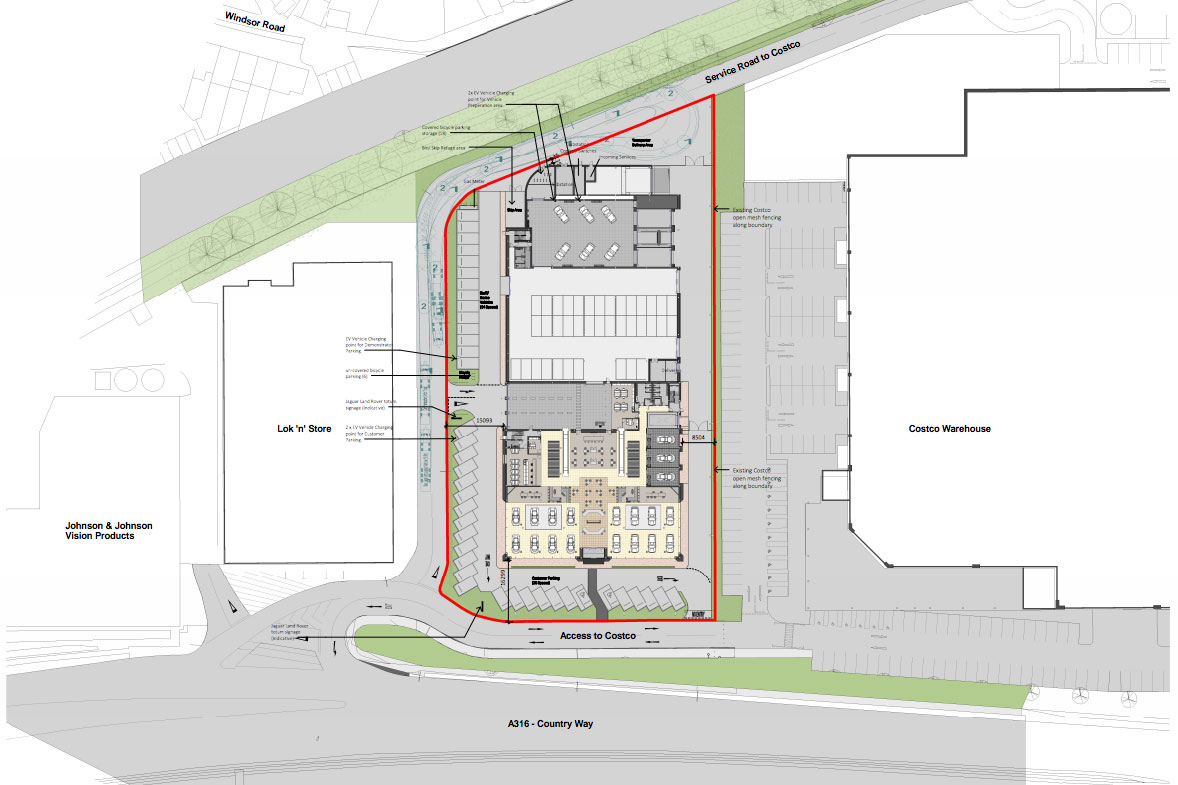 JLR announced plans for the site back in February and the planning permission documents were published in the months that followed. Construction is now under way, with the site to be comprised of a showroom for car display, wash and valet facilities and a workshop with an MOT testing station.
As part of its deal with local air quality regulators, JLR will also invest £6000 towards the cost of providing a public electric vehicle charging point in the Sunbury Cross area. The agreement was struck to indirectly offset the air pollution a car dealership of this scale is expected to produce.
The new Sunbury location comes as part of a big sales push that will result in the upgrading or construction of seven retail facilities by the end of 2019. These locations will join the recently redeveloped west London, Stratford and Battersea sites, which together received money from JLR's £1 billion corporate identity improvement plans.
JLR is investing heavily to grow its range and improve its global presence, with 2019 also being the year to welcome another all-electric road-biased model. Scooped by Autocar earlier this year as the 'Road Rover', the Land Rover model will join the Jaguar I-Pace to head JLR's EV ambitions that will also see every model offered with an electrified variant from 2020.
More content:
Skoda launches innovative digital showroom
First all-EV car showroom opens in Milton Keynes