Jaguar Land Rover last week officially lost its UK court bid to secure the trademark rights for the shape of its old Defender 4x4, allowing Ineos Automotive, an offshoot of a multibillion-pound chemicals firm, to proceed with producing its similarly styled Grenadier.
Now, more details of both firms' testimonies to the court have been revealed by Automotive News Europe. They show that JLR brought in former Ford design chief J Mays to defend its stance. Despite that, the firm lost: the judge in the case upheld findings by the Intellectual Property Office that the shapes JLR sought to protect weren't distinctive enough to trademark.
JLR, which has been pursuing cases to trademark the Defender's name and exterior look for four years, first lost in court in 2019 in a long-running battle with Ineos owner Sir Jim Ratcliffe. It then lodged a high court appeal, which has now been dismissed.
During the court process JLR cited a report by Mays, who has a history of designing cars at the Volkswagen Group and BMW and served as vice-president of design at Ford for 16 years. His report cited a number of features as being unique to the Defender, including the clamshell bonnet, flat, almost vertical windscreen and 'Alpine' roof windows, which have been emulated on the Grenadier.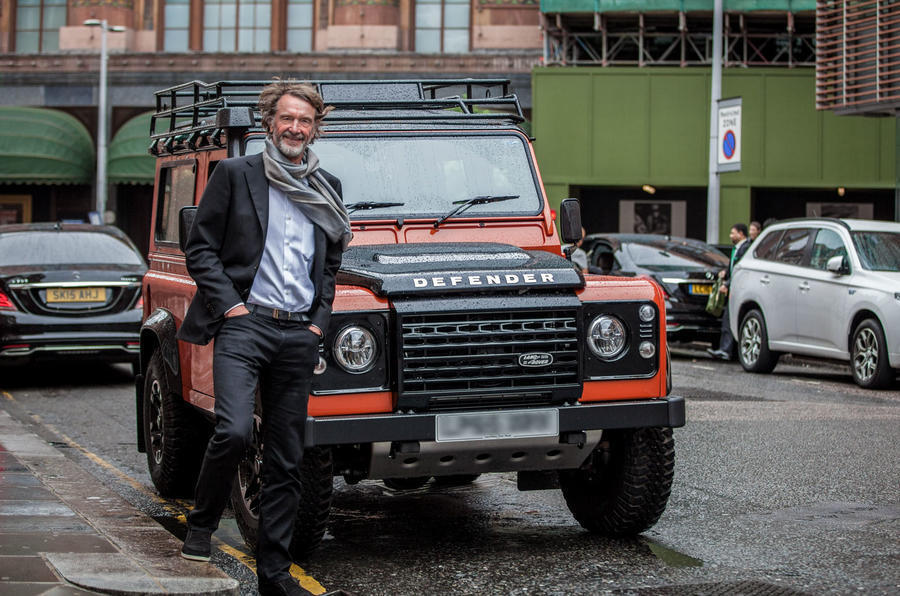 Mays subsequently cited features that 'normal' SUVs have that the Defender doesn't, such as a stamped body. There are also features such as the offset spare wheel and "arrow shot" back windows that the firm claims are design traits that belong to it.
"The resulting difference in the overall shape of the vehicle from the norms and customs of the SUV sector is clear and significant," Mays wrote in his report. "It is that shape which makes the Land Rover Defender so distinctive and acts as a visual receipt to the customer that it is a Land Rover Defender. It is unique."
The hearing officer of the original case disagreed with this argument, stating that Mays' position as a "design expert" and that "differences in design that appear important to him may be unimportant or may not even register with average consumers of passenger cars".