Time for the big showdown: the ultimate four-way hot hatchback slugfest.
This is McGregor versus Mayweather – with Jet Li and 'Stone Cold' Steve Austin throwing boots, fists, random exploding objects and folding chairs from the wrong side of the ropes. Front-wheel- drivers line up against four-wheel-drivers; new vogue dual-clutch paddle-shift auto 'boxes against the tactile involvement of a manual; and two of the longest-established purveyors of the affordable performance hatchback against a couple with less pedigree, but no shortage of ambition.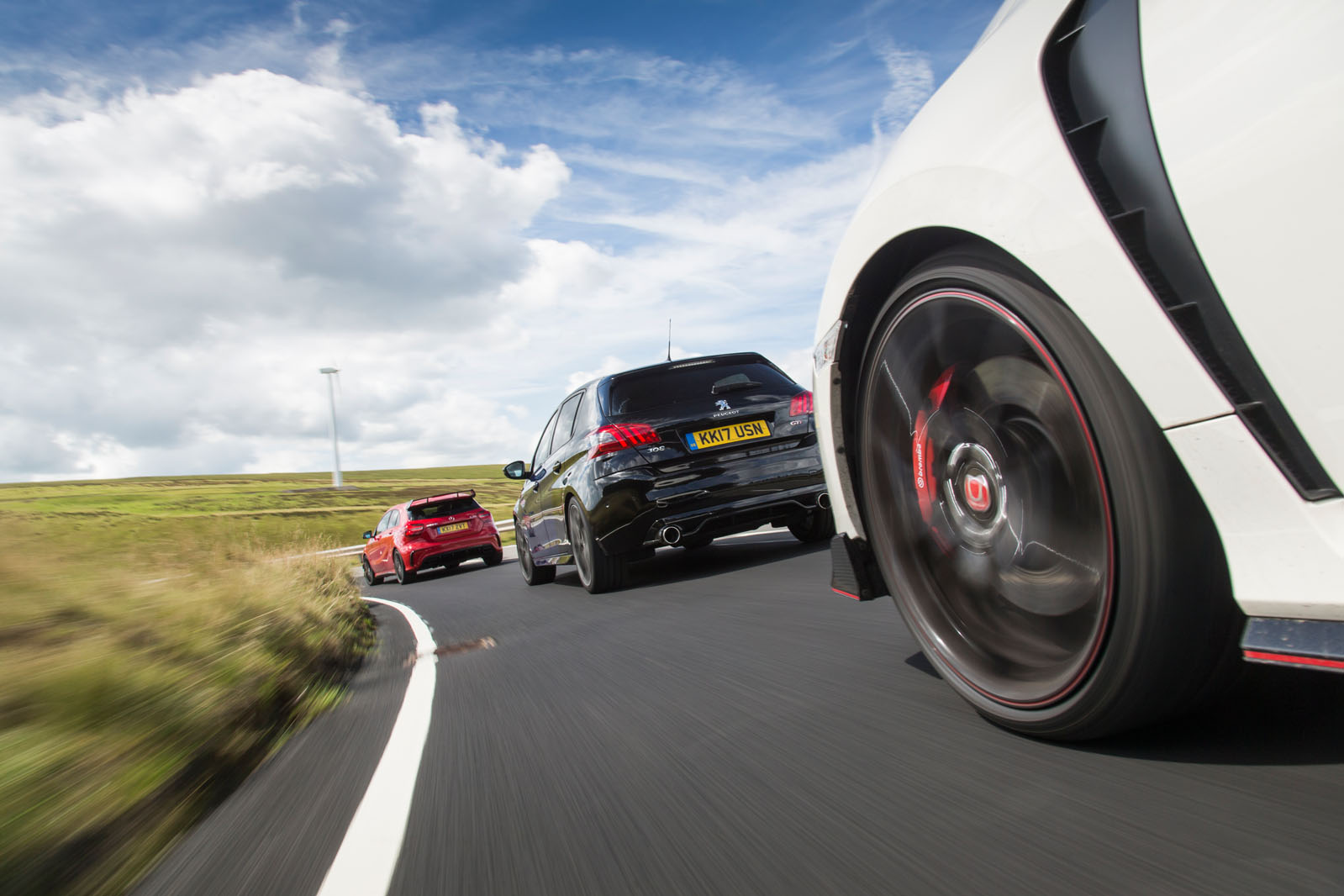 The heats:
Volkswagen Golf R vs Ford Focus RS
BMW M140i vs Honda Civic Type R
Peugeot 308 GTi vs Seat Leon Cupra
This is more of a cup final than an end-of-season top-four play-off. The cars contesting it – the Honda Civic Type R, Mercedes-AMG A45, Peugeot 308 GTi and Volkswagen Golf R – have only had to beat their nearest rival to qualify. And although it's interesting to wonder exactly how our line-up would be different if our judges had simply nominated their four highest-rated driver's cars to go forwards, doing that would likely have made a final redundant. We'd already know who liked what, and how much. And there's nothing like a bit of suspense, is there?
And so, having mixed road and track testing throughout this year's Britain's Best Affordable Driver's Car thus far, it's time to head out onto the mountain roads of south Wales in the company of cars that have all won once already and earned the right to be considered afresh.
And they'll all get a proper chance at success, too. Lining up a 266bhp, £29,000 Peugeot against a 376bhp, £42,000 Mercedes-AMG and expecting a fair fight may seem naïve, but this isn't a normal comparison. Our verdict will be all about real-world driver appeal – and it'll be balanced against a value-for-money judgement, as the verdict of any test with the word 'affordable'
 in its title must. Our old friend the law of diminishing marginal returns should actually make life toughest for the pricier cars in the running.