The drumbeat of enthusiasm for hydrogen as a road fuel has grown steadily louder this year, despite a general industry-wide acceptance that EVs will become the mainstream in most cases.
This culminated in Toyota's huge investment in the recently revealed Mk2 Mirai. A substantial overhaul has transformed an oddity built in small numbers into a stridently confident saloon that will raise Toyota's global ambitions for hydrogen next year.
The new Mirai will join the Hyundai Nexo SUV on the admittedly short list of commercially available cars powered by zero-emissions fuel cells, but others are in the pipeline. Mercedes could yet import its GLC F-Cell SUV to the UK and Toyota's fuel-cell partner, BMW, will roll out a hydrogen X5 in 2022. The PSA Group has said it will launch a fuel-cell van by 2021 that's likely to include a Vauxhall version.
In the UK, meanwhile, Wrightbus, the Northern Irish bus firm responsible for building London's hybrid 'Boris bus', was rescued from bankruptcy earlier in October by a company aiming to switch the UK's bus fleet to hydrogen.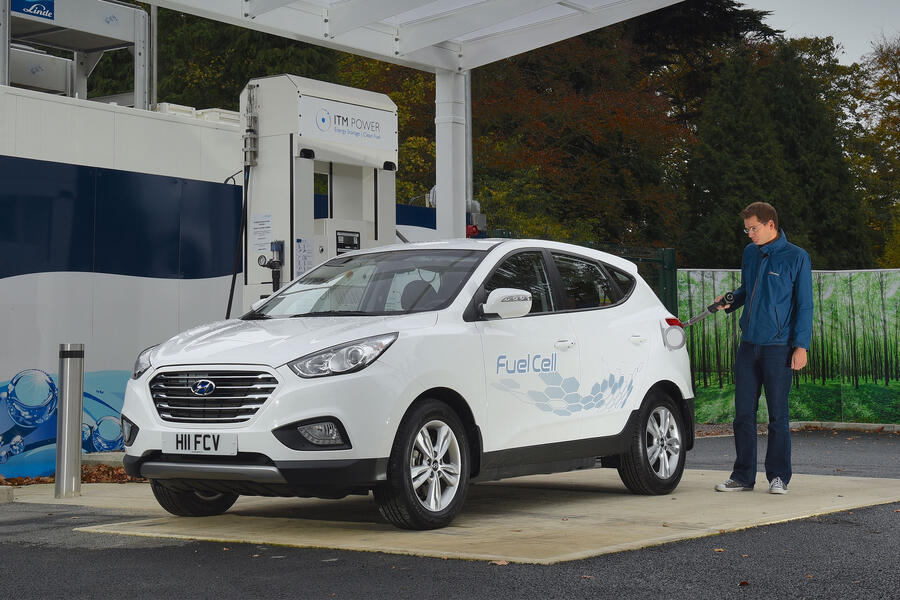 Jaguar Land Rover (JLR) has said the fuel might be more suitable than battery-electric power for its largest SUVs as it works to cut emissions, and is reportedly working on a hydrogen-powered Range Rover with an aim to launch by the end of the decade. "If you're not careful, you end up with such big batteries [with EVs], you make it so heavy that when you race down the autobahn, the range disappears. So other technologies could come into play, potentially hydrogen," said Nick Rogers, JLR's head of engineering.
It's easy to see the appeal. Hydrogen fuel-cell vehicles emit nothing but water vapour, have a long range (414 miles for the Nexo) and can be filled almost as quickly as a petrol or diesel car. As the scale of the challenge to persuade us out of user-friendly combustionengined cars into EVs becomes clear, might fast-fill hydrogen be a better zero-emissions bet?