Ford started 2016 by declaring that we should 'unlearn' what we believe the Blue Oval stands for and embrace the new direction it is taking.
Three cars are heading this brave new venture: the Focus RS mega-hatch, the GT supercar and what we have here, the new Ford Edge. The arrival of Ford's large, rangetopping SUV has most likely come as unwelcome news to the existing players in the segment, with Ford's dealer network and market share giving it a strong position.
This isn't the first time Ford has imported a large SUV from the US. Previously, in the 1990s, it was the Explorer, which was put up against premium European rivals – although it's safe to say that particular venture didn't end in success. This time could be different,though, with the smaller Ford Kuga already well established and topping our compact SUV segment ahead of the younger Volkswagen Tiguan and BMW X1.
The new Edge hasn't simply been built on American principles, with a thirsty petrol engine and little thought given to what Europe wants from a 4x4. Instead, Ford has made a big effort to give the Edge appeal to European buyers, using the same blueprint as the Ford Mondeo and Ford S-Max and giving it a familiar Euro-centric interior and installing a 2.0-litre diesel engine under the bonnet.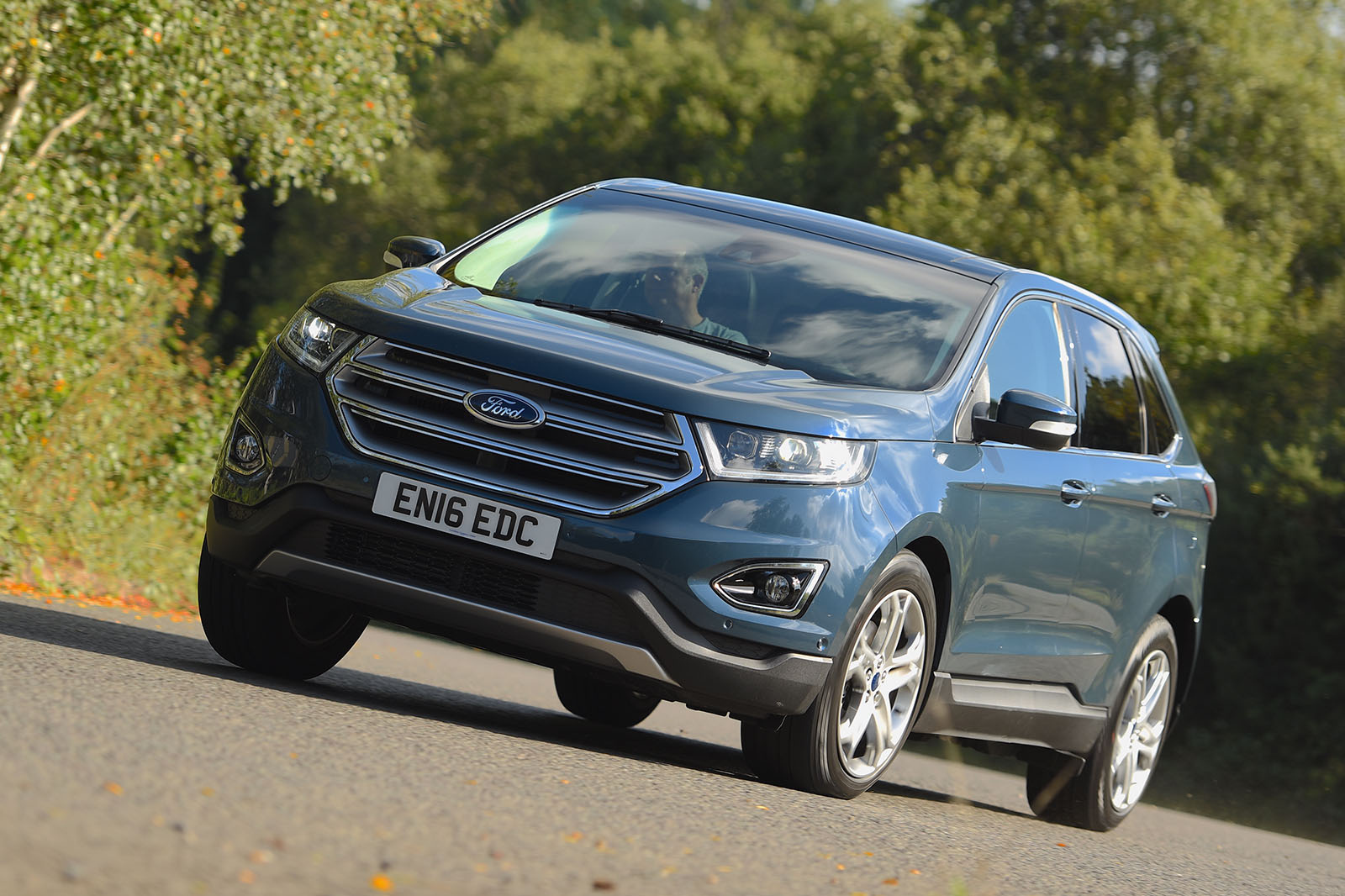 Ford has created a handsome SUV here, with sharp, angular looks, smart LED headlights and running lights and a dominating presence. Measuring a tad longer than a Volkswagen Touareg, the Edge is going to be a useful new member of our fleet, with a super-spacious cabin and a vast load bay that will make it a popular workhorse, if nothing else.
Ford has ambitiously aimed the Edge at the more affluent end of the market, placing it squarely in BMW X3 and Audi Q5 territory. Both German rivals remain popular but are long in the tooth, so now is the perfect opportunity for the Edge to gain a march on them before they are given a new lease of life.
A good test of the Edge's aspiring premium credentials is the cabin, and while there's more space in here than either the Q5 or X3 can offer, the interior and dashboard are rather dull. Ford's biggest crime, however, is the extensive use of cheap, scratchy plastics, which isn't something you would expect of a car costing, at least in our example's case, the best part of £40,000.