No matter how much you know about Jaguar's rallying heritage, the sight of an F-Type convertible with a lamp pod on its nose and a knobbly gravel tyre tucked under each wheel arch can only ever be incongruous. But then incongruous rally cars are the most interesting, aren't they?
Jaguar's rallying heritage is all ancient history now, but there was a time when its cars were truly a force to be reckoned with. Early in the 1950s, British rally driver Ian Appleyard campaigned an XK120 with no little success, winning the RAC Rally and the prestigious Alpine Rally on two occasions apiece. It was in the off-white NUB 120 that Appleyard and his co-driver and wife Pat – who also happened to be the daughter of a certain Sir William Lyons and is still with us to this day – netted each of those victories in the Alps.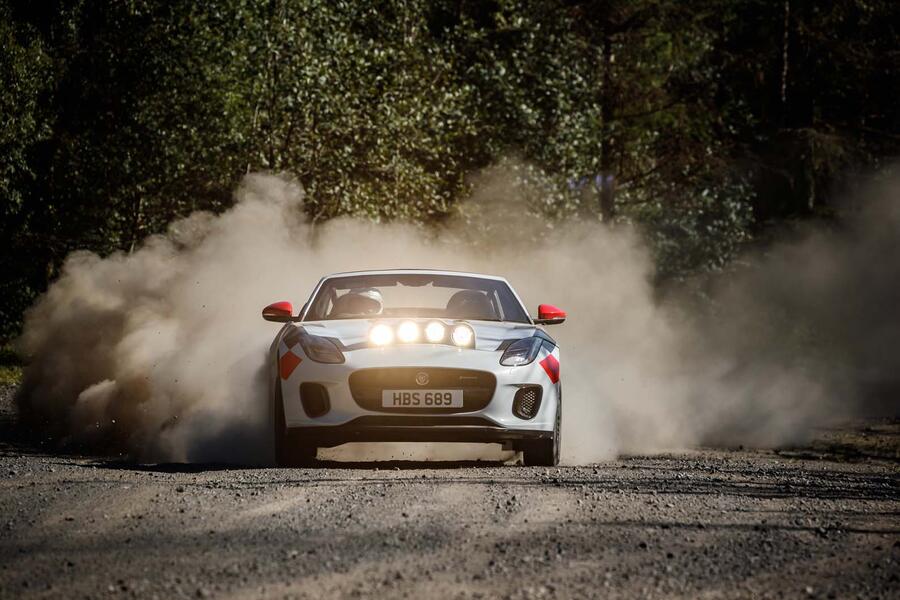 This is the year in which the XK120 celebrates its 70th anniversary, and that was reason enough, reckoned Jaguar, to build a rallying version of its nearest present-day descendant as a sort of dust-kicking tribute. Just like Appleyard's car, the recreation is a drop-top in white with lots of neat refinements that make it not merely a sports car but a true rally car.
It has been developed mostly in-house but with assistance from a well-known rally specialist, and it's built to FIA standards. It is not homologated by the FIA, however, mostly because the whole process is a spectacularly tedious and expensive one, which sadly means the F-Type rally car will never compete. We mustn't view this as Jaguar's triumphant return to another arm of motorsport it once excelled at, then, although there is a good chance we'll see the F-Type running in public as a course car.