Six months ago, this tractor did not exist. JCB had just set a new land speed record in a Fastrac tractor, an impressive 103mph. But, as you may have seen on Channel 4 recently, the JCB team and their nominated driver, Guy Martin, didn't think that was fast enough.
So JCB went away and didn't just set about upgrading the tractor that has set the July record but built an entirely one, from the ground up. So now there are two very quick JCBs.
In late October, this, the Fastrac Two, set a new world record for a modified tractor, at 135.191mph over a two-way average, with a peak speed at the end of Elvington's runway of 153.771mph. Directly from there, it was taken to London and put on static display, and from there, it was trailered to Autocar's preferred test base for this kind of thing, in Rutland. There, we became the only other people to date to drive the JCB Fastrac Two World's Fastest Tractor. This year's Christmas road test is the world's fastest tractor.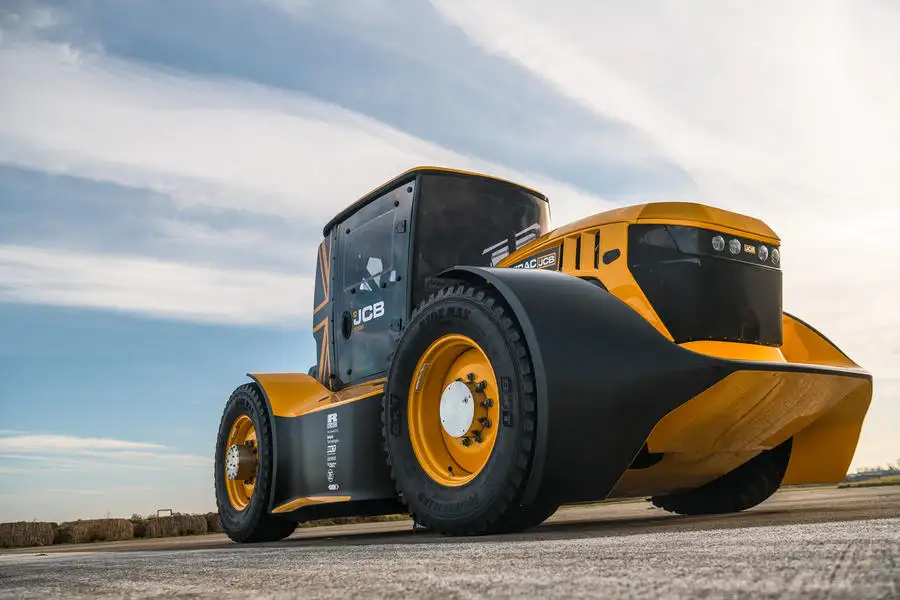 Design and engineering
Tractors, by definition, are not designed to travel at fast speeds. 'Traction' units are designed to haul – using lots of torque – large, heavy objects. So making a tractor go fast is anathema to the agriculture/ construction business.
The regular Fastrac has an innate advantage over most tractors in that it has a separate chassis, whereas most agricultural examples do not. They often don't have rear suspension but instead suspend the cab on the drivetrain at the rear, with front suspension only. The Fastrac, meanwhile, has full suspension front and rear, which gives it better road manners than most tractors. And although the Fastrac has a slightly lower top speed than a Mercedes Unimog four-wheel-drive truck, it has a high top speed for a tractor. So as farms grow in size and fields may be miles apart, this means farmers can use a tractor rather than a truck.