The Porsche Macan and Jaguar E-Pace aren't exactly mortal rivals. In fact, circumstance has only just brought them into anything close to an overlap. But in another world, they might have been up and at each other like Borg and McEnroe.
Jaguar and Porsche have remarkably similar histories, after all, starting life as dedicated sports car manufacturers and branching out as they grew.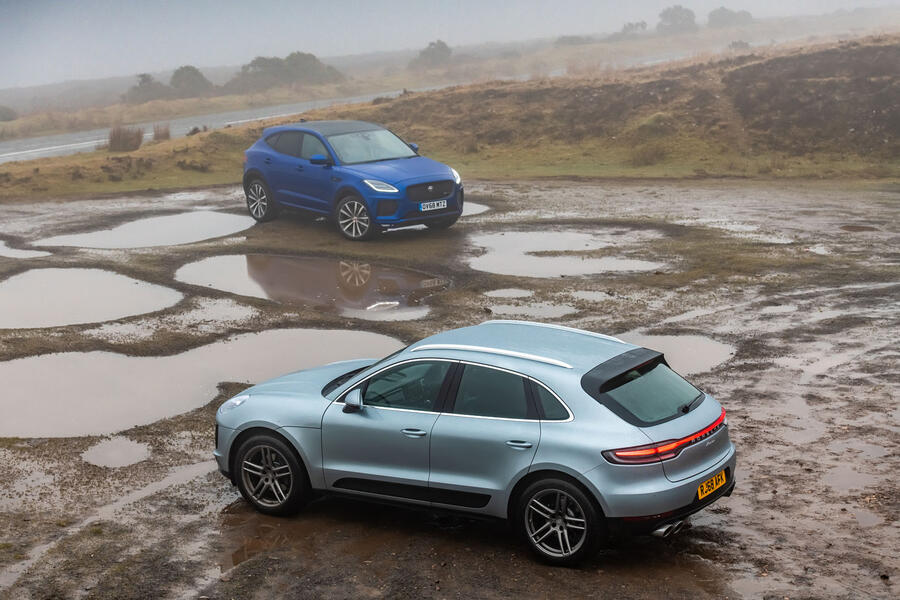 Although that process of growth inevitably brought both outfits to the production of a smallish SUV earlier this decade, it brought them there via different routes. It gave us a Macan in 2014, developed on a longways-engined Audi model platform, predominantly rear driven with a 'hang-on' clutch-based part-time four-wheel-drive system; and an E-Pace in 2017 with a transverse engine, developed off the Range Rover Evoque's platform, which is predominantly front-wheel drive with clutch-based, part-time-driven rear wheels. In that respect, these cars are about as different from each other as it's likely that SUVs would ever be.
The Porsche's average UK transaction price is probably above £60,000, the Jaguar's less than £40,000. The Porsche is one of the country's most wanted new cars and most savvy new-car buys. The Jaguar isn't nearly as revered but has greatly bolstered its maker's balance sheet over the past 18 months. And while the Porsche is nearly a foot longer at the kerb, the Jaguar is an inch taller.