There's no escaping the march toward electrification, and if any sector serves to highlight the permanent shift towards all things battery-powered, it's the sports car class.
Traditionally the preserve of petrol-soaked, adrenaline-pumping machines, this rarefied corner of the market has seen ever-increasing numbers of contendors that favour lithium ion over super unleaded.
Not only is this new source of power delivering the sort of power and performance that internally combusted alternatives could only dream about, it's broadening the definition of a what a high performance car can be. That's why our list runs the gamut from traditional low-slung sportsters through to curvaceous coupés, continent-crushing GTs and even (whisper it) the odd SUV. There are cars from established players of a driver's car art, as well as those from makers more normally associated with humbler offerings. If nothing else, the EV revolution has helped level the playing field. Yet while these machines look disparate on paper and in the metal, they all share a similar goal of keeping the driver amused.
This is also one of the most fast-moving market sectors, with new additions arriving all the time; which means some of the cars you see here you can drive out of a showroom today, while others are little more than a line in an order book. There are even one or two that are a little further away than that - near production-ready examples exist, but supply chain problems or protracted development means we will have to wait a little longer before we can spend that cash that's fast burning a hole in our wallet.
Nevertheless, for now, these are our favourite all-electric driver's cars.
Top 10 best electric sports cars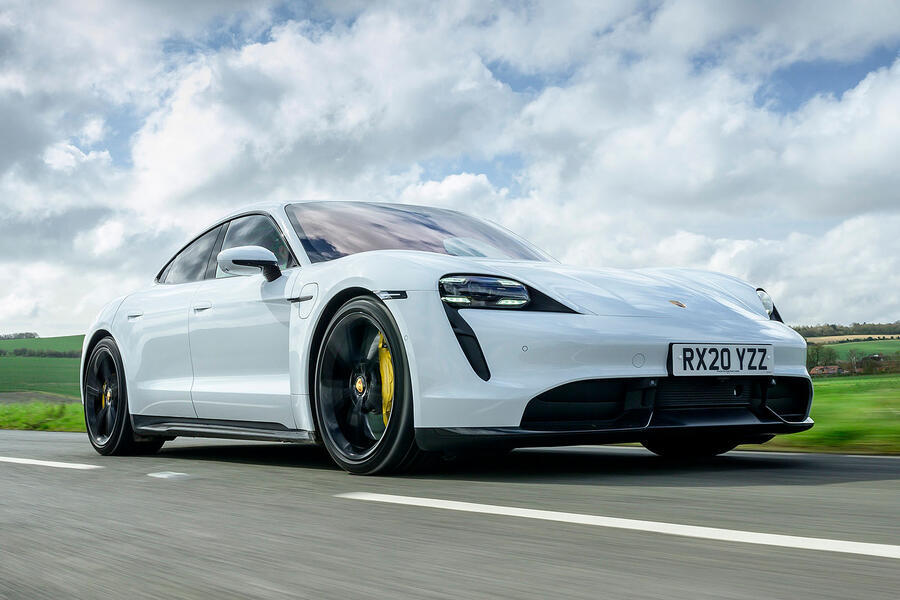 Porsche has hit the EV market with exactly the sort of impact you would hope that an industry powerhouse of its stature might make, even if it wasn't with the sort of car you would expect it make that statement with.
Instead of being a true sports car in the traditional sense, the Taycan is a four-door fast grand tourer that's slightly smaller than the existing Panamera but is certainly not the lesser car of the two. The Taycan possesses fine body control, rare balance, superbly calibrated operating controls and palpable steering precision. That it rides extremely well on its air suspension only adds to its appeal and was a key factor in our decision to award the Taycan the full five stars after an exhaustive road test.
In fact, were it possible to drive blindfolded and with noise-cancelling headphones on, you would still know instantly that the Taycan was a Porsche. From the steering weight and feel, through to the unnering agility and expensively calibrated damping, the Taycan marks itself out as a true son of Zuffenhausen.
There are now several models in the range, although the best elements of the package are evident even in the 532bhp 4S, which despite its lower-level status is still supercar-grade accelerative. The top-ranking Turbo S musters 751bhp, costs almost £140,000 and is surely one of the quickest real-world cars on the planet, especially when you factor in its 2.6sec 0-60mph time. There are also Sport Turismo and Cross Turismo versions, which add estate and off-road flavours respectively to the Taycan recipe.