Creating a definitive list of the 'best' off-roaders is something of a fool's errand (although, as you can see, that hasn't stopped us from trying). Even if you pin down the basic parameters for comparison – breakover angles, wheel travel, wading depth, cost and so on – the problem becomes one of environment.
Some of these vehicles are designed to crawl up boulder-strewn slopes where one crimped brake line will bring an abrupt halt to activities. Others are designed to bomb across loose surfaces at heroic speed, and in a manner entirely at odds with the cars whose incredible traction will haul them across impossibly slippery terrain at no more than walking pace.
After a preamble that lasted more than a decade, Land Rover finally showed off the long-awaited follow-up act to the original 'Land Rover' in 2019, and launched the car in showrooms earlier this year. Having switched from a ladder frame construction to a monocoque, and for plenty of reasons otherwise, this new Defender is more of a successor than a direct replacement; and some feared that it wouldn't be capable of quite the same kind of mud-plugging, rock-hopping, water-fording, slope-scaling and axle-twisting as a result.
The new Defender can do all that and more, however. With approach and departure angles of around 40 degrees, and ground clearance of as much as 291mm thanks to its height-adjustable air suspension, this car has all of the right vital statistics; and yet it's the style in which is tackles offroad driving, and the way it eases the load on the driver to select just the right transmission mode and keep to just the right line through those ruts, that really impresses.
Land Rover offers a couple of four-cylinder diesel engines, and a more powerful four-cylinder petrol, as well as a range-topping six-cylinder petrol. The upper-of-two D240 diesel would be our pick, which combines useful torque with respectable fuel economy, drivability and refinement - and needn't cost as much as some of the other versions of the car.
The car's 4x4 capabilities are beyond question, and the way in which it sets about its work offroad makes it seem like a car built for people who don't even like offroading. But offering all that in a car that also rides and handles so well on the road puts the icing on the cake, and makes this car stand head and shoulders above its rivals. 'The best 4x4 by far' has been given a whole new lease of life.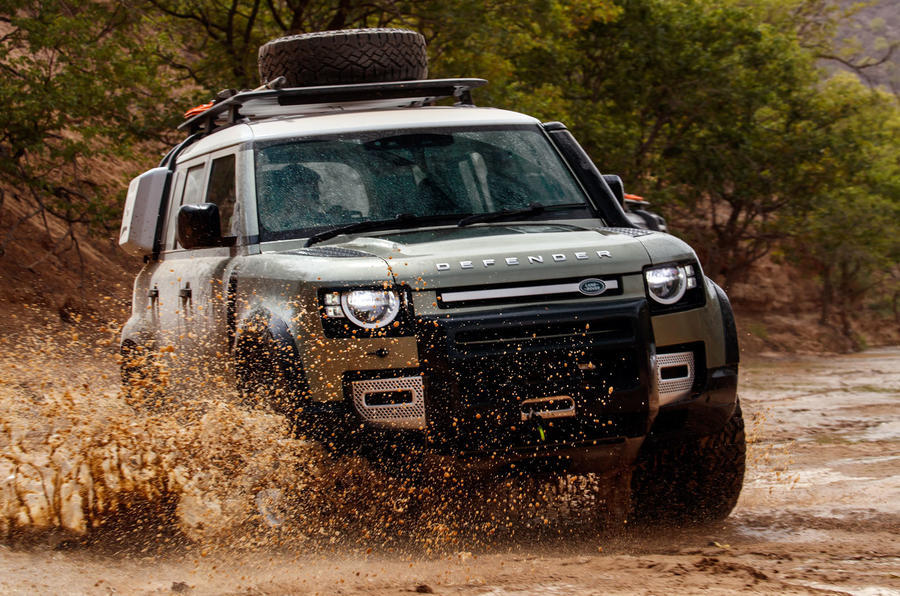 Save money with new Defender deals from What Car?
Jeep doesn't revitalise the Wrangler very often, but the latest generation is more useable than ever on the road as well as more capable off it. That Jeep has carefully preserved the much-loved design – whose circular headlights, slatted grille and strict geometry are recognisable still from the original Willys MB jeeps first deployed in World War II – is only part of the appeal. The interior is now more spacious and less cheaply- and sparsely finished, which goes hand-in-hand with the improved efficiency of the car's downsized engines and better road manners (everything is relative, mind).