Why we're running it: To discover if the spirit of the iconic 3dr Mini lives on in the 5dr hatch, while also providing a dose of practicality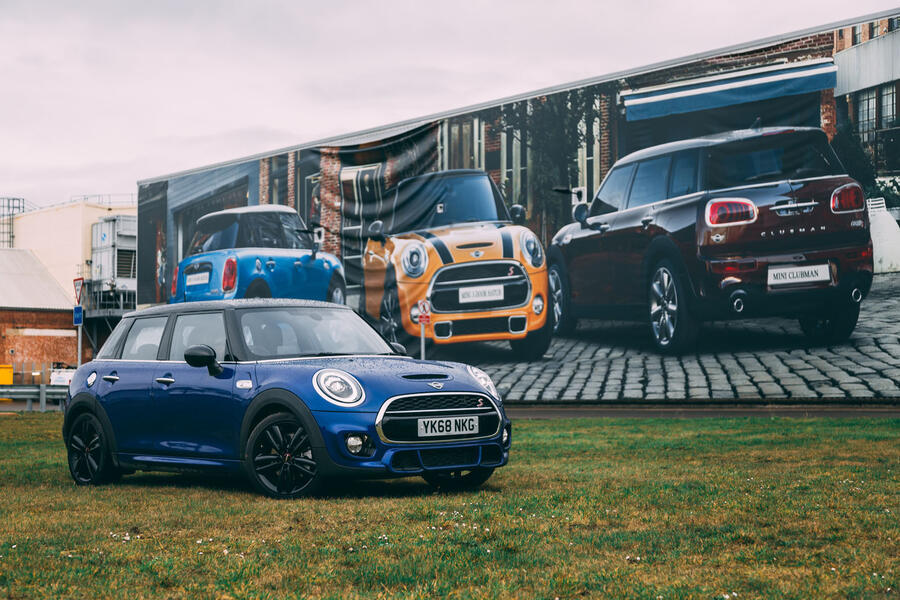 Life with a Mini 5-door hatch: Month 3
A new, temporary custodian takes the opportunity to make up for lost time - 12th June 2019
It's been a dream ticket for me, having the chance to do 1000 miles in our five-door Mini Cooper S while its usual custodian, Rachel Burgess, is busy looking after our new Bentley Continental GT.
For no particular reason, I've never spent much time in BMW Minis, but when the opportunity has come up, I've usually liked what I've found. In particular, I love the way Mini's latter-day custodians have continued to make the cars so enduringly special.
The way you sit in a Mini – down there among the wheels with your bum practically on the floor as you look past the weirdly fat and upright screen pillars – is special in its own right. The little car's combination of squatness, a wheel at each corner, quick and friendly steering and grippy tyres makes you want to Hopkirk-flick this ultra-stable little roller skate into every traffic-free bend, almost from the off.
But I guess that's the case for most Minis. Rachel's is special in two ways. It's a five-door and it's a Cooper S Sport (thus coming with meaty 189bhp four-pot engine and sportiest John Cooper Works suspension). The five-door part I get, without warming to it. A current rule of car selling in the UK seems to be that three-door models are hard to shift, which is why Mini's engineers bothered to lever a pair of rear doors into a previously good-looking little brick-shaped body.
The five-door works – 45% of buyers choose it – but I hope you'll excuse me if I say I hate it. Looks to me like a section of a railway carriage. And when you adjust the front bucket seat for my kind of comfort, there's only leg room for a three-year-old behind you anyway. But people choose them for good reason so time to shut up.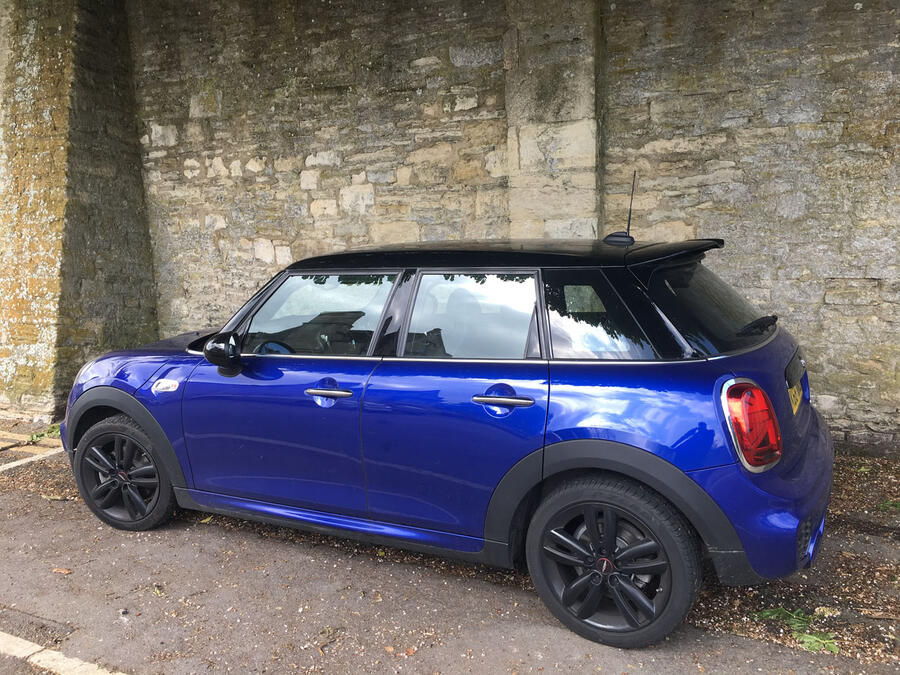 The Cooper S's 2.0-litre four is a big engine for a small car and it really tells in the abundant torque. This car will pull smoothly and strongly in high gears from well under 2000rpm. There's a nice rasp from the exhaust, which gives it a persona. Use the engine hard and the S goes really well. Not quite Ford Fiesta ST territory, but close. Drift along and you'll hardly hear a thing. It's easy to forget to pull the long-legged sixth, especially since the gearbox action is decent rather than great.
Other issues? That dinner-plate central display has always struck me as a bit forced, but it works well enough if you take the trouble to understand its nuances – helped by a BMW iDrive panel low down on the console. But I can't help wondering what kind of fascia BMW's designers might have created had they not been required to recognise rather slavishly the round central speedo of Sir Alec Issigonis's original Mini. Still, the existing treatment works well. It's distinctive and, as I kept being told during my tenure, it's also 'youthful'.
The big win for me in this Cooper S is the distinctly sporty character of the JCW suspension, which comes as part of the Sport pack. Set up this way, the Mini is very firmly damped and admirably resists roll when you succumb to the irresistible urge of chucking it into enticing bends, yet it rides flat and classily absorbs bumps you might have expected to create an uncomfortable impact.
Were I specifying a Mini of my own (something I now reckon I'd enjoy), there are plenty of influences I'd take from this car. The dark blue colour, the Sport pack – with that excellent suspension – and the Cooper S engine would all be high on my list. Chief hope now is that la Burge won't want her great little car back too soon.
Love it:
Strong heart Mini's BMW-made 2.0-litre turbo four is impressive for power but best of all for its ultra-wide torque spread.
Loathe it:
Too many doors Five-door model is a marketing expedient, but there's no point in pretending that it can rival the cheeky three-door for looks. 
Mileage: 4277
Life with a Mini 5-door hatch: Month 2
A better combination to see on your drive? - 22nd May 2019
Seeing the similarly toned Mini Cooper S and Jaguar I-Pace on my parents' drive recently had me wondering: is this the two-car dream garage of the future? As electric range and infrastructure increases, a battery-powered SUV like the I-Pace could be the main family car, while the Mini is a fun, nippy, semi-practical hot hatch offering pure driving pleasure. An ideal combo.
Mileage: 3200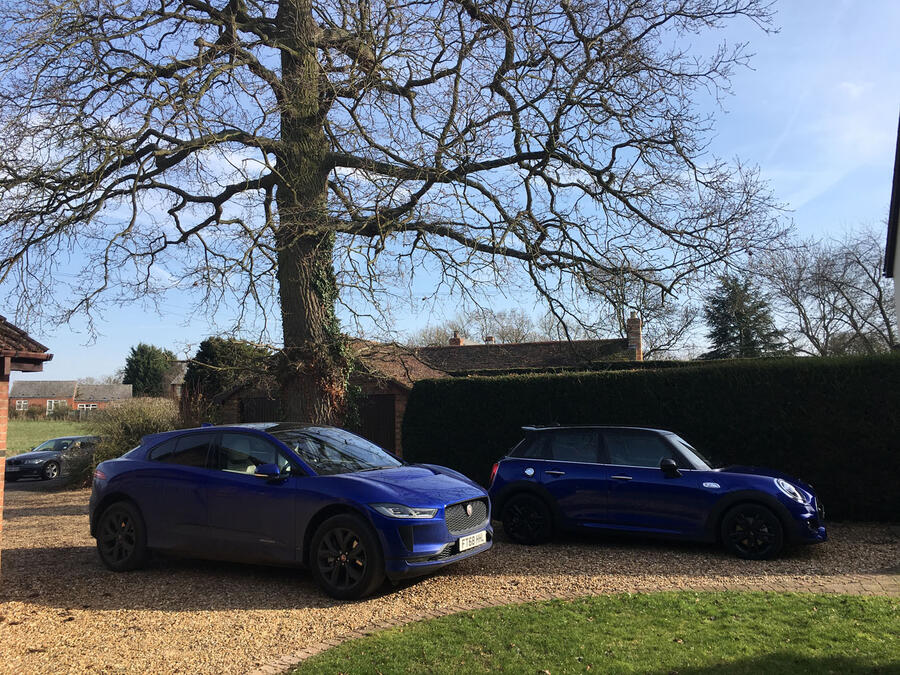 To a country manor in our S-Class would've been too obvious - 8th May 2019
When you go for the optional stiffer suspension – as we did for our Mini Cooper S long-termer – there's always a pay-off.
Living on a narrow London street with multiple speed bumps means I experience that pay-off every day. Of course, as with most things, it becomes less galling over time, plus you become an expert at how best to approach/avoid the bumps at all costs. One thing's certain – go a fraction over 20mph on any of these (even if it's a 30mph zone) and you'll noisily hit the bump stops.
That's the downside of choosing the Sport trim, one of three options, and the one that comes with black alloys, rear spoiler, aero kit and optional no-cost sports suspension. But for every downside in life, there's an upside. In this case, it's a supremely capable car on the roads where it matters most for a hot hatch owner – the windy, quiet, rural ones. More of that later.
But first, motorway runs. I did a long drive up to deepest, darkest Cheshire recently, on which I mused how I was still on the M40 and not even yet at Birmingham, let alone Stoke. I thought I might get fidgety in a smallish car – especially with bucket seats, which I often find too claustrophobic for relaxed driving – but joyfully, I did not. Nor did I find myself desperately needing to get out of the car and relieve myself of that well-known driver's woe, numb bum.
While on a slow stretch of the M6, an over-the-air update warned me there was a broken-down vehicle in the left lane. And there was. It's the first time an OTA update has been genuinely useful to me – making me aware of something ahead, rather than leaving me to wonder what the hold-up is.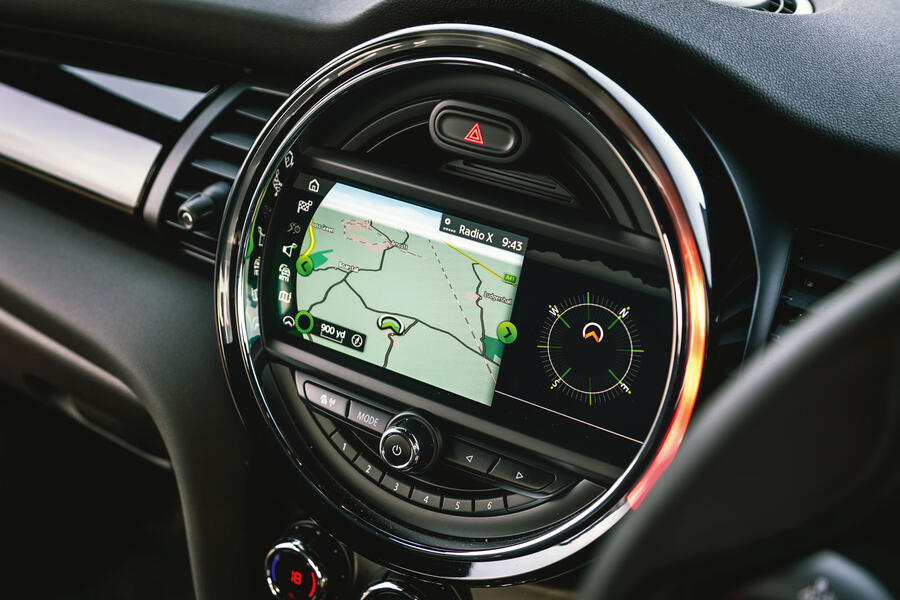 And, of course, the car has the power to accelerate quickly on motorways, hitting 0-62mph in 6.9sec. The only major criticism at motorway speeds is road noise, which grates after a while but I suspect is a trait that Mini owners are willing to forgive.
Second, the fun stuff. Once off the M6, there was plenty of chance to test the joie de vivre of the Cooper S. I've long been a fan of hot hatches, where the power and dynamics seem so well-judged to rural roads, as opposed to supercars, which can rarely be enjoyed in all their glory.
Mini harps on about the 'go-kart feel' of its models, but it has a point. What's so charming about the Cooper S is how solid and direct it feels turning enthusiastically into a corner. There's never any doubt that the Mini can handle it, and come out the other side just as chipper. It's this sweet spot that is really the reason to buy a Cooper S Sport.
My final destination was Peckforton Castle (pictured). No doubt its owner is used to arriving in something more regal than my Mini, but I bet they don't have half as much fun along the way.
Love it:
Having a blast 'Twas a happy Sunday afternoon chucking this around empty rural roads.
Loathe it:
Noise annoys Motorway road noise irritates on longer journeys. Radio volume up…
Mileage: 3084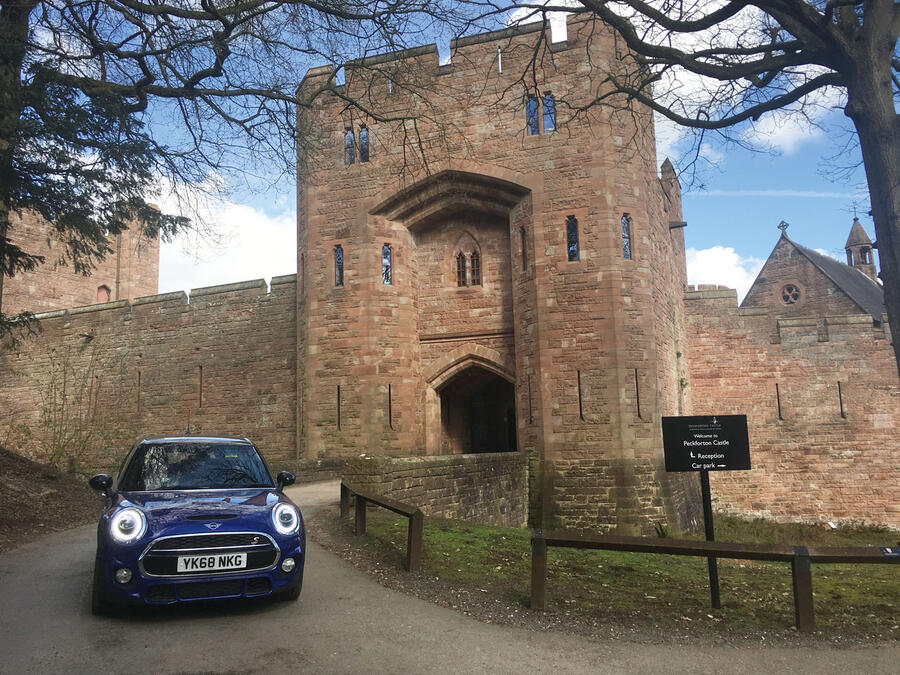 Life with a Mini 5-door hatch: Month 1
It's not what you think it is - 17th April 2018
People that aren't car fans but who have car knowledge are often confused by the Mini five-door. When I say I'm driving the five-door Cooper S, they reply: "Oh, the Countryman?" Many aren't aware the five-door hatch is a thing, instead thinking the Countryman is Mini's five-door car. Some more marketing on this model wouldn't go amiss.
Mileage: 2450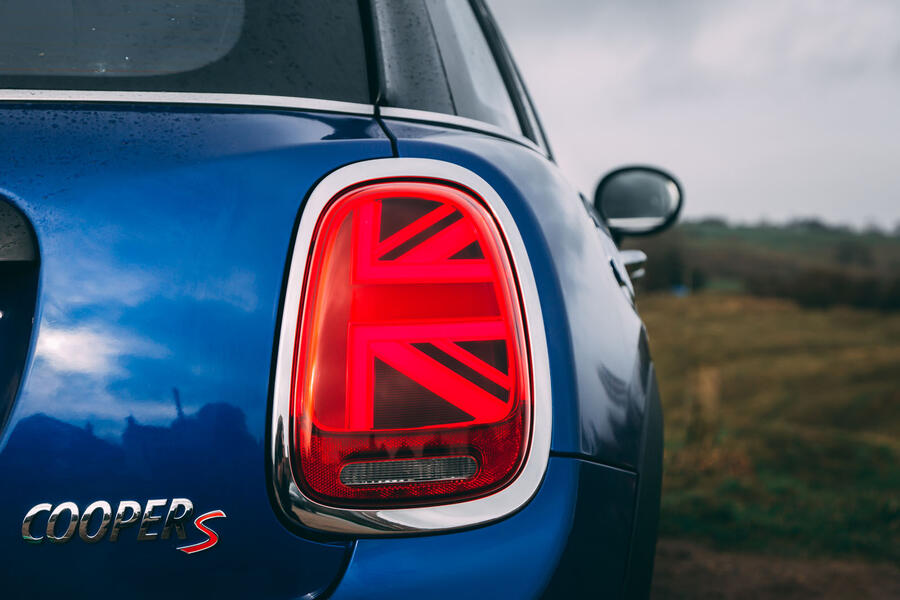 We took the Oxford factory tour, and came away with a new addition to our fleet - 10th April 2018
When Mini introduced its 5dr hatch in 2013, it had wised up to a growing trend: the general demise of three-door hatches in favour of five doors.
The Mini, of course, is a special case given the iconic status of the 3dr hatch, and so the two run happily alongside each other in the line-up. Currently, the UK mix is 55/45 in favour of the 3dr.
Both of these models have the added novelty of being made in the UK. Given that more than 85% of cars sold in Britain are imported, running one that's made, more or less, down the road gave us the perfect opportunity to do the unusual and pick up our finished car, a Mini 5dr Hatch Cooper S Sport, from the factory in which it was built.
Your average Mini buyer wouldn't be so lucky: there's no special treatment for Mini owners at the brand's Cowley plant in Oxford, but anyone can do a tour for £19 a pop – and, indeed, they do. Last year, 25,000 visitors took the factory tour.
Our Mini is a 5dr Cooper S in Starlight Blue with black contrast. It took between 26 to 28 hours to build, typical of every Mini at the plant, which is the equivalent size of 94 football pitches. Around 1000 cars are made here every day.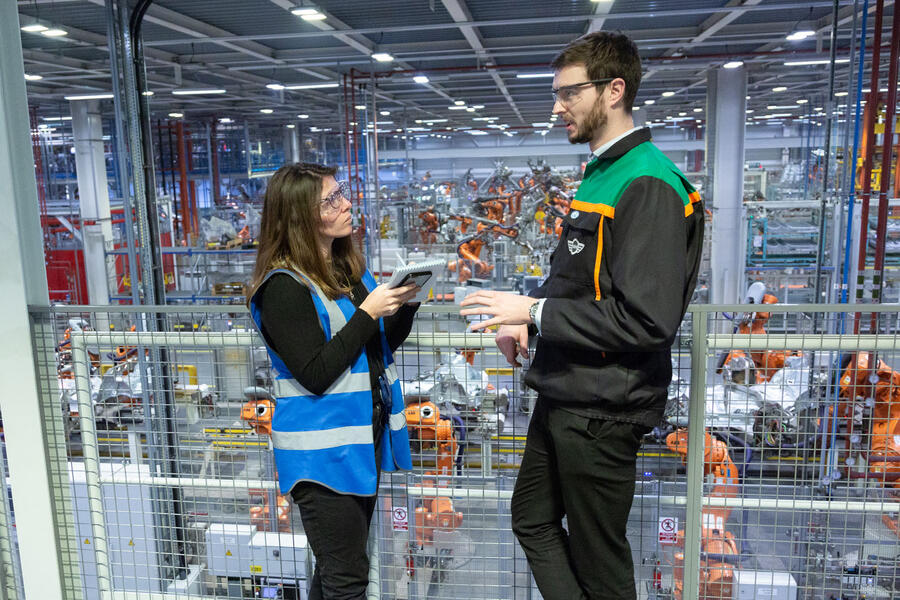 On all parts of the production line, 5dr siblings to our car sit alongside the three-door hatch and Clubman, in any order. They are mostly 3dr Minis, which make up 50% of the numbers at Cowley, followed by the Clubman at 30%, then the 5dr at 20%. From later this year, the electric Mini will be built here, too.
In the early stages of our tour, we pass the stage where cars are stamped with a vehicle identification number. One is done every 60 seconds. I discover that the VIN of our long-termer was stamped at 3.22pm on 9 November 2018. (Yes, we took a long time to pick up the car.)
Further down the line, we watch a host of robots in action fitting sections of the body. Production manager Alex McKenzie tells me there are 19 cameras aimed at each door, measuring accuracy to a tolerance equal to half the width of a human hair.
He adds that the chrome headlights and bar are the hardest parts to achieve a high quality fit. "It is mainly things that are distinctive to the Mini that are difficult. We've got really tight tolerances for such an iconic car," McKenzie says. "The Clubman is the hardest of the three models built here because it has more panels. But they are difficult cars to build generally when you consider what a small package they are."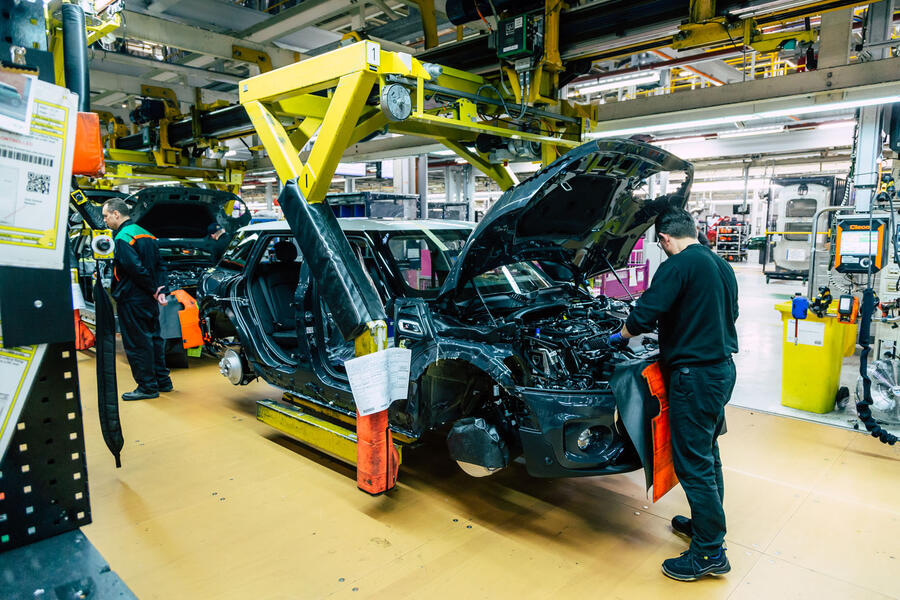 Almost two-thirds of finished cars depart on two daily trains that run through the site, while the rest go by transporter. Ours is the exception. We take some photographs of the car in the heart of the site, which dates back to 1913, before getting on our way.
We've run a Clubman in the past couple of years, but this is our first long-term test of the 5dr model. We want to gauge the practicality of the 5dr hatch, which is 16cm longer than its 3dr counterpart and with 30% more luggage space. Would we buy this or an Audi A1 Sportback?
Our test car is the facelifted model, launched early last year. The best way to tell the difference from the previous car are the rear lights, which now feature a Union Flag design.
Of course, we've gone for the most fun model, the range-topping Cooper S, which accounts for one-fifth of 5dr hatch sales in the UK. The Cooper S uses a 189bhp 2.0-litre fourcylinder engine that delivers 207lb ft of torque and achieves 0-62mph in 6.9sec – 1.4sec faster than the mid-range Cooper.
Late last year, Mini overhauled its trim structure to make it more straightforward for buyers. There are now three levels: Classic, Sport and Exclusive. We've opted for Sport, which adds a series of John Cooper Works features, including a bodykit, sports suspension and bucket seats.
There are three equipment packs available on all Minis, covering driving assistance systems, comfort and navigation. We have the Navigation Plus Pack (£2000) and Comfort Pack (£900). Navigation Plus includes sat-nav, Bluetooth, realtime traffic information and a host of connectivity services such as overthe-air updates. The Comfort Pack features rear parking sensors, front heated seats, an armrest and more.
After those packs, we've gone for the adaptive suspension (£600), black interior trim (£160), head-up display (£500) and Starlight Blue exterior paint (£525). That all adds up to a not-insubstantial price of £28,050.
Going from my most recent long-termer, a Volvo XC40, to a Mini 5dr Cooper S was a stark contrast. The XC40's purpose is to be comfortable and practical, whereas the Cooper S hankers after a dose of that, plus a little extra. It's early days, but already the Mini's sporty handling has put a smile on my face. But will it stay there?
Second Opinion
A practical Mini? Three words that, written down, don't make much sense, but which the evidence suggests is possible, because five doors and compact packaging mean this really is a car a young family could realistically live with. I only wish that the multitude of buttons and dials weren't such an assault on the senses, as they make it feel cluttered, even if it isn't.
Jim Holder
Mini 5-door Cooper S Sport specification
Specs: Price New £23,895 Price as tested £28,050 Options Navigation Plus Pack £2000, Comfort Pack £900, adaptive suspension £600, black interior trim £160, head-up display £500, Starlight Blue exterior paint £525
Test Data: Engine 1998cc, 4-cylinder turbocharged petrol Power 189bhp Torque 207lb ft at 1350-4600rpm Kerb weight 1329kg Top speed 146mph 0-62mph 6.9sec Fuel economy 38.2-40.9mpg CO2 148-150g/km Faults None Expenses None