Why we ran it: To see if the Honda E has the everyday usability to match its desirability, despite its relatively short range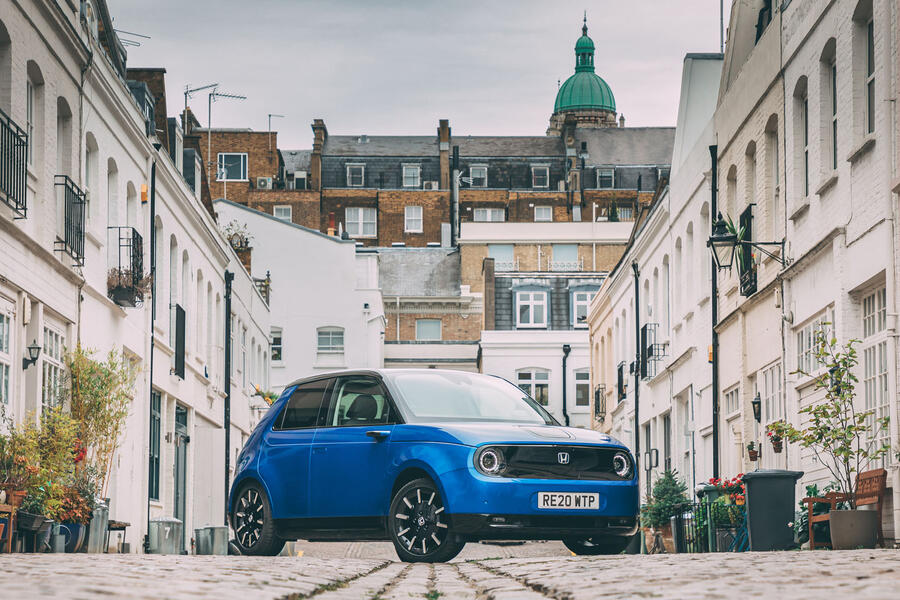 Life with a Honda E: month 5
Our time is up with Honda's eye- catching electric city car. So how has it fared in our hands? Let's find out - 7 April 2021
The world is quite divisive, you may have noticed. Debates are fierce, and the grey middle ground seems lost in a desire to make everything black or white. Whatever happened to a bit of good old-fashioned fence-sitting?
With that in mind, comments about the Honda E tend to go something like this: "Yeah, I love the way it looks inside and out, even more so the way it drives, but its range is tiny, so it's basically rubbish." Sure, the range figure is smaller than similarly priced rivals such as the Peugeot e-208, but by enough to discount the E entirely? Not a chance.
We'll come back to the issue of range later. Yes, it's part of the story of this car that started with us last summer, but it's not the only part of it.
Our Crystal Blue metallic-coloured E came in the higher of two trim levels, Advance. This specification gets you not only an extra 17bhp for the single, rear-mounted electric motor, but also some extra comfort, convenience and safety features for a £2500 jump over the base car. For a premium product, it's a price worth paying to experience the E in its very best light.
On first impressions, and even for the weeks and months that follow, the E will charm you with its exterior styling. This is a fine-looking, well-proportioned car that you never get tired of clapping eyes on – from a company whose styling department has a less than impressive past decade behind it. Indeed, the E looks like it's from an altogether different manufacturer when it's sat in a showroom with its Honda rangemates. But it's a welcome reminder that the Japanese car maker still knows how to nail a timeless design, and it's one that has never stopped turning the heads of passers-by during its time with us.
Those show-stopping looks make this not just another electric car but also the exact type of car to bring the EV debate to a more mainstream audience. Those conversations with strangers would so often start with a discussion on the looks, or the two side cameras that replace the door mirrors, but then talk would turn to general electric car ownership. Those conversations between curious strangers and real-world EV users give a far better impression of what it's really like to live with an electric car than an internet search engine can ever hope to achieve.