Why we're running it: To see if Citroën's luxury offshoot has finally built a car with the right mix of integrity and premium feel to take on the German, British and Swedish elite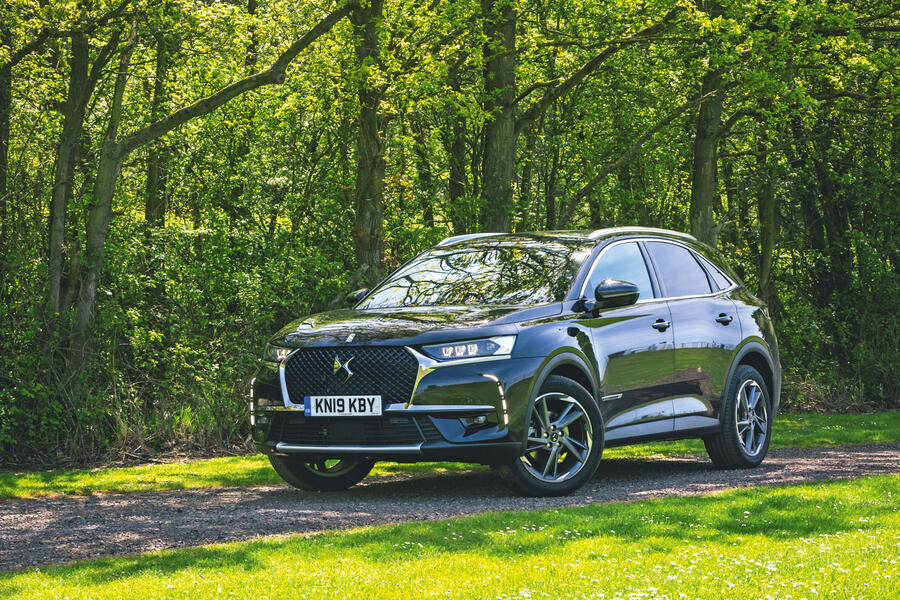 Life with a DS 7 Crossback: Month 1
Welcoming the DS 7 Crossback to the fleet - 10th July 2019
It's generally accepted that the French have the small car game down to a T. Renault, Peugeot and Citroën have all enjoyed great success with their respective mass-market superminis over the past few decades. But at the other end of the market, it has been a very different story: the statement that 'nobody buys big French cars' is a well-worn motoring adage for a reason.
Citroën's last attempt was the curvaceous C6, which sold as many in seven years of its existence as the brand had hoped to sell in one. But things have changed in the past few years. The PSA Group took the plunge in launching a separate luxury brand, DS, and after a few years of flogging lightly tweaked Citroëns, DS has its first bespoke model, the 7 Crossback, on sale for over a year now. In that time, DS has already sold more of these than Citroën ever did C6s.
So have the French, for the first time in decades, built a large, posh car that the public actually wants? We're going to be running DS's flagship SUV for a few months to see if it can really get under our skin and deliver the quality and engineering substance that's in such abundance at this end of the market.
Initial impressions are good, but not outstanding. DS's designers have plenty of heritage to tap into but no immediate styling legacy, so they could start with a clean sheet. But, of course, attempts to make large cars of the Gallic variety look otherworldly haven't really pulled in the punters. The 7 Crossback reflects that. The shape is largely a derivative of most other premium mid-sized SUVs, which is perhaps disappointing, but the detailing at least is unique and eye-catching.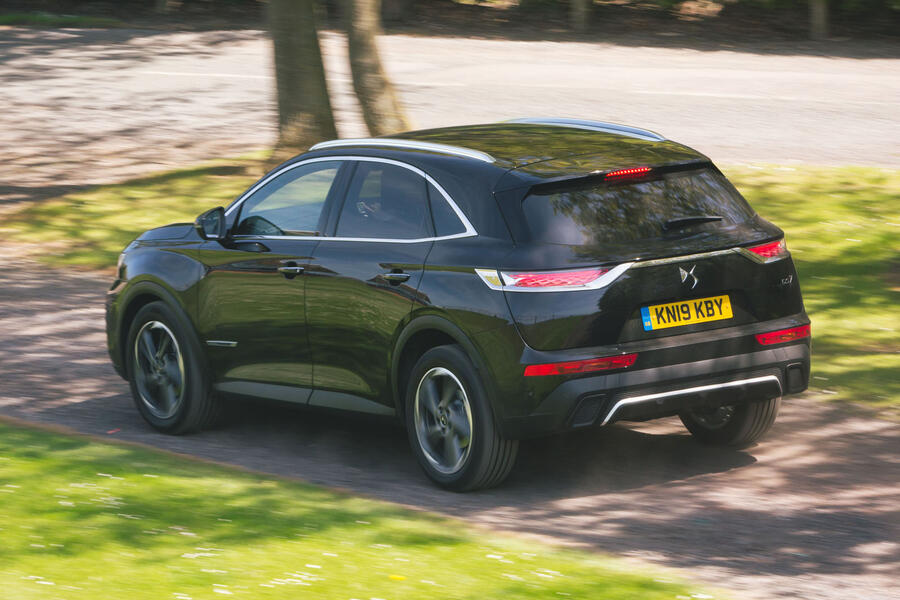 The exterior lighting has drawn the most comments from friends and family so far. Every model gets cool, layered 3D-effect rear lights and our Prestige spec also has intricately detailed LED front lights, featuring three light modules that rotate through 180deg as part of a light display when you unlock the car. It's more of a gimmick than anything else, but it's details such as this that help elevate the 7 Crossback above and beyond its platform-sharing Peugeot and Citroën siblings.
The interior is more successful at looking and feeling a cut above, to my eyes. It's here where DS has really tried to portray the avant-garde, high-class image it is chasing. And it has done so pretty well. The design is elegant and attractive and the main touch points on the dashboard, centre console and doors all feel pretty plush, with much of it covered in rich-feeling leather.
Granted, poke around the lower half of the cabin and you'll find some scratchy plastics, although there are still a number of ergonomic flaws that I'll detail in further reports. There are a few neat touches you won't find in a mainstream SUV, though, such as a BRM clock that swivels out of the dash on start-up and interior lighting that can be activated with a wave of the finger. Small details, yes, but details that haven't lost their appeal after several weeks of using this car for my daily grind between Newbury and Twickenham.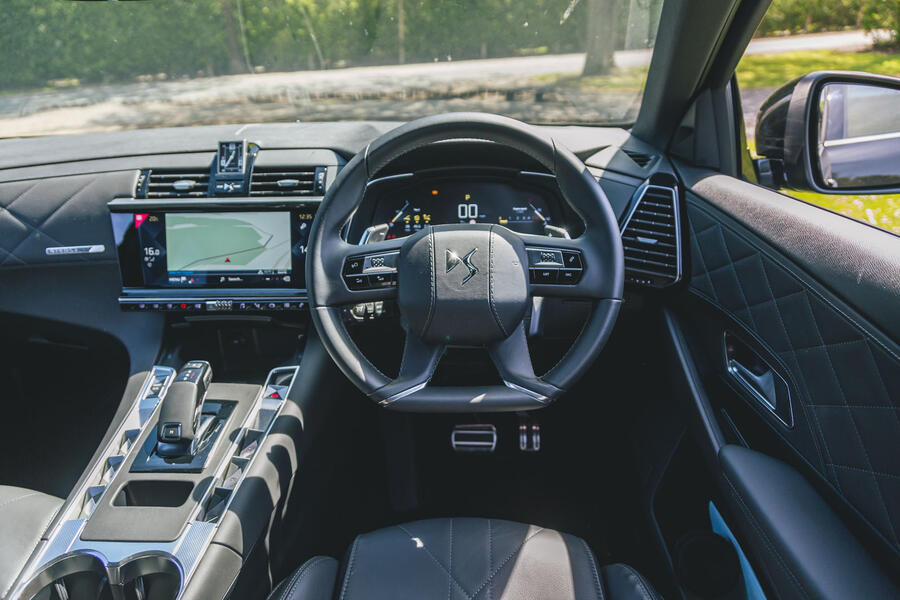 One feature that I've yet to put to much use is the space on offer. This is the ace up the 7's sleeve because it's priced to compete with cars such as the Volvo XC40 and Jaguar E-Pace but is considerably roomier than most. I've not heard a peep from longer-legged passengers in the back yet but that, along with the boot space, will be put to a sterner test later this summer as the holiday season beckons.
It perhaps speaks volumes that I've got to this point in the report without even mentioning the way the 7 Crossback drives. I should also qualify here that DS sent us a 222bhp petrol-powered model to test initially before it was switched for the 128bhp diesel we have here. Whereas the petrol unit has decent punch in reserve, this base diesel has so far felt (and sounded) strained when trying to get up to speed briskly or attempting an overtake. The fine but unremarkable 45mpg figure so far reflects how hard this unit has to work to shift such a large, tall car.
Thankfully, the rest of the experience behind the wheel encourages a relaxed pace, anyway. It has clearly been tuned with comfort in mind. The plushly padded seats are the first hint of that. Soft suspension means a fair amount of pitch and wallow, but that translates to a largely supple ride, even if, like many SUVs, it's too busy and unsettled at lower speeds. It's nothing like as bad as the petrol-powered car, though, which ran 20in wheels and thumped and crashed far too much for my liking.
With 2000 miles added already so far, we're starting to uncover why you should – and shouldn't – consider this alongside the established premium competition. More on that in the next report.
Second Opinion
The idea of Citroën's divine Déesse being reinvented as a French version of Lexus sits slightly uncomfortably with me, so I approached the 7 with some scepticism. And, though it's still early days, I remain unconvinced. The DS feels like what it is: a mid-range Citroën wrapped in chrome and lined with leather. It just feels a bit flimsy in a class with premium Germans that'd seemingly survive a nuclear holocaust.
Alastair Clements
DS 7 Crossback BlueHDI 130 Prestige Automatic specification
Specs: Price New £36,875 Price as tested £37,470 Options Metallic paint £595
Test Data: Engine 4 cyls, 1499cc, turbocharged diesel Power 128bhp at 3500rpm Torque 221lb ft at 1750rpm Kerb weight 1420kg Top speed 121mph 0-62mph 10.5sec Fuel economy 68.9mpg CO2 107g/km Faults None Expenses None