Why we're running it: To see if the funky van-based MPV can recapture the simplicity, practicality and flexibility of the original
Life with a Citroen Berlingo: Month 1
Colour pack makes a real impact - 7th August 2019
The orange splashes around the front foglights and on the Airbump side panels are part of the XTR customisation pack and help to make the Berlingo more millennial-friendly than a van-based MPV might be. Even parked next to the new Toyota Supra, it's rather easy on the eyes - and a lot more exciting than the Vauxhall Combo Life with which it shares a platform.
Mileage: 6490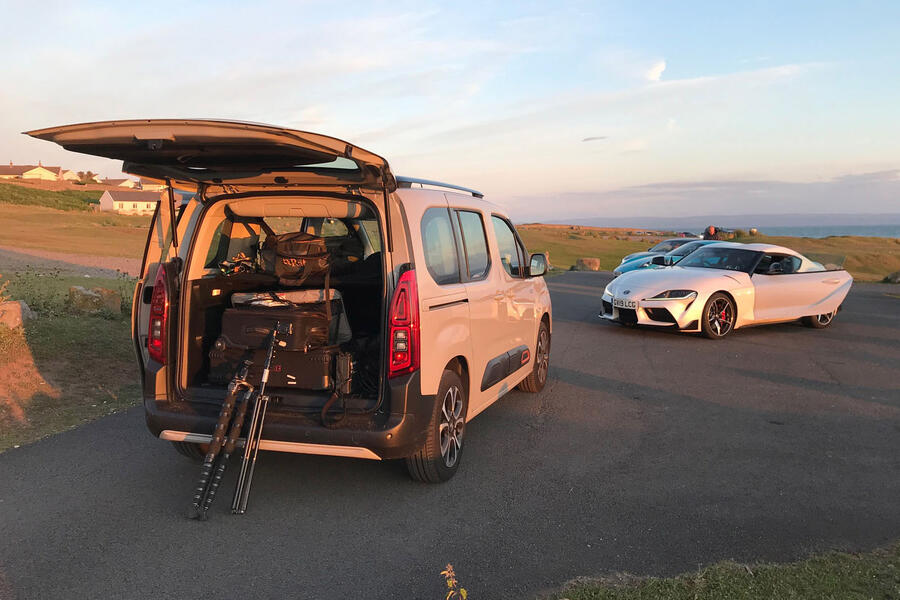 Our new arrival is big on space, and bigger still on oddball charm - 24th July 2019
Remember when SUVs weren't the go-to choice for family transport? I do. England fans were wiping away tears after a heartbreaking Euro '96 exit (on penalties, naturally), Dolly the Sheep proved cloning wasn't just the domain of Jurassic Park and Citroën had just unleashed the original Berlingo on an unsuspecting public.
The genesis of the van-based MPV kicked off something of a revolution, and pretty soon every manufacturer had one of its own. It's only recently, with the surging demand for SUVs, that they have fallen out of favour – but there's no denying they remain one of the most practical types of car on our roads. And looking at the numbers, losing a few style points hasn't been enough to put off customers.
Before this current-generation model arrived late last year, the Berlingo Multispace was Citroën's second-best-seller worldwide behind the C3, and was the brand's most popular model in 27 countries. If anything, the style-focused overhaul could broaden its appeal even further. Stick some surfboards on the roof rails and you might even call it fun – or at least that's what the smiling models in Citroën's brochure seem to be suggesting.
The next six months should give us time to find out if it is just as charming to drive as it is to look at – and whether it's more than simply a van with windows.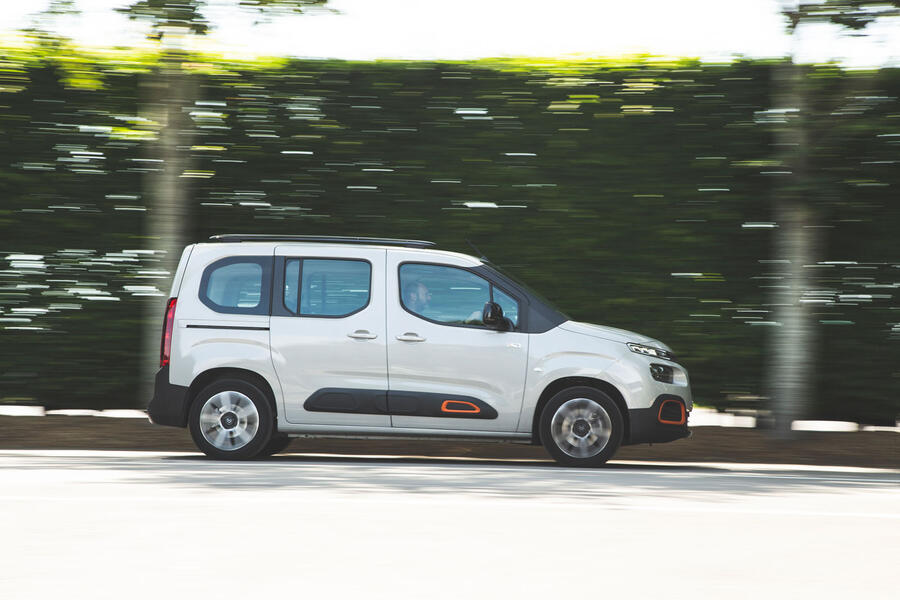 I'm hoping the fact it shares its EMP2 platform not only with the Peugeot Rifter and Vauxhall Combo Life but also a selection of PSA SUVs including the Vauxhall Grandland X, Peugeot 5008 and DS 7 Crossback means it will stay closer to car-like sensibilities and less like a panel van with extra seats.
It's for that reason we opted for the most potent diesel powertrain, a 1.5-litre turbocharged four-cylinder with 129bhp, and eight-speed automatic gearbox when speccing our Berlingo. It will be no stranger to regular long-distance driving, the extra grunt should make sure it has the torque to cope with heavy loads and the slushbox should take some of the strain out of my commute – even with the leisurely 11 seconds it takes to reach 62mph.
The all-new third-generation car can be had in extended-wheelbase XL form for the first time, but we've gone for the standard M model. It has five seats to the XL's seven, and is 35cm shorter – but seeing as we'll rarely need to park an extra two bums in the back, the M's boot space should prove ample. It had better be, seeing as this Berlingo will be earning its keep transporting me between photography jobs.
So far, the sliding rear doors have proven infallible for loading my gear in crowded car parks – but then they had to be, seeing how the massive tailgate needs such a large amount of space to open. I'm already regretting not taking the option of an independently opening rear windscreen, even if it would have meant fielding constant requests from the video team to use it as a camera car.
But as much as it will be used for lugging equipment around to various shoots, this won't be a series of reports detailing just how much room for flight cases there is in the rear. So let's get that out of the way early, shall we?
To call the Berlingo spacious inside would be doing it a disservice – this is a cavernous car before you even get to the boot or think about laying the second-row seats down, with no fewer than 28 different storage bins and cubbies to stuff various bits and pieces throughout the cabin. Citroën says that equals 186 litres but, as you can never have enough places to put things, we've also optioned the Modutop roof-mounted storage box that can be accessed from the boot or back seats. At £750, it's the most luxurious extra fitted to our test car, with the added benefit of ambient lighting giving the whole roof an 'aircraft cabin' kind of vibe.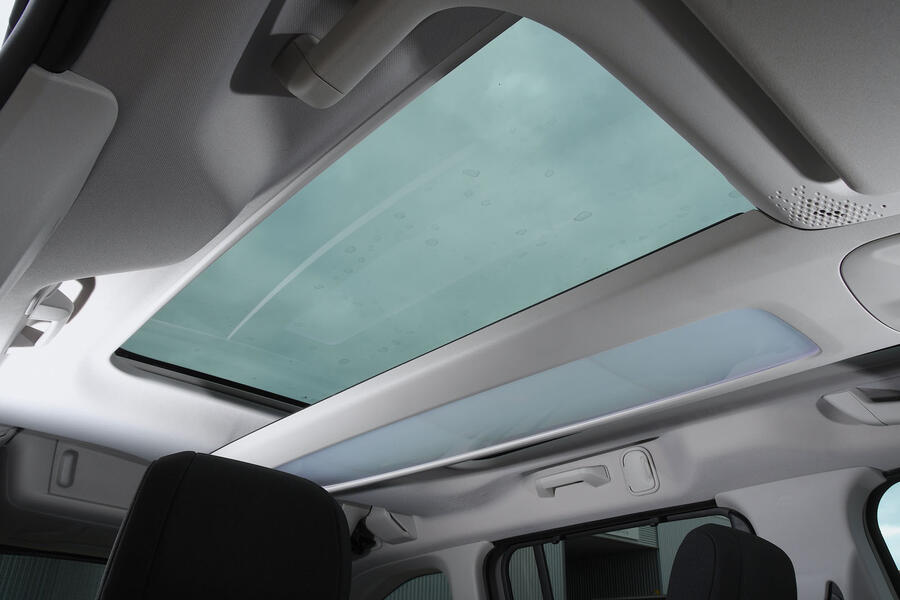 Other luxuries include a wireless charging plate for my smartphone, the driver assist pack, which adds adaptive cruise control, and fetching Soft Sand metallic paint, bringing the total cost of our car to £26,545.
For your money, you get an interior that's more inviting and comfort-minded than other van-style MPVs, and while it does without the extra seat padding found in Citroën's more premium models, I've so far found the upright driving position comfortable enough. I'm a fan of the colourful upholstery, too – the mix of orange, grey and green is a lot more fun than the basic black trim normally found in cars like this.
The 8.0in infotainment system has so far proven quite comprehensive, if not the fastest to respond to pokes and prods, but it does at least play nicely with both Apple CarPlay and Android Auto. Physical air conditioning controls get a thumbs up from me, too. Having to tap through the menus to change the temperature in the C3 Aircross we ran last year quickly got old.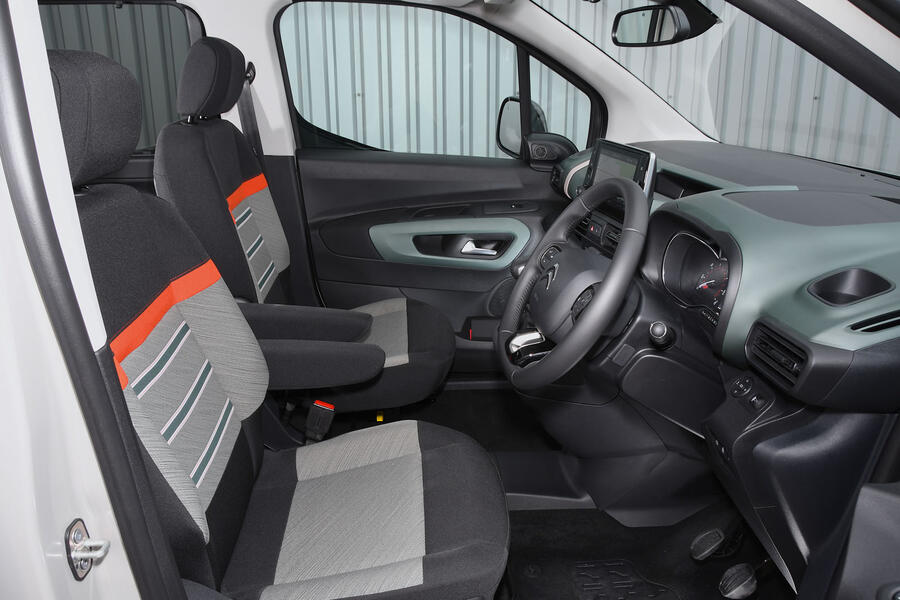 First impressions are that the Berlingo will be perfectly suitable as a daily driver, even for those journeys when you really don't need all the extra space it provides. As for the ones that do? I have plenty planned over the summer, to see if it really is the 'leisure activity vehicle' Citroën claims it to be.
Luc Lacey
Second Opinion
I imagine that, dimensions aside, the Berlingo will quickly feel a lot more car-like than its PSA stable-mates. Having driven a lesser-equipped and much more utilitarian Vauxhall Combo Life recently, the Citroën has a far more relaxed and airy interior, thanks to a more jaunty dashboard layout and that giant sunroof letting light stream into the cabin. There's a lot to be said for injecting a bit of personality into a category that's mainly focused on practicality.
Tom Morgan
Citroen Berlingo M Flair BlueHDI 130 specification
Specs: Price New £24,950 Price as tested £26,545 Options Metallic paint £545, Drive assist pack £200, Modutop roof £750, Smartphone charging plate £100
Test Data: Engine 4-cyls, 1499cc, turbocharged diesel Power 129bhp at 3750rpm Torque 221lb ft at 1750rpm Kerb weight 1430kg Top speed 114mph 0-62mph 11.0sec Fuel economy 65.7mpg CO2 114g/km Faults None Expenses None