2017 saw Porsche's 991-generation 911 recieve the GT2 treatment. Here's what we made of it at the time:
The new Porsche 911 GT2 RS becomes the latest in a line of five 'GT2' namesakes, the first of which appeared in 1995 as a homologation version of the 993-generation 911. That original version's 444bhp would hardly worry a modern super-sports car driver, although it still earned itself the legendary nickname 'Widowmaker'.
The 691bhp 3.8-litre flat six in this car is a development of Porsche the current 911 Turbo engine (with 80bhp more than the last 3.6-litre GT2 had) and uses bigger turbochargers, new pistons and water-sprayed charge air intercoolers. It is the first GT2 with a paddle-shift dual-clutch gearbox and is steered by the same four-wheel system as was used in the 918 Spyder.
The GT2 RS's standard-fit fixed-backrest bucket seats and half-sized roll-cage build your sense of anticipation nicely for the driving experience to come. The seats are comfortable over longish distances, not feeling narrow in the cushion or restrictive. You get a fine driving position that, while not as low or inboard as a mid-engined supercar might offer, still makes you feel close to the rotational axis of the car and provides good visibility.
The paddle-shift gearbox delivers a typically effective launch control mode, but it also has a 'paddle neutral' function that allows you to disengage the clutch whenever you want to, and to fully control the timing of its re-engagement manually as you prefer.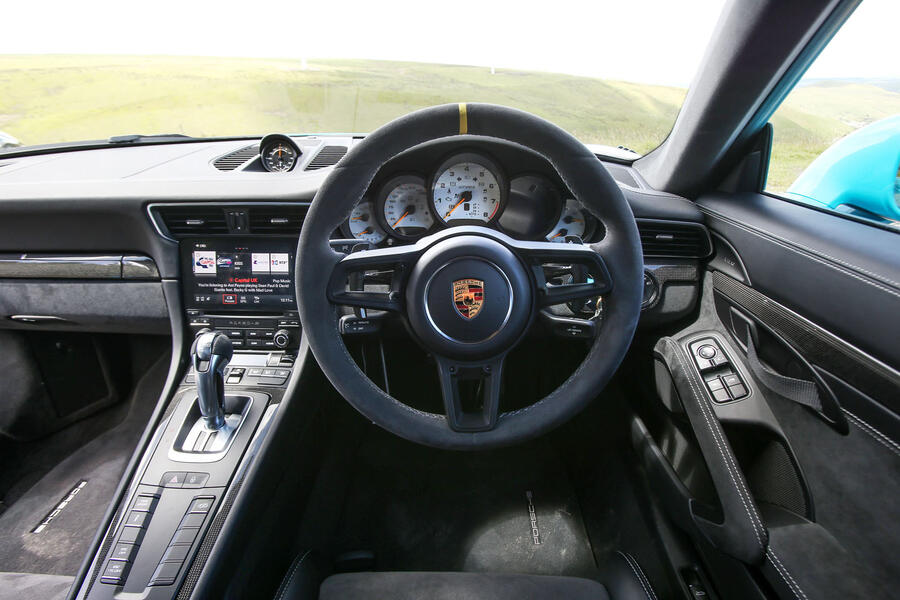 The car's power is appealingly linear through the middle of the rev range. Even though the quickest £200k mid-engined options are a shade quicker in outright terms, the GT2 RS feels very rapid indeed. Throttle response is as remarkable as its outright accelerative potency so you get no sudden rush of mid-range torque as the engine comes on boost, and the car feels less thuggish at full power than you might expect.